Beer Tasting: The Crafty Irish Lager and Veltins Grevensteiner
Hello beer lovers! 🍻 😎 🍻
How are you? Hive celebrated three years a few days ago and we are moving forward together.
Is it spring at your location yet? Here, after a week of sunshine and 20 degrees, we had a hailstorm. We all took shelter in our rooms.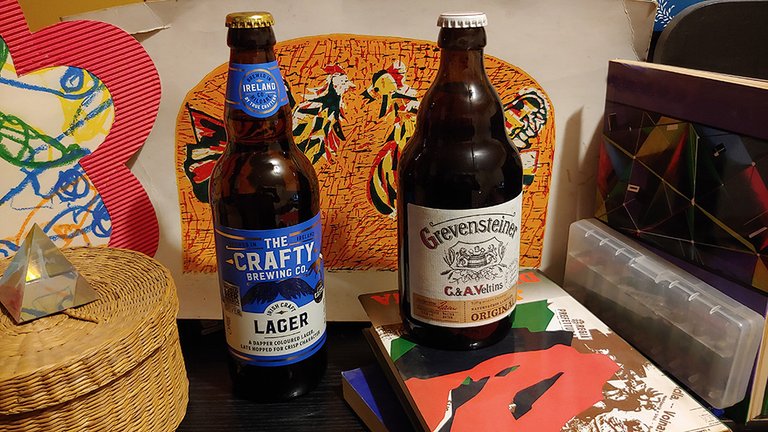 And luckily today is the 299th #beersaturday, the oldest contest on the Hive blockchain. I've prepared two bottles for the occasion, one Irish and one German, so let's see!
First the one with less alcohol.
🍻 😎 🍻
The Crafty Brewing Company Irish Lager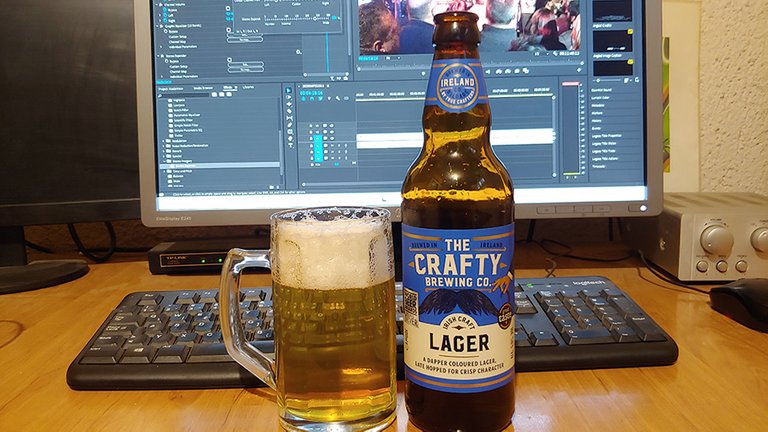 Brewed by [Rye River Brewing Company], Celbridge, County Kildare, Ireland. The Crafty Brewing Company Irish beer is a line made for the Lidl chain.
Bottle, 0.5 l, alcohol 5.0% ABV, 33 IBU. International Pale Lager style, which means no strong flavors, well-balanced, all-malt, usually ready to export all over the world.
What do the Master Brewers say?
This clean and crisp lager has a prominent hop character and a cake-based nose that comes from the Tettnanger and Hersbrucker hop varieties. Its jewel-toned color is indicative of a rich and deep flavor, a true joy to taste.
I'm not sure I've ever tried anything from this brewery before.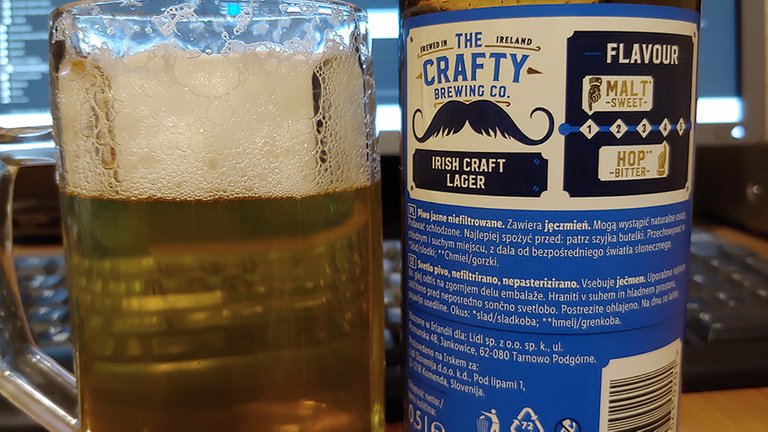 The beer is clear, and golden in color, with a medium head. It has no particular odor. It goes down the throat smoothly and develops a bitterness in the mouth, it's quite bitter for a lager, the sweetness of the malt is also present, but in the background, I do not detect any other flavors.
The bitterness lingers in the aftertaste for quite some time.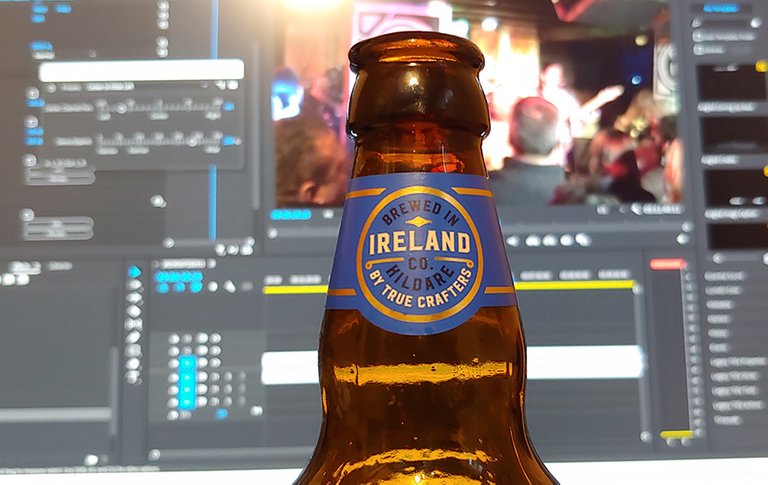 The beer is drinkable and fresh, but that's about it. Not bad, but nothing special, without any excesses. The fact that it's more bitter than ordinary lagers would have required some additional flavor to counterbalance it, but I didn't find it. It's available in the local Lidl store but I'll probably forget it quickly.
🍻 😎 🍻
I'm looking for a new meme again ... I found some ...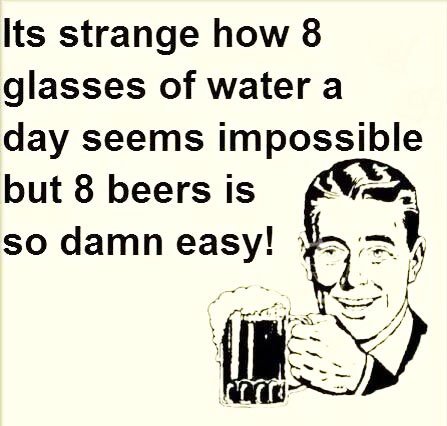 Funny? What do I know ...
🍻 😎 🍻
Veltins Grevensteiner Naturtrübes Landbier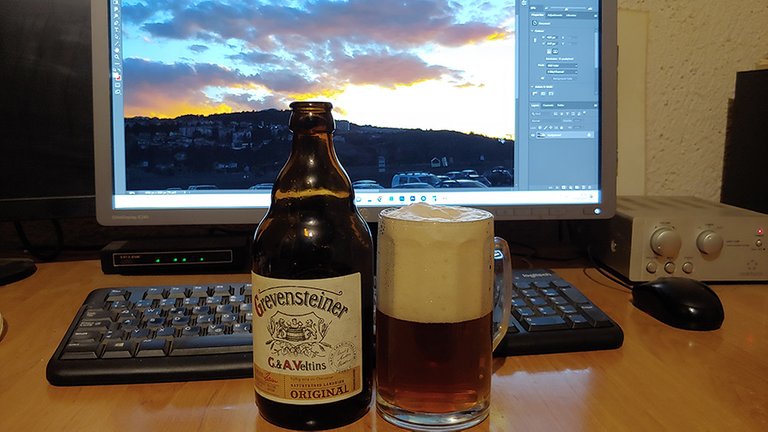 Brewed by Brauerei C.& A. Veltins, An der Streue, Meschede, North Rhine-Westphalia, Germany.
Bottle, 0.5 l, alcohol 5.2% ABV. It's a Zwickelbier or Kellerbier or Landbier, which means that is a young, unpasteurized, and unfiltered traditional German beer style, served or bottled directly from the lagering vessel.
What does the Master Brewers say?
Back to the roots: with Grevensteiner, the C. & A. Veltins brewery brings the time-honored craft of brewing back to life - in keeping with the tradition of the twin brothers Carl and Anton Veltins at the beginning of the last century!
The beer presents itself with its silky matte amber color with orange reflections and a velvety soft head. The complex aroma is initially dominated by caramel aromas with a slight undertone of honey, roasted almonds, and fresh fruity notes, which are mainly reminiscent of green apples. Despite its round and slightly malty-sweet body, Grevensteiner appears very tangy and elegant. A lightly roasted bitter note paired with nutty flavor impressions opens up a pronounced finish in which an aroma impression of cream caramels unfolds.
Master brewers have a lot to say!😁
I've deleted more than half of this stuff ...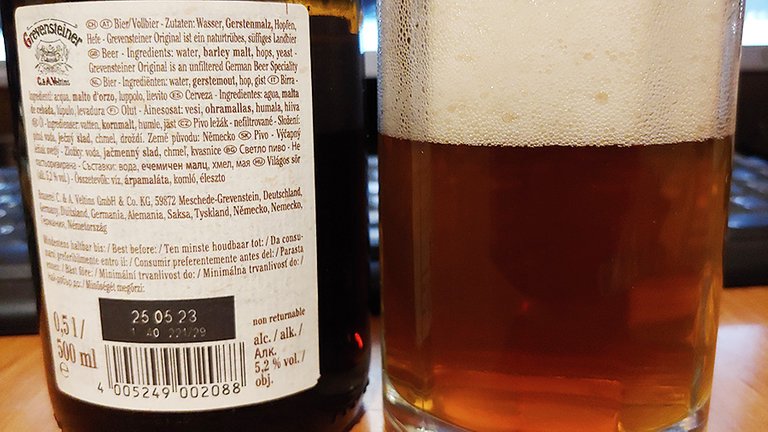 The beer is light brown, cloudy, with a considerable head, very creamy, and persistent. It has no smell. It goes down the throat smoothly, the sweetness of the malt and the aroma of honey develop first in the mouth, there is also a hop bitterness but not too much, with hints of prunes and caramel in the background.
In the aftertaste, everything slowly disappears.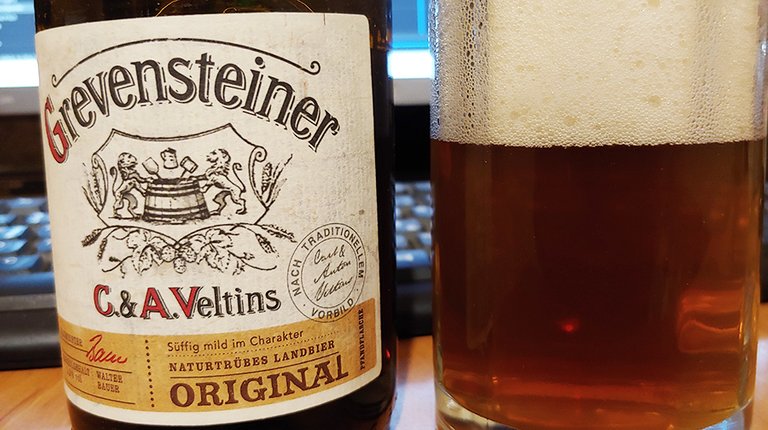 Tasty beer. Very balanced, nothing extreme, flavours and aromas complement each other to make it very drinkable. The master brewers have managed to balance a very good brew. I'd like to have it in my fridge.
Unfortunately for me, it's not available in local shops. I bought it in Italy, at the Famiglia grocery store in Trieste. Well, again, it's not that far. Next time I go by I'll certainly pick up a bottle or rather two. :) 😁
🍻 😎 🍻
And what am I listening to as I write this and try? Nothing from my latest #newtunes post.
After this #beertasting, I'm going to a gig by a band who promise a lot of rock'n'roll fun, which I recorded three and a half years ago and I want to refresh my memory a bit.
Lombego Surfers live
🍻 😎 🍻
#beertasting2023
Loo-Blah-Nah Little IPA and Bohemian Pils, Carlsberg Rush and Grolsch Premium Pilsner, Martens Gold and Ceres Mosaic IPA, Time 5 o'clock and Vocation Divide & Conquer, Bevog Buzz and Lobik Cryowser, Zichovec Krahulík 12° and BrewDog PunkIPA, Dead Pony Club and Doppio Malto Rossa, Bergkönig Ironik IPA & Ayinger Winter Bock, Tektonik Ikonik and Lobik Svarun, Axiom Queen Vaccine & Time 8 o'clock, Kult 316 and La Trappe Dubbel
More stories about beers? You can go back a little further in history! 😁
2017 🍻 2018 🍻 2019 🍻 2020 🍻 2021 🍻 2022
Stay healthy and enjoy your beer!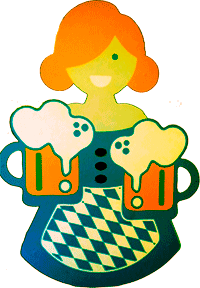 Take a look into Beer Community
if you want to read more Beer adventures.
And if you want to share your beer experience,
post your story to the Hive BeerSaturday challenge for fun.
BEER token is ready for you, too :)

Thanks, @detlev who started all this!

btw: There are two BEER Games in town:
BEER PONG, and BEERFRIENDS


🍻 😎 🍻
5% of the earnings of this post will go to beneficiaries of the community (@beerlover).
🍻 😎 🍻
Stay Healthy!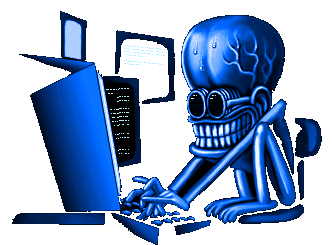 NFT Showroom Gallery
3Speak Channel
Photo Manipulation
Beer Tasting
New Tunes
Foodies

Ready for Web3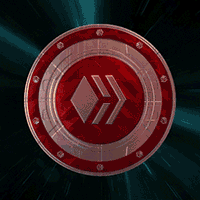 ---
---