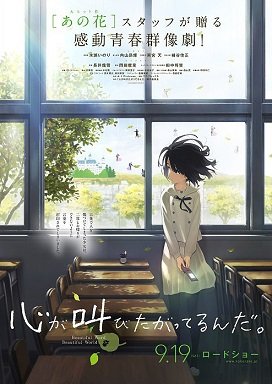 By Source, Fair use, Link

Good morning! After 2 days I am back to write an entry for the blogging challenge by @tegoshei, Let's Do A 30-Day Blogging Challenge!!!. I kind of feel sleepy but I'll do write and draw after this before I get really sleepy. Lol.
Today's entry is the 14th in the blogging challenge and it is something about your three favorite movies. There are lots of good movies (old and new), to be honest, please don't judge my choices. That's all I wanted to say! Lol! I don't watch movies often so I only know few. The last time I've watched a movie was still in 2019, I guess. It was Jackie Chan and Arnold Schwarzenegger's movie, Journey to China: The Mystery of Iron Mask. My mother wanted to see the film so I accompanied her to the theater.
I did my best to recall the movies I've seen and ranked them based on how I was amazed and emotionally moved.
STRAYKAT'S TOP THREE
#1 ANTHEM OF THE HEART
---
Anthem of the Heart ("Kokoro ga Sakebitagatterunda" or shortened as "Kokosake") is a Japanese animated film about a chatty girl named Naruse Jun who was "cursed" to never speak again after carelessly telling to her mother her father's secret. She never speak even in class and her only way of communicating is through her phone. Later on, their class has to present a musical performance and Naruse was among the chosen to play the lead role.
I instantly fell in love with this film because Naruse was very relatable for me and I could really feel her pain. I cried a few times and a lot when she sang the song "Watashi no Koe" (My Voice) during their musical play. The lyrics is very sad. Another thing that I really like on this film are the songs they used on the musical scene. They used classical songs and added lyrics to it. Some songs were even a combination of two classical songs, so pleasant to the ears!




Here's the song "Watashi no Koe".

The animated film also had a live action movie released last 2017. I still haven't watched it, pretty sure it will make me cry again!

#2 KOE NO KATACHI
---
Koe no Katachi (A Silent Voice) is another Japanese animated film released last 2017. The film is about a boy named Ishida Shoya who used to be a bully when he was a kid. When he entered high school, he regretted the bad things he had done especially to Nishimiya Shouko, a girl classmate who is deaf. When he knew he was in the same class as her, he had a goal to correct the wrongdoings he did to her.
I was able to watch this at theater alone and I must say it is one of the best animated movies I've seen. It tackles about bullying and the hardships a handicapped person go through. It tells us that we should not make fun of them and most importantly, treat them equally. While watching this film, I can feel guilt whispering at the back of my head and also felt sorry for those people I bullied or made fun of in the past. Good thing I was able to hold back my tears while watching it at the cinema. Lol. I watched the first screening of the film and it was fun because there were quite many people who came in to see the film. We clapped after the film ended.
#3 ALITA: BATTLE ANGEL
---
Alita: Battle Angel is animated film produced by James Cameron about a cyborg named Alita. Her head was found on the scrap field under the wealthy city of Zalem by doctor Ido. She lost her memory and that is where the story revolves in, about finding out who she really is.
I chose the film to be on my top three favorites because the film is very entertaining packed with lots of cool action scenes. They used a technology by Weta Digital for CG characters like Alita to make the movements natural and look very realistic. They have to attach a gadget around Rosa Salazar's body (actress portraying as Alita) to capture her movements. Then they tweaked Rosa's face to make Alita's eyes bigger and the overall look of the face anime-ish. Alita: Battle Angel was adapted from the manga (Japanese comics) Gunnm by Yukito Kishiro and OVA(original video animation) Battle Angel, by the way.
In my opinion, this film is among the best, if not the best, anime adaptation films.


The Weta Digital technology. So goooood!

That's all for my top three favorite movies. If I could have runner ups it would be Your Name (Kimi no Na Wa) and Weathering With You. The story is nice and the animation is SUPERB, it feels magical. You'd really be in awe especially when watching it on the big screen! The soundtracks are also very nice and fit perfectly with the films. If you haven't seen these film, please do check them out!


Related posts:
30-Day Blogging Challenge Day 1: The Story Behind Straykat
30-Day Blogging Challenge Day 2: 10 THINGS ABOUT STRAYKAT
30-Day Blogging Challenge Day 4: ALONE BUT NOT LONELY
30-Day Blogging Challenge Day 5: STRAYKAT, THE SCAREDY-CAT
30-Day Blogging Challenge Day 6: 4 THINGS THAT MAKE ME SAY "UGH"
30-Day Blogging Challenge Day 7: 5 CURRENT FAVORITE SONGS
30-Day Blogging Challenge Day 8: TOP 3 DREAM DESTINATIONS
30-Day Blogging Challenge Day 10: THE BEST HIGH SCHOOL MEMORY
30-Day Blogging Challenge Day 11: IF I COULD HAVE A SUPERPOWER
30-Day Blogging Challenge Day 12: WHAT I DO TO RECHARGE
Blogging Challenge Day 13: FIVE MOST USED SMARTPHONE APP