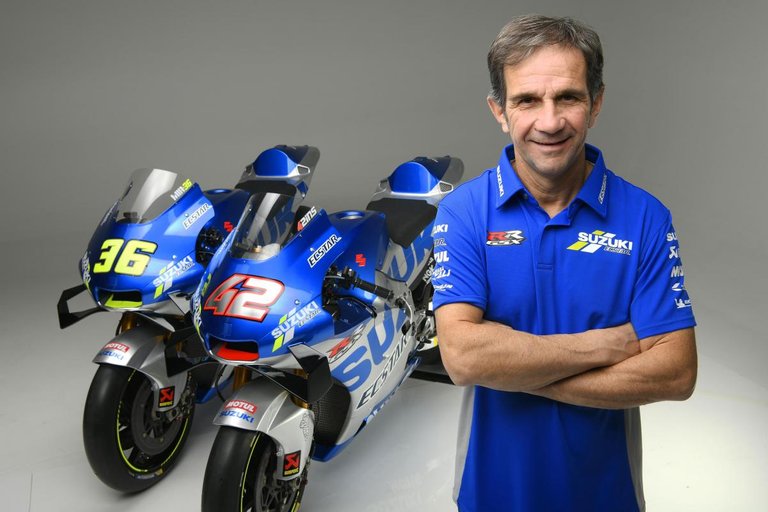 Fuente
// Una de las grandes personalidades del MotoGP en busca de nuevos retos //
>_ Vaya sorpresa la que nos dio el año cuando los seguidores del MotoGp nos enteramos que Davide Brivio abandonaba al equipo de Susuki después de hacerlos ganar el Campeonato Mundial.
Pero mayor fué la sorpresa cuando nos enteramos que dejaba el motociclismo por el mundo de la Formula 1 para trabajar para el renovado Alpine F1 Team, antes Reanault.
// ¿Quién es Davide Brivio? //
>_ Para aquellos que no estén muy enterados del tamaño de fichage que ha hecho Alpine, voy a tratar de poner en contexto el nombre de Davide Brivio.
Davide Brivio inició su carrera profesional dentro del motociclismo en el Campeonato Mundial de SBK gestionando un equipo satélite para Yamaha. Fué en el año 2004 cuando Yamaha lo lleva al Gauloises Fortuna Yamaha con la finalidad de hacer de la YZR-M1 una moto competitiva que pudiera luchar por el campeonato y se dice que fue Brivio quien convenció al entonces tricampeón, Valentino Rossi, de salir de Repsol Honda y unirse a este proyecto.
Fuente
Los resultados se dieron enseguida. En sus dos primeras temporadas en el MotoGP, y de la mano de Valentino Rossi, Brivio conseguía dos Campeonatos de Pilotos y dos Campeonatos de Equipos (2004 y 2005).
Para las temporadas 2008 y 2009, Fiat Yamaha Team, repetía de la mano de Rossi y para 2010 con un joven Jorge Lorenzo, ganando el Campeonato de Pilotos y Equipos de forma consecutiva.
El entendimiento de la dupla Rossi - Brivio era tal, que cuando Il Dottore buscó suerte con la Ducati, exigió llevarse a Brivio. Todos creímos que se venía una historia de éxitos y glorias (piloto, jefe y equipo italianos...). La sociedad terminó después de dos temporadas en la que Rossi y Davide trataron de cambiar la forma de trabajo en Ducati y donde por alguna razón (Ducati misma...) no lograron resultados.
// One of the great personalities of MotoGP in search of new challenges //
>_ What a surprise the year gave us when MotoGp fans found out that Davide Brivio was leaving Susuki's team after winning the World Championship.
But bigger was the surprise when we found out that he was leaving motorcycling for the world of Formula 1 to work for the renewed Alpine F1 Team, formerly Reanault.
// Who is Davide Brivio? //
>_ For those who are not very aware of the size of the transfer that Alpine has made, I will try to put the name of Davide Brivio in context.
Fuente
Davide Brivio started his professional motorcycle racing career at the SBK World Championship managing a satellite team for Yamaha. It was in 2004 when Yamaha took it to the Gauloises Fortuna Yamaha in order to make the YZR-M1 a competitive motorcycle that could fight for the championship and it is said that it was Brivio who convinced the then three-time champion , Valentino Rossi, to leave Repsol Honda and join this project.
The results came right away. In his first two seasons in MotoGP, and with the help of Valentino Rossi, Brivio won two Drivers' Championships and two Team Championships (2004 and 2005).
For the 2008 and 2009 seasons, Fiat Yamaha Team, repeated with Rossi and for 2010 with a young Jorge Lorenzo, winning the Drivers and Teams Championship consecutively.
The understanding of the Rossi-Brivio duo was such that when Il Dottore sought luck with the Ducati, he demanded to take Brivio with him. We all believed that a story of successes and glories was coming (Italian driver, boss and team...). The partnership ended after two seasons in which Rossi and Davide tried to change the way of working at Ducati and where for some reason (Ducati itself...) failed to achieve results.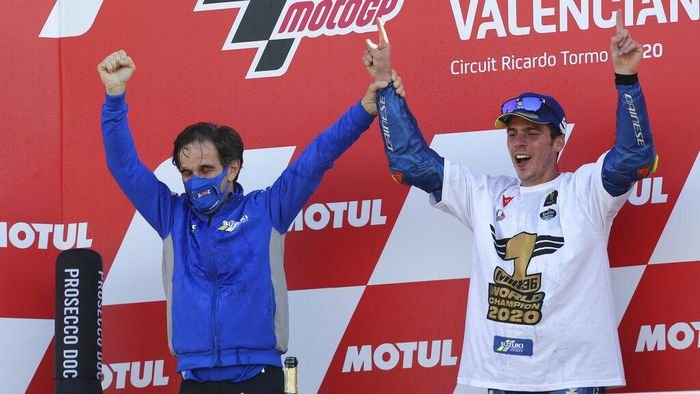 Fuente
>_ Para el año 2013 Brivio llegó a Susuki que empezaba a desarrollar la GSX-RR. Siendo 2015 que inició formalmente su aventura en el MotoGP, donde teniendo control cási absoluto del proyecto (Brivio siempre pidió a Susuki que hubiera un equipo satélite para poder desarrollar la moto más rápido...), apostando por pilotos jóvenes y talentosos, logró para la temporada 2020 darle el Campeonato de Pilotos a Joan Mir y quedarse con el Campeonato de Equipos.
// Seis títulos de pilotos, cuatro de constructores y seis de equipos es el record de Davide Brivio en el MotoGP //
>_ Con lo que se convirtió en poco menos de dos décadas en una de las personas más ganadoras, que más conocen y que a cambiado por completo no sólo a los equipos en los que trabaja, sino al MotoGP y al mundo del motociclismo en general.
// Nuevos horizontes //
Fuente
>_ Cuando el equipo de Formula 1 Renault decidió que al final de la temporada 2020 entraría en un proceso de restructuración (cambiaría de nombre a Alpine F1, la llegada de Fernando Alonso) en busca de obtener mejores resultados no pudo ser más asertivo al contratar a Davide Brivio como su nuevo director de carreras, una persona que a demostrado saber trabajar, desarrollar equipos de trabajo y pilotos ganadores.
Claro está que no serán pocos los retos que tenga que enfrentar en esta nueva etapa, al fin y al cabo, el mundo del MotoGP y el de la Formula 1 concretamente, parecen ser mundos completamente opuestos en muchas ocasiones (tiempos de desarrollo, presupuestos, estructuras, pilotos, etc.) y sólo el tiempo dirá que tanto pueda influir Brivio en Alpine - Renault y su diva (sí, me refiero a Alonso...).
// Susuki y el vacío que deja Davide //
>_ Susuki se decía sorprendido por el "repentino anuncio" de Davide, pero una decisión de este tipo lleva meses en concretarse y una persona seria como Davide habrá avisado con tiempo sobre su decisión.
Eso sí, Susuki ya a anunciado que no buscaran un director deportivo nuevo y más bién buscarán talento en la estructura interna que ha dejado Davide dentro del equipo. Suerte con eso.
Para el mundo del motociclismo en general, el vacío que deja es mayor aún y no nos queda más que recordar los logros y records alcanzados, y quien sabe, quizá en un futuro, volvamos a ver el regreso de una de las personas más conocedoras y ganadoras del mundo de las dos ruedas.
Pero díganme ustedes que piensan, ¿tendrá éxito Brivio - Alpine en los próximos años?, ¿se adaptará al mundo del automovilismo o regresará al motociclismo en pocas temporadas?
Déjenme sus comentarios abajo y nos vemos la próxima semana con más noticias del mundo motor.
>_ By 2013 Brivio arrived in Susuki, which was beginning to develop the GSX-RR. Being 2015 the year he formally began this new adventure in MotoGP, having almost absolute control of the project (Brivio always asked Susuki to have a satellite team to be able to develop the bike faster ...), betting on young and talented riders, he managed to the 2020 season give Joan Mir the Drivers' Championship and keep the Teams Championship.
// Six drivers' titles, four constructors' titles and six teams' titles is Davide Brivio's record in MotoGP //
>_ With what he became in just under two decades one of the most winning people, who know the most and who has completely changed not only the teams in which he had worked, but the MotoGP and the world of motorcycling in general.
// New horizons //
>_ When the Formula 1 Renault team decided that at the end of the 2020 season it would enter into a restructuring process (it would change its name to Alpine F1, the arrival of Fernando Alonso) in search of obtaining better results could not have been more assertive when hiring Davide Brivio as its new race director, a person who has proven to know how to work, develop work teams and winning drivers.
Of course, there will be many challenges that he will have to face in this new stage, after all, the world of MotoGP and that of Formula 1 specifically, seem to be completely opposite on many occasions (development times , budgets, structures, drivers, etc.) and only time will tell how much Brivio can influence Alpine - Renault and his diva (yes, I mean Alonso ...).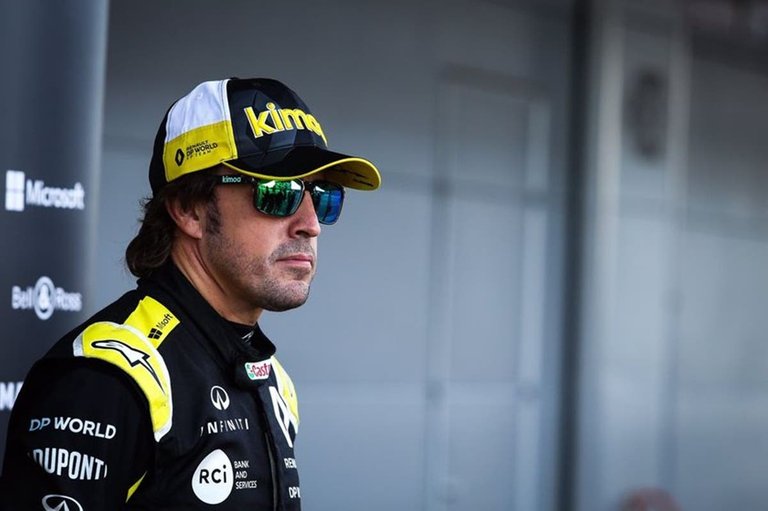 Fuente
// Susuki and the void left by Davide //
>_ Susuki said being surprised by Davide's "sudden announcement", but a decision of this type takes months to materialize and a serious person like Davide will have warned them in advance about his decision .
Of course, Susuki has already announced that they will not look for a new sports director and rather they will look for talent in the internal structure that Davide has left within the team. Good luck with that.
For the world of motorcycling in general, the void he leaves is even greater and we can only remember the achievements and records achieved, and who knows, perhaps in the future, we will see the return of one of the people more knowledgeable and winning of the world of the two wheels.
But tell me what you think, will Brivio - Alpine be successful in the next few years? Will it adapt to the world of motorsport or will it return to motorcycling in a few seasons?
Leave me your comments below and see you next week with more news from the motor world.

// Hive // Twitter // Facebook //
// Instagram // Movescount // Strava // Lbry //