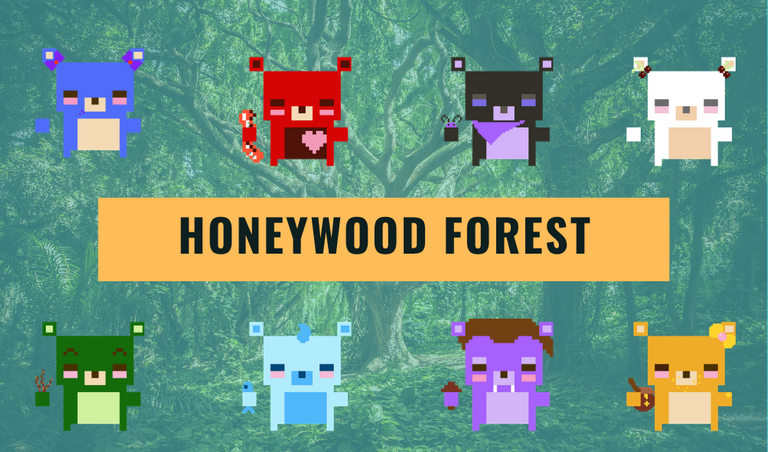 Welcome to Honeywood Forest! After a delicious spring picnic in the Honeywood Forest, the picnickers must make their way out of the woods. Unfortunately, all the delicious food has caught the attention of some bears who are just waking up from hibernation and are ravenous! Escape before you become their next meal!
This is a play-by-post game, inspired by @happyme's Zombie games. We will use the game board below to play the game. The goal is to make it to the Forest Portal square at the end of the path.
This game has space for up to 8 players and requires daily participation from the players. Players can jump in any time, but the game ends when a player reaches the Forest Portal. Players post a comment on the daily game post to sign up and take their turn. Active players can win Hive SBI shares and tokens. We have room for 2 more players! Comment below to sign-up!
Announcement
Hello everyone! I applied for a small grant in $NEAR to run a version of Honeywood Forest on Twitter! It will be the same kind of format, with both $NEAR and Hive-Engine prizes!! You'll need a $NEAR address and a twitter account to play. I'll make a sign-up post for it soon but I wanted to say thank you to Createbase!!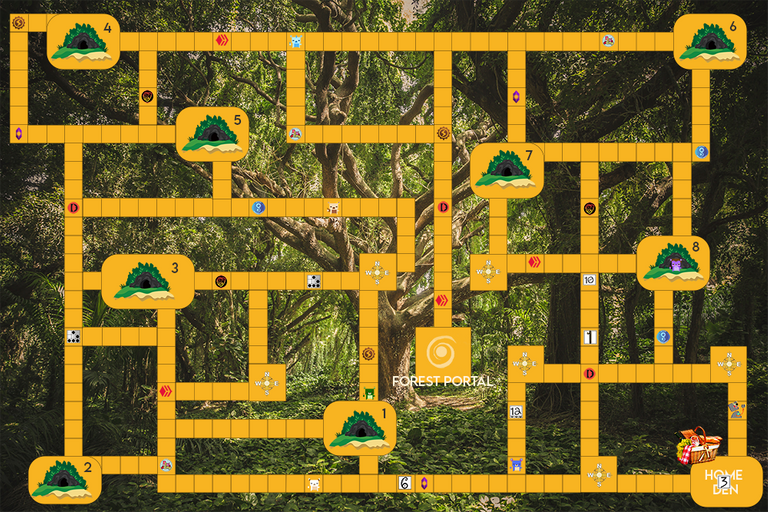 View large image of gameboard
Players
Bears' Last Turn
Bears
Blueberry - 6 - 5 east, 1 north
Coco - 4 east
Roots - 4 south
Fin - 3 east
Honey - 3 east
Bug - 1 south - Bug caught up to Player 3 who had no insects so was eaten and sent back to the Home Den! Player 3's tokens have been added to the Treasure Pile!
Dens
Den #8 - 1 - Shrome has woken up!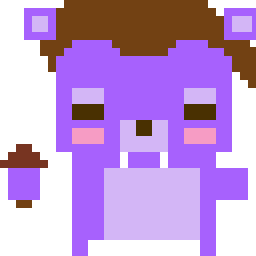 Shrome has woken up and is ready to play!
Rules
A copy of the game rules is available here.
How to Play
Players use the online tool to roll a dice.
Players comment below with their player number, what number their roll was, and which direction they move (ex: N, E, S, or W)
I will draw a card for each player after their turn from my homemade deck and comment after your turn with the player's draw.
After all players have moved or after 24 hours has passed, I will roll for the Bears on the board and the Dens to see if they spawn bears.
Bear Table
| Bear | Den # | Favourite Snack |
| --- | --- | --- |
| Blueberry | Den #1 | Berries |
| Coco | Den #2 | Nuts |
| Roots | Den #3 | Roots |
| Fin | Den #4 | Fish |
| Honey | Den #5 | Honey |
| Bug | Den #6 | Insects |
| Red | Den #7 | Meat |
| Shrome | Den #8 | Mushrooms |
Prizes
Each player's first comment will receive an upvote from me. Each day, I will select a random active player to win a Hive SBI share using a number picker. At the end of the game, all active players win the tokens they currently have in their bags plus 1 Hive SBI share.
Congratulations to @happyme for winning yesterday's Hive SBI share!
Learn more about Hive's SBI shares.
Tokens Table
Players can win the following tokens.
Image Credits
Pixel bears, header image, and gameboard made by me. Thank you to veeterzy and adrienolichon on Unsplash as well as AnnaliseArt, RoadLight, Clker-Free-Vector-Images, and mohamed_hassan on Pixabay for gameboard elements. Death Blueberry image thanks to Malcolm.