Friday Market Musings | 3
Friday Market Musings | 3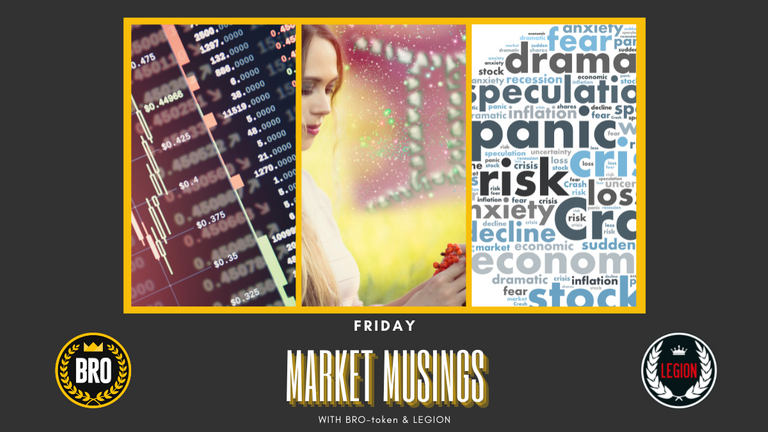 Fear as constant companion
In the world of crypto, fear is a constant companion. Just when we thought we were heading in the right direction, Bitcoin price had been rising for two weeks. And right now, the US government is dropping a bombshell announcement about an illegal crypto exchange. That happened yesterday! The market shook, investors panicked, and prices plummeted. But just as quickly as the fear sets in, it dissipates when it turns out that the exchange in question was a small, insignificant player in the grand scheme of things.
But why is this happening, you may ask? The answer is simple: government and crypto just don't mix. The nature of crypto is to be decentralized and free from government control, but governments are constantly trying to exert their influence and control over the market. It's like trying to mix oil and water; it just doesn't work.
Don't let yourself be fooled by a small recovery
After the worst fear flew out of the Bitcoin price yesterday when it turned out to be a small exchange, the Bitcoin price recovered a bit. But let's not fool ourselves into thinking we're not yet in the danger zone. No, the real drama is yet to come. You see, it's only a matter of time before Gemini, the darling of many in the crypto world, files for bankruptcy. And when that happens, the entire crypto market will feel the consequences.
How big will those consequences be? Perhaps we can look back at what happened when FTX went under recently. Gemini's demise is a result of that. So you can say that the ripples of FTX's demise still haven't come to a halt.
Regulation
In addition, we are dealing with governments worldwide that are trying to get the crypto market under their control. Sometimes they go very far, and that also has consequences for the crypto. To understand this, we only have to look back to the example of when China cracked down on crypto mining. This created a ripple effect throughout the market as miners were forced to cease operations and prices fell. Now I'm giving the example of China here, but it's not just China; Governments around the world have taken notice of the crypto market and are trying to find ways to regulate it.
Regulation slows down innovation
But here's the point: you can't regulate something that is inherently unregulated. The whole point of crypto is to be free from government control, so any attempt to regulate it will only serve to stifle innovation.
So what's the solution? The answer is simple: they need to stop trying to mix oil and water. They need to stop trying to force government regulation on something that is inherently unregulated. Instead, we should allow the crypto market to flourish on its own, free from government interference. People in crypto should know that they have to take their own responsibility, that there is no safe net, and there can be none. No safety net without regulation.
Governments are like a dog with a bone
But will this happen? Unfortunately, the answer is probably no. I wish I could explain it in another way, but you know me. I have 3 dogs at home, and my thoughts evolve around dogs. So the comparison I found is that governments are like a dog with a bone; once they get their teeth into something, they just can't let go. And so we will continue to see fear and drama in the crypto market as governments try to exert their control. But ultimately it is up to us, the investors and enthusiasts, to stand up for the fundamentals of crypto and resist government intervention. Only then can we really see the crypto market reach its full potential. Like I said, the answer is probably NO. So we can only hope that we will find a way to have the best of both worlds.
Ah, did I ever tell you I'm a dreamer?
I'm going back under my rock and see you next week with a new Market Musings blog. Oh, don't forget that a new newspaper will also appear online on Sunday.
Have a nice weekend folks!
---
---