30/07/2020

১৫ই শ্রাবণ ১৪২৭
The Weekly Turni
---
Prologue
---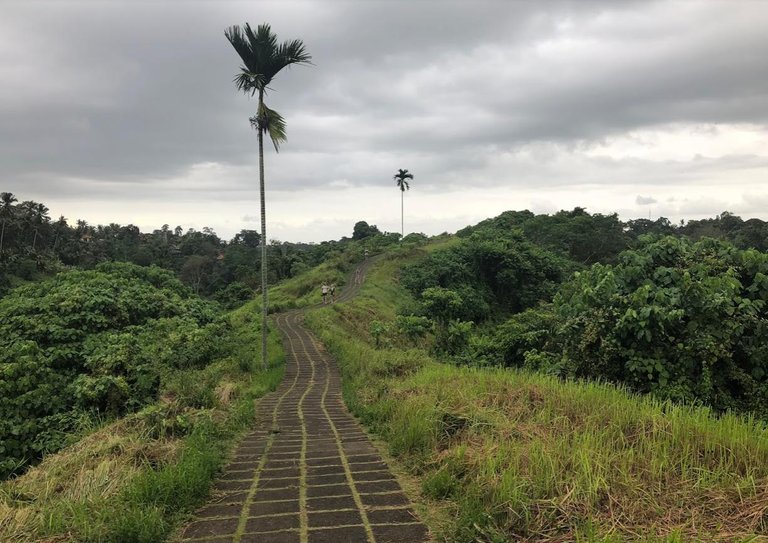 We have some exciting news to share at the BDCommunity. Today we are starting a new incentive. We will be starting a Little Magazine on the Hive Blockchain. The word "Little Magazine" is nothing new or unique, not even on the Hive Blockchain; however, that word means a lot more to us and many other like-minded people from this corner of the world. That word means a new path, a journey, not towards the riches, but our personal greatness. As a youngster, some of us have walked this path, some haven't but most know about it. This is not an easy path. It is neither straight nor even. The path sometimes has some overgrowth of grass due to less usage, but we don't pay attention to the weeds, we see how perfectly geometric they are! The path is under a cloudy sky, and it might rain, but we don't care about the rain; we enjoy the beauty of it! As the creators of this initiative, we are hopeful. We hope, as the reader, consumer, and co-conspirator, you will enjoy this new journey. We always feel that we have a lot more to contribute to the rest of the world, which will be a path towards success. The details are described below, and we look forward to this journey. This will be our journey together, and we won't get lost. As one of my favorite author Ursula K. Le Guin wrote in The Left Hand of Darkness:
"It is good to have an end to journey toward; but it is the journey that matters, in the end."
---
BDCommunity Weekly Rewind
---
Last week for us was, what you call, Ending on a high note. So, our tiny community has gone through some significant changes. We have published an updated Guideline about how we morph into a more diverse community as we move forward.
Our last hangout was most probably the most engaging one to date. Our discord kept crashing as we had so many on the voice at the same time. We parteyd hard, LOL.
And, we have seen an up rise on the quality of the contents BDC members produce. So we have selected to showcase three of the best pieces our curators have picked from the countless others that are equally worthy. And wed like to appreciate these pieces by adding to it something of our own.
---
Most of us at the very begging of our Hive journey have had difficulties understanding little concepts that seem very trivial after a while. Among then, Hive Power is one. So our native SEO expert, Marwan, aka @pitboy, has taken it upon himself to create a * 1-minute guide* about hive power that is very easy to grasp. So if any newbies reading this, watch it as it would clear up some prevalent misconceptions. And those of you who already know the intricacies of everything Hive, you can watch it too. Just to appreciate the sheer effort, this Bangladeshi Blogger has put on this video:)
There is a book by Bimal Mitra; Kori Diye Kinlam. Its a 1200 page saga, so think twice before considering to read it. One of the critics of that book once said it is 1200 pages because Bimal Mitra says the same thing over and over again. In response to that, Bimal babu said, a style that he was trying to portray in that book is like Hindusthani Classical Music, wherein both during Aalap and during Bistarr and even in Taan, you repeat the notes over and over, it adds to the experience. He did the same thing earlier in Shaheb Bibi Golam as well, but more so in Kori Diye Kinlam. When I read this post, the first paragraph reminds me of that. You probably didn't write it consciously, because that would be remarkable. But the style worked nonetheless. Well done.
This has the vibe of a poem, and the illusion of being an excerpt from a novel! The author picks the most mysterious time of the day and shows us how scattered thoughts can become, without having to utter the words.
Our one of the most prominent Bengali author, Nirupom Azad, here has the potential to become a great writer. A little weak on his Satirical skills:V Still he writes with heart and a little sprinkle of self-found philosophical wisdom.
---
Do not forget to join our next weekly hangout at Friday 10 PM GMT +6


Featured Spot
---
Featured
---
This here is our piece de resistance. So, to promote engagement and a little self-branding, we have come up with an initiative that we simply called Featured. And we are very excited about this portion of the magazine.
Every week, one talented author will have the opportunity to contribute an article/an original piece of theirs for the magazine, while showcasing one of their best posts from last week. The willing writers will have an opportunity to add to the magazine a few words about any topic that they choose and be a 25% beneficiary of the magazine.
How To Get Featured
---
In the first step, you decide whether you want to get featured. Once you've made up your mind, you have to apply by submitting only one of your articles from last week and only once per week. Choose the piece you deem to be your best work for the week, as this will play a significant role in you getting featured or not.
Application Window
---
There will be a two day period to submit your application. It must be submitted by dropping a link to your post in the #Featured-Magazine channel on the BDCommunity Discord Server.
Once the application window has closed, @linco, @simplifylife, and @zayedsakib will choose three authors from all the submissions. And @azircon will choose one winner from those who will get featured in our weekly magazine.
The featured author for the week will be announced during the weekly voice meeting. They will then have four days to complete their piece for the magazine and submit to the officials.
The author who gets featured in the weekly magazine will be set as a 25% beneficiary, meaning 25% of the magazine's liquid payout will go to the featured author.
---
This Weeks Featured author - @simplifylife
---
It's human nature to almost always expect The grass is greener on the other side. It takes an immense amount of wisdom and insight into life to comprehend the fact that what we see is not what's always under the skin. From our next-door neighbor to the colleague in the next cubicle to Facebook and Instagram feeds of friends, acquaintances, we tend to fall into the trap of comparing. A dangerous pitfall.
Most humans are egoistic. I do not say this in a wrong way. But people do not usually let the outside world in on the wounds they are tending to. These wounds, you do not see with the naked eye. These wounds, you do not sense, unless the wounded lets you in. Human ego puts on a strong facade, that does a beautiful job at creating an almost perfect illusion, barely hiding that tiny crack which we do not want to see. Instead, we compare.
If we are willing to see through the eyes of our minds and not through the ones in our orbital cavity, If we are ready to expand our horizons of thinking, we'll realize how often the grass is pretty green this side of the river too. Let's change the age-old saying today, once and for all,
---
The Grass is Greener on whichever side we want it to be.
---
I'll finish off with a few lines from a song @zayedsakib shared a couple of days back when we were discussing music. These verses have been playing in my head on repeat. I'm not sure how, but I feel these lines fit in here. I may be wrong. But hey, that doesn't matter. As long as you see the green grasses under your feet :)
এখনো আলো আসে. জানালা খোলা রাখি.
পেছনে গান গায়, খাচায় পোষা পাখি।
-এখনো আলো আসে, Mahedi Nil

Splinterlands Tips Of The Week.
---
Are you new to splinterlands? Then this is something for you! I'm @hossainbd, here with some essential tips to guide you, on your way up through the ranks in splinterlands!
When we first joined splinterlands, learning wasn't as easy. Everything seemed so new. There weren't many people around to support us either. But players joining now are blessed in that sense. We have the solutions to most of your problems.
Still, there are a few basic mistakes I see players make, without even realizing it. Although this post is directed towards new players, I'm sure almost everyone will take something away today!
Tip-1: How to buy Packs for cheaper.
---
Usually, what new users fail to see is how Packs are cheaper in Second-Hand markets than the ingame market. For example, You can buy packs from the official market for 2000 DEC, which is 0.97$. But if you use credits to buy the same packs, It'll cost you $2. Because 2000 Credits=$2.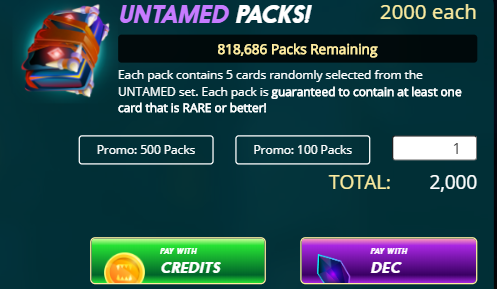 But if you want, you can buy these packs second hand, at a lower price from these markets :
But these are only if you want to buy a few packs, and not in bulk. If you're going to buy in bulk, like 100 packs, I will suggest you buy from the official market. If you buy 100 packs from the official market, you get a bonus of 10 extra packs.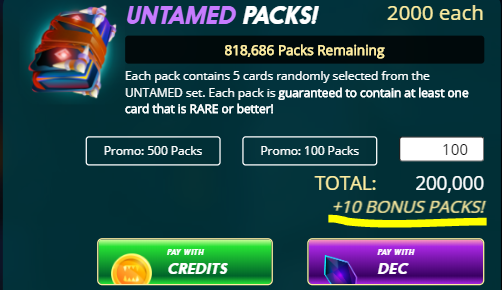 So, the average cost per pack will be 200000÷110 DEC. As the number of packs you buy, the price per pack will continue to decrease. But if you buy a small amount of packs from the monster market or hive-engine, you'll see the cost of every untamed pack is 1800 DEC.

Tip-2: Combining Wrong Cards.
---
Secondly, a common mistake that we make is while combining cards. As we don't have knowledge about all these pieces of information at the beginning, mistakes can happen.
But not to worry! I'm here to provide a solution to this. Before you combine a card, you should always check the stats first. You will get all the necessary details when you click on the STATS tab.
For example, you want to combine a common card. You have to know which edition the card is. There are 5 editions so far: Alpha, Beta, Promo, Rewards, and Untamed. Every edition has a different combine stats. For example, if you want to Level up this Untamed Serpentine Spy to Level 4, go to stats.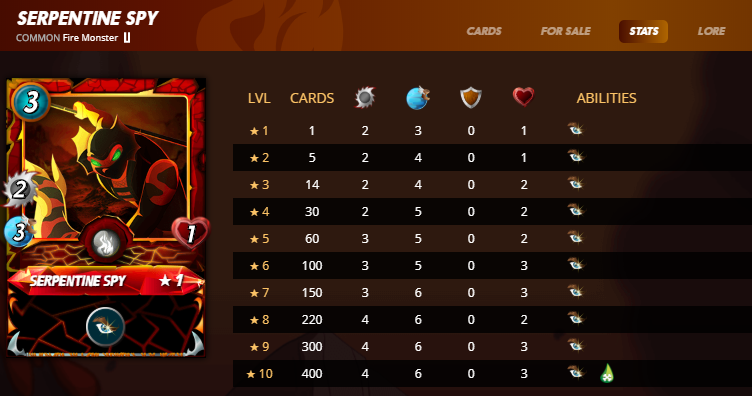 ---
As you can see, you will need 12 cards for the upgrade to level 4. If you combine one single card extra apart from the 12 needed, it will be a waste until you level it up to level 5. So, always keep in mind checking the edition and stats before combining any cards to level up.
Tip 3 : Selling Cards in a Hurry
---
Let's say you are a reasonably new player in Splinterlands. And because of sheer luck, you just won a GFL. But as you hurried when you tried to sell it, you sold it for a lower price than its burn rate.
Now let me explain that a bit. Every card in splinterlands has a specified worth that is called Burn Value. Meaning, if you burn the card instead of selling it in the market with a bit of waiting, you'll get a fixed amount of DEC pretty instantly.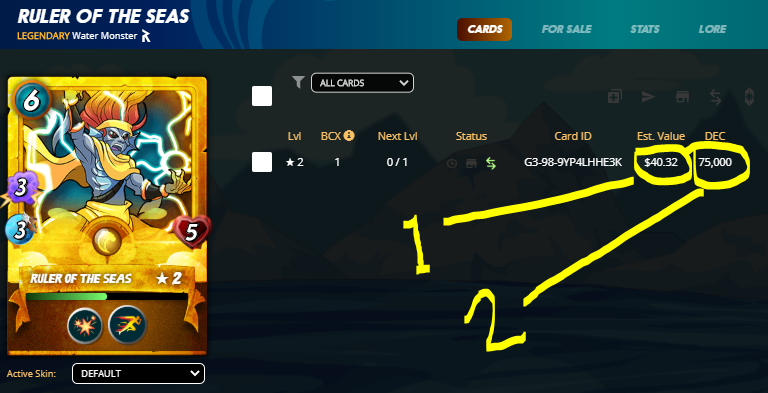 Est. Value is market value, DEC is the burn value.
---
A GF Ruler of the Seas has a burn value of 75000. Its market price is $40. Now, if you sell it at $35 just to sell it quickly, then you will see, you have made a loss of a few thousand DECs. Because at the moment of writing this post, $35 = 71000+ DEC. You also have to pay 5% as a market fee. So it is always important to check the burn value before putting a card on the market.
Epilogue
---
Thank you for staying with us till the end. And specially, we would like to thank @azircon, @reazuliqbal, and @zaku for making all this possible.
---
Thank You
---
Phew! What a journey for the first week. We hope you had as much fun reading this as we had while preparing it for you! But this is where we say goodbye until next week. PEACE