Have you ever heard of 100% tax on something? Maybe yes or maybe not? but let me introduce to you Dcity and yes in Dcity I am paying off 100% tax Yaay. I've always been against the huge amount of tax issue. My city is taking the extensive margin of formality. I own a small city and I realised how heavy taxes can be painful. Now I totally get this why Rich people move to tax-free areas. Paying huge taxes are just utter shit. Everything should be moderated. Extreme of everything leads to various problems.
Total Tax
Total tax I am paying 100%(108.781%)
Income tax 73%(It was 65% before)
Police tax 1%
Education tax 5%
Basic tax 19%
Art tax 5%
War tax (Lobby) 6%
I even have a tax reduction card activated and that card is reducing my tax by 10%. So after a 10% reduction of the tax, I am still paying 97% tax lolz big lol. By the time I was getting some sim income I was ok with my city but now when I get nothing but shit It pisses me off. Ranting was obvious so I went to the dcity official server and ranted about tax. I got some replies.
President set high taxes(I know this tell me something I don't know :/)
that's why it's better to participate in governance.
Communism
The SIM printing presses were burnt down by a mob of SIM dumpers. DCity is so realistic there are even riots here.
All the replies I got from big Dcity holders.
Dashboard

Map
---

---
Government
---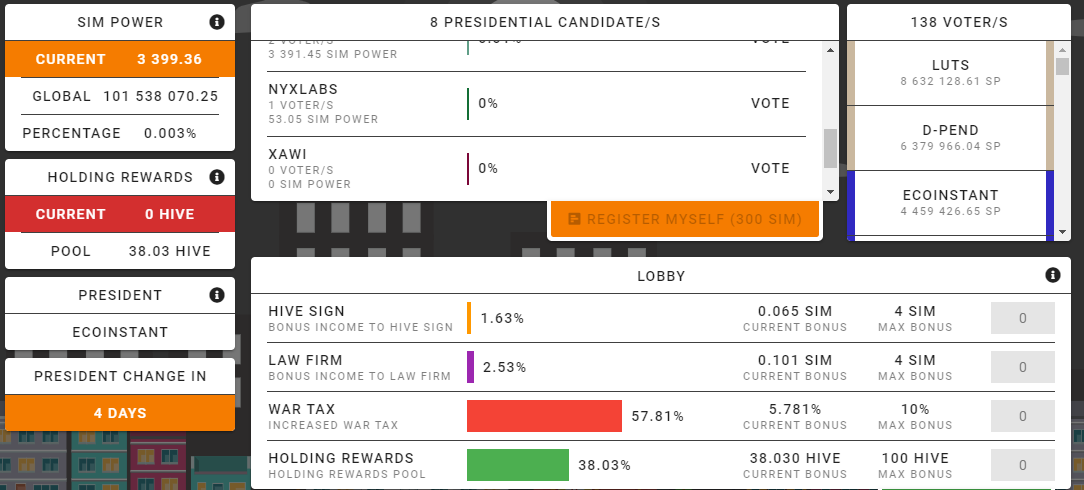 Simulation
---

---
Technologies
---

---
Currently, Dcity is not supporting dynamic backgrounds, that was the real reason my city was so laggy. I changed its background to static and now it is working fine. So if you facing the same issue then edit your city and change the dynamic background to static.
I did something very funny :P XD I don't even know how government works and I just registered myself for the presidential Candidate :P XD I only know how to blame presidents for implying so much taxes. I thought that registration is for voting the most deserving and accurate presidential candidate. I didn't know I will become one candidate uggh How to revoke this action? It seems I just wasted 300 Sim :( especially when the Sim income is like this.
---

---
I think while making a rant post I just screwed up and wasted my precious 300 SIm :(. helppppp I want my sim back :P XD See you all in the next post take care