Heya warrior's wassup?
I remember I shared one useful link in my one post. And that link is so useful that you can check your packs value, the value of the loot chest you earn from your daily quest. You can calculate the low prices gap and the one most useful tool that I loved the most is the SPS airdrop points calculator.
The other day when I was lurking in the official splinterlands server Maverick channel. Someone shared his SPS airdrop points. Those points were so amazing that it urges me to calculate mine.
Step 1
Go to this website Splintercards
Step 2
then click on the tools and then click on the SPS Airdrop calculator.
---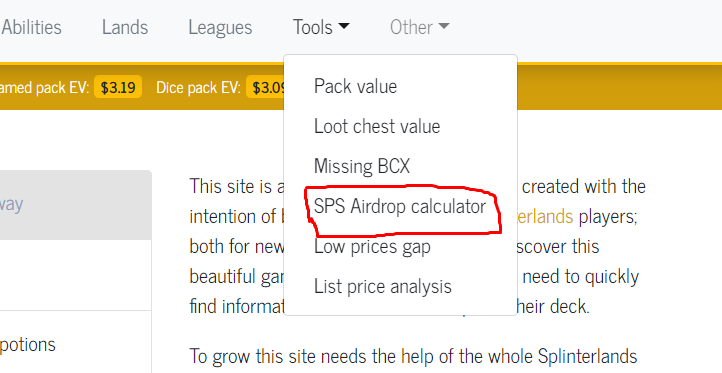 ---
It will take you to this page where you will have to fill are the required blanks.
---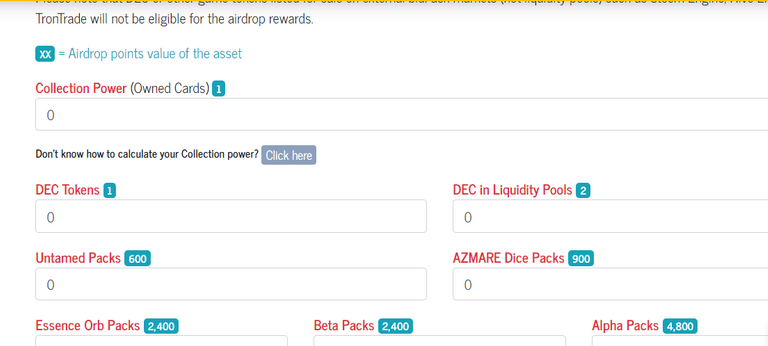 ---
First, blank box is the collection power of owned cards. If you don't know how to check the collection power of owned cards then go to peakmonsters and click on the collection and in the collection, you will see the option of bulk so just click on it.
---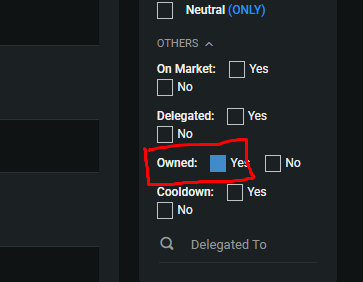 On the right side scroll down a bit and in the other category tick the box of owned cards.
---

---
I have gotten my collection power of owned cards I will just start filling the form. I don't have decs because if I will have a dec balance I will use them in buying cards :P. I have untamed packs but I know I am going to open them before the airdrop so I didn't fill up that box. I don't own any title :( I purchased skin sets common, rare and epic. The legendary set is still on my mind. I have only 20k spt tokens in my main account rest of the spt I have staked on my alt account. After filling up the form when I hit calculate option then I got my airdrop points.
---

---
Just 158k :P XD I am saying just because I have seen points of whales oh damn those whales should be proud man :P Anyways quite an easy way to calculate your SPS airdrop points. If you want to calculate yours then I hope I have described it in well manner way :P XD if any confusion, do comment in the comment section I will try my best to solve the issue. See ya take care