"Don't Tread On Me" - Photochain Challenge 75 📷⛓

Greetings, Friends!
Time for another fun round of the PhotoChain Challenge!
For my entry this week, I am featuring a picture from the wall in my son's room. He also has this same image on a banner he hangs in the suite at the fraternity when college is in session.

Don't worry!
You won't find me treading anywhere near a snake!
🏃‍♀️💨🐍
That is a strand of LED lights you see at the top of the photo below. The LED lights are how I was able to create a blue, framed image to enter this week's contest. A remote control lets you change the colors from a variety of options.


Because I am the way I am, I played around with editing tools (Prismart & Lunapic) to have a little fun and much needed stress relief.
Here's my first edit: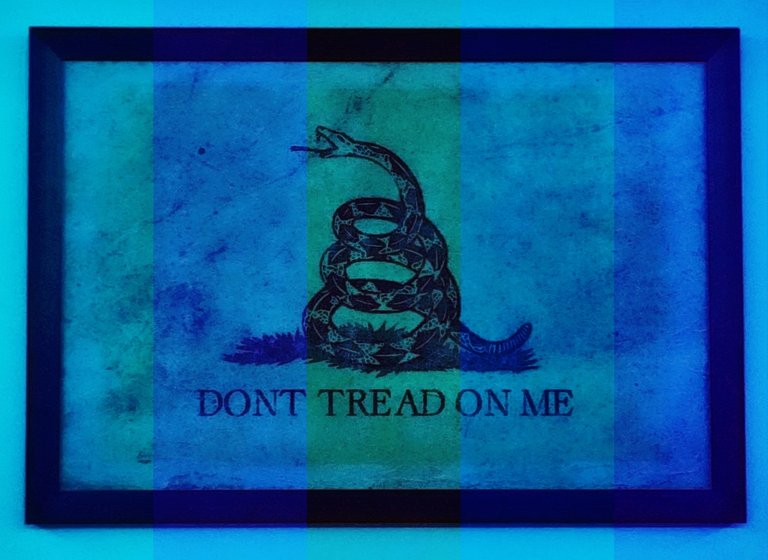 And my personal favorite:


The KEY-SUBJECTS for this week are:

FRAME by @melinda010100
and

BLUE by @ainie.kashif

Congratulations!

My key word this week is: REPTILE

(After DANCE and WATERMELON anything is game!😂)

This is my entry to PhotoChain Challenge 75 Edition hosted by the incredible @davidesimoncini

You can learn more about the contest and detailed rules by clicking 👉 here

Thank you for stopping by!

© 2021 Nina Haskin. All rights reserved




Thank you for taking time from your busy day to stop by and visit my blog. I truly appreciate everyone's continued support! Stay safe & keep healthy!




Proud member of



---
---