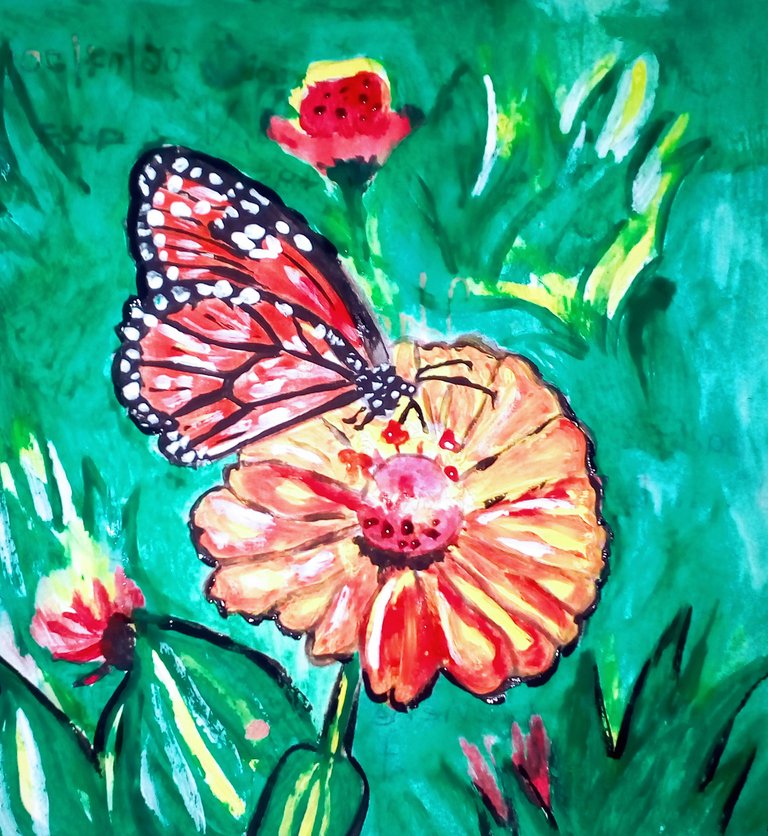 Hola queridos amigos de hive, en esta ocasion les estare hablando de como dibujar una bella mariposa monarca, y una flor de cuarentona, el proceso puede durar más o menos, debido a que debemos trabajar por parte.
Las mariposas monarcas se pueden encontrar en muchos países, son coloridas y les fusta posarse sobre las flores para alimentarse del nectar, las podemos ver en grandes cantidades durante la primavera, dejando todo el lugar como un cuento de hadas, algo extraordinario.
Las flores de cuarentona son de lugares exóticos y las hay de muchos colores y formas, entre ellos están el rojo, amarillo, naranja, rosado entre otros como el blanco, también de forma las podemos encontrar dobles y triples, haciéndolas aún mas grandes.
Me gusta trabajar con la pintura en acuarela, porque al combinarla con un toque de agua, se adhiere muy bien a la hoja de papel donde se está dibujando.
Los materiales a utilizar son:
Pincel.
Acuarelas.
Hojas blancas.
Lápiz.
Color.
Tijera.
Ahora les mostraré el proceso de como trabaje poco a poco.
Hello dear friends of hive, this time I will be talking about how to draw a beautiful monarch butterfly, and a forty-year-old flower, the process can take more or less, because we have to work in part.
Monarch butterflies can be found in many countries, they are colorful and they like to perch on flowers to feed on nectar, we can see them in large numbers during spring, leaving the whole place like a fairy tale, something extraordinary.
The forty-year-old flowers are from exotic places and there are many colors and shapes, among them are red, yellow, orange, pink among others such as white, we can also find double and triple shapes, making them even bigger.
I like to work with watercolor paint, because when combined with a touch of water, it adheres very well to the sheet of paper where it is being drawn.
The materials to use are:
Brush.
Watercolors.
White sheets.
Pencil.
Colour.
Scissors.
Now I will show you the process of how I work little by little.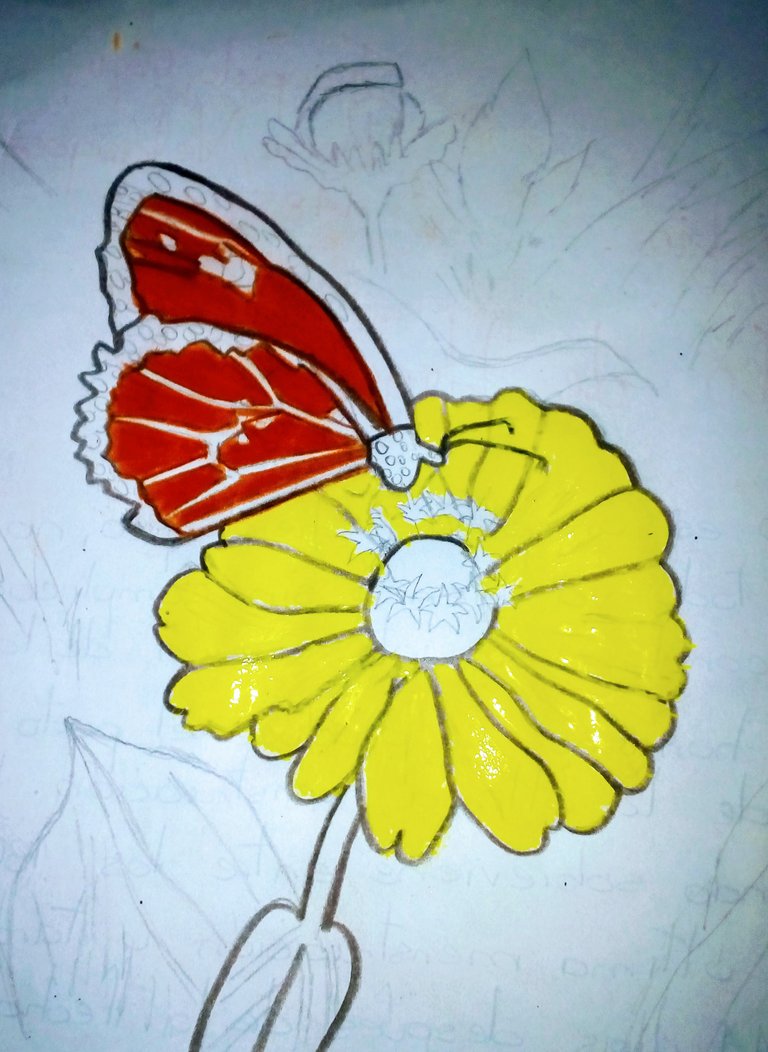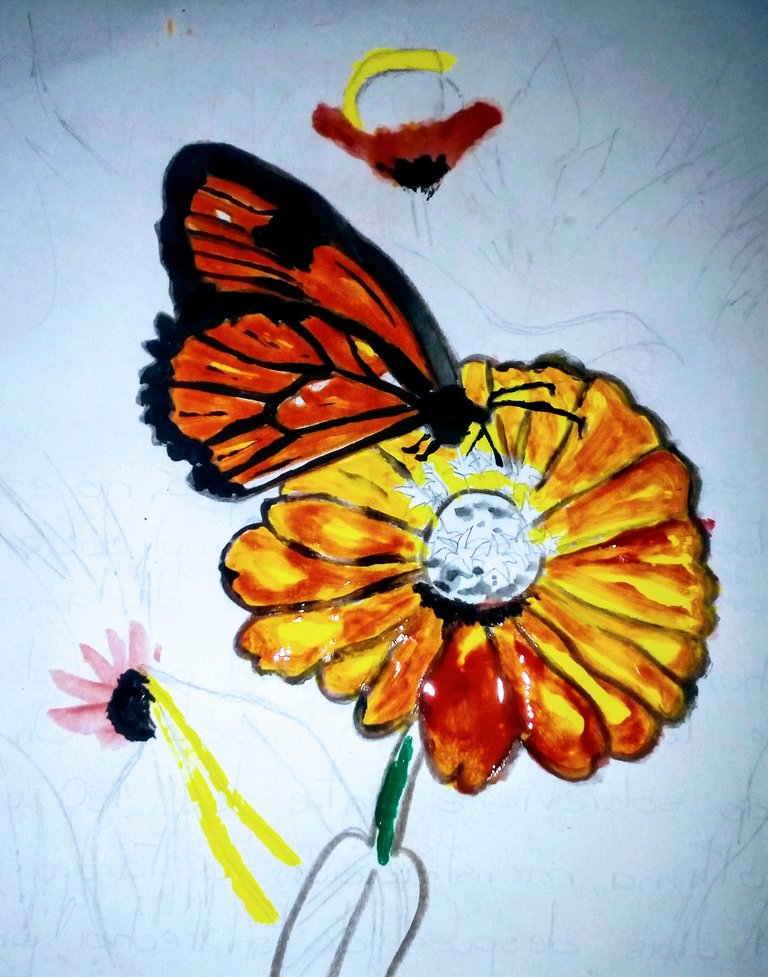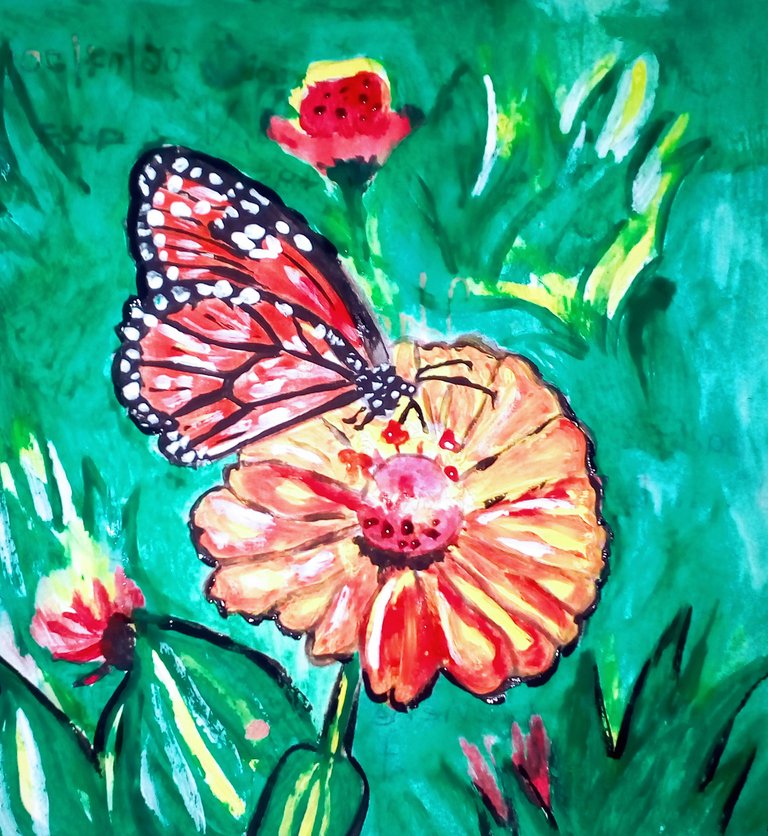 Me gusto el trabajo final, ya que me inspiró en las fotografías que obtengo de mis visitas a cualquier parque, escuela, cementerio, plazas entre otros lugares donde está toda una vida de flores y variedades de insectos llamativos.
Disfruta el momento y aprende cada dia Sobre el talento que Dios te dió, algún dia llegarás a ser tan grande que compartiras tus buenos conocimientos con tus hijos o alumnos.
Estas fotografías fueron tomadas de un telefono Samsung.
Espero les guste, saludos.