It was a very rainy day today but my son and I managed to do a rainy day round of eighteen on the disc golf course. We tied the score at six over par each. I think we both could have done better but with the wet discs and packs it was hard to warm up on the course.
Here's a picture of the biggest obstacle on one of the holes. This is a rather large stump affectionately known as "Stumpy." For a while there, I was almost always hitting Stumpy with a disc. I even threw one inside of it and had to play a roller out of it. Lately I've been throwing around it and doing a slightly better job of getting the drive off the tee closer to the basket. Occasionally I still have to hit Stumpy just so he doesn't get too lonely, LOL.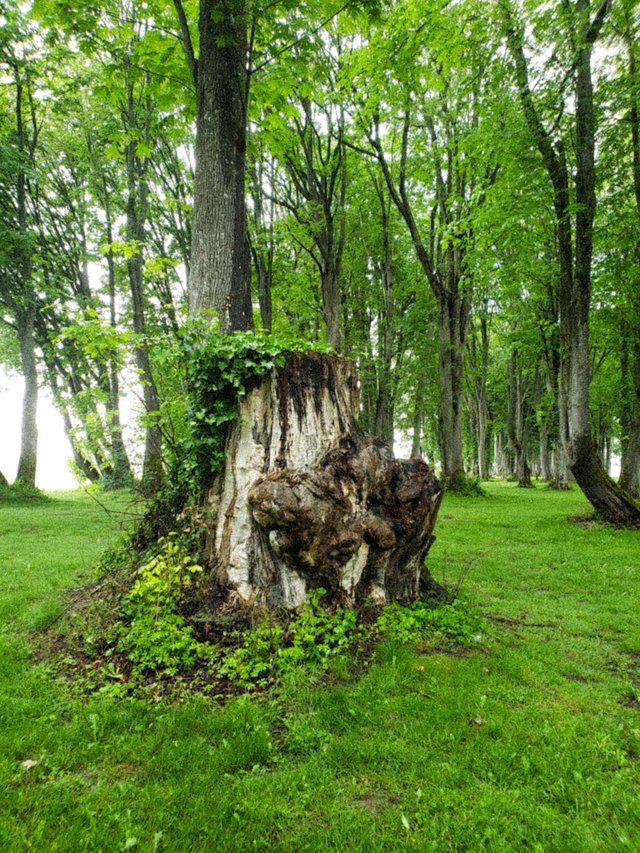 Here's the little puppy again. He loves to run around and get muddy.
---
All of this rainwater and disc golf, has really done a number on my shoes. They are not water resistant at all even with some waterproofing spray put on them. I think they still have many months of wear left but the smell is getting very rank.
I have a new pair on order that is supposed to be more water resistant. Hopefully by using them when it is rainy I can extend the life of my shoes some.
---
My new orange Tern still does not fly the same as the purple Tern that I lost. (I need to hit Stumpy more with it I guess.) I planning a trip tomorrow to the "Valley of the lost disc golf discs" for disc recovery, lol. I'm bringing some gloves and cutters so I can hopefully get back towards the tree where I know it landed near.
I've heard that many discs show up well with a black light flashlight so I'm bringing one of those too. There are many thick trees around the pro disc golf course and who knows what treasures I might find there... Of course if it is still raining I might not want to travel there.
---
Thanks for reading! I always value your support and comments. The pictures were taken by me with my Galaxy S9+. Text and graphics copyright lightsplasher & litesplasher.
---


10073

Daily Activity, Golf, House Chores, Walking