I searched around this morning for my lost Daedalus disc but it was not to be found. I even walked along the river for awhile looking in the places where the current might take it. It is probably half way to the ocean by now or stuck in some tall grass somewhere. Maybe it still might turn up sometime, I've found discs six months later.
Here's a long look that I took today, down the river and out towards the ocean, from under the railroad: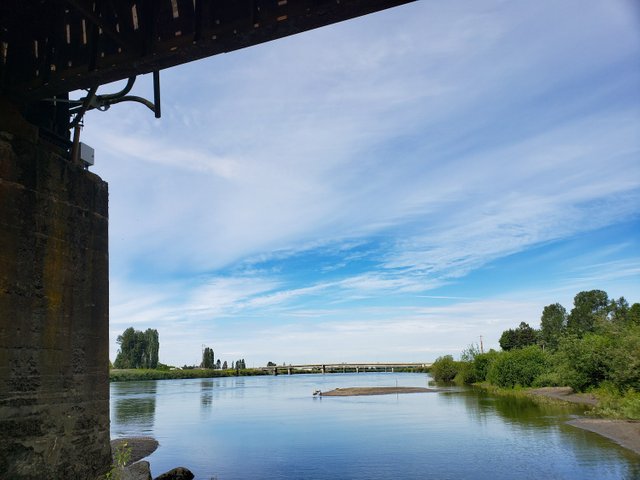 After searching for some time I met up with a couple friends for a round of eighteen shot disc golf. Partway through the round one of my friends started to give me an improptu lesson on putting. Apparently my putting kind of sucks. As in, it sucks to be me when I'm putting, LOL.
But, I am doing the best that I can and in case anyone didn't know, I am a bit elderly. You know kind of middle aged and have a few issues with, arms, back, legs... LOL. Anyhow, I'm kind of proud of my wounded duck putting style but if people want to give me lessons, I'm willing to listen. (Sometimes. :D )
The troubles you get as an older disc golfer trying to make a putt, grin. However, I'm not complaining, I have been improving physically a lot since I've increased my activity and I feel so much better. Doing these reports has continued to keep me motivated.
At least my score for the round was not that bad at two over par on eighteen baskets. That's a bit better than I usually do on the round for this course.
I guess I'll work my Shryke discs back into the bag for my forehand throw that I used to use the Daedalus for. It is a good thing I have plenty of discs as spares.
---
Thanks for reading! I always value your support and comments. The pictures were taken by me with my Galaxy S9+. Text and graphics copyright lightsplasher & litesplasher.
---


10970

Cycling, Daily Activity, Golf, House Chores, Yard Work