I played an eighteen basket disc golf course with my son today and had a personal best round of one over par. (I've had a two under par round before but it was not recorded.) My son did not play as well as he usually does and I ended up winning.
The rest of my steps were from some yard work.
---
As I was passing in and out the front door today I noticed a tiny black bug on a web. I thought maybe it was a black widow spider so I did not pay much attention to it. I generally don't like to kill spiders but a poisonous spider so close to the house entrance would need to be dealt with.
I thought maybe it would go away but a few hours later it was still there. This time I looked more closely at it and noticed it was a black beatle struggling upside down in the web. I don't even think the spider was anywhere around or surely it would have dispatched the beetle by then.
Having some compassion over the predicament of the beetle I could almost feel the blood rushing to the top of my head like getting caught upside down is some abandoned fishing net.
I plucked the beatle from the web and placed him on a flower: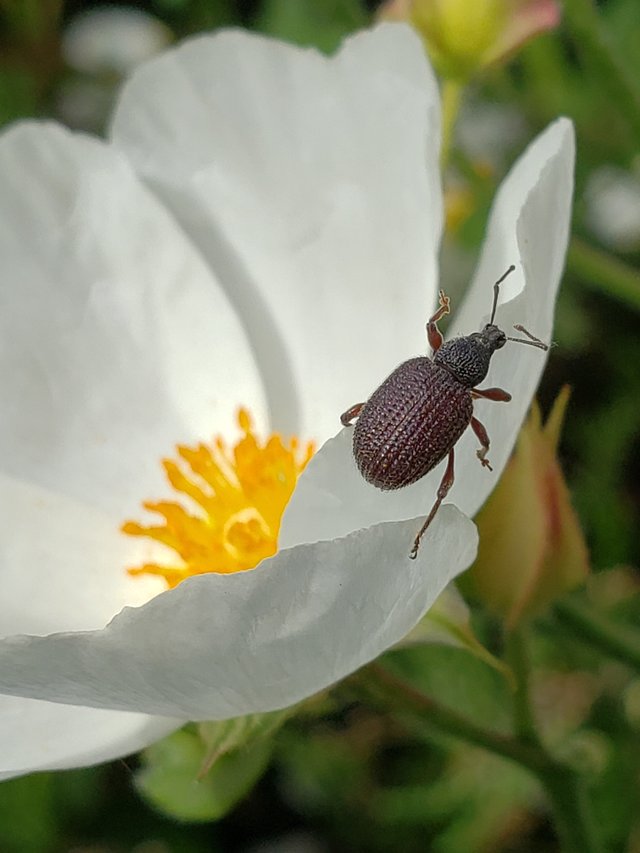 And Old Zen Story
This is kind of a modification from my memory:
There once was a very nasty man. Perfectly evil by most people's account but great with a sword. No one could beat him and he showed no mercy to anyone who fell beneath his sword.
One time he saw a black window spider. "Surely I should kill this spider," he thought to himself. Just as he was about to kill it, something sparred his hand and he let the spider scramble off to safety.
Eventually he died. He found himself in a very dark hell. Standing in a pool of boiling blood. There was but one sword which he grasped firmly in his hand. The other sinners swam around in the pool of boiling blood screaming in pain.
There was an island in the pool of blood made from the bodies chopped up by the swordsman. He had to constantly fight with his sword to keep the island intact because the bodies would heal and try to swim away and leave him boiling in the blood.
The black window spider look down into the depth of hell and saw him there in his predicament. The spider felt compassion for what he was experiencing and because he had spared her she cast a spider thread deep down into the abyss.
The swordsman saw the thread and grabbed it immediately and started climbing up as fast as he could. However, he could not drop his sword which he had counted so much on and so could not make very fast progress up the thread.
Soon many of the other sinners were healing and they began to climb up the thread. It was getting thinner and thinner from all the weight.
He thought surely it would break at any moment so as a person would approach close to him he would strike them down and climb a bit higher.
He grew angrier and angrier as more and more people climbed up the thread. He was nearly out of the pit of hell and could almost reach up. He shouted, "Stop climbing, you fools! Surely you will break the thread!"
With that, he swung his sword wildly at the nearest person but on the backswing...
The sword cut the thread just above where he was holding it and severed it.
Question of the day: What's the moral of the story? LOL.
---
Thanks for reading! I always value your support and comments. The pictures were taken by me with my Galaxy S9+. Text and graphics copyright lightsplasher & litesplasher.
---


10420

Daily Activity, Golf, Yard Work