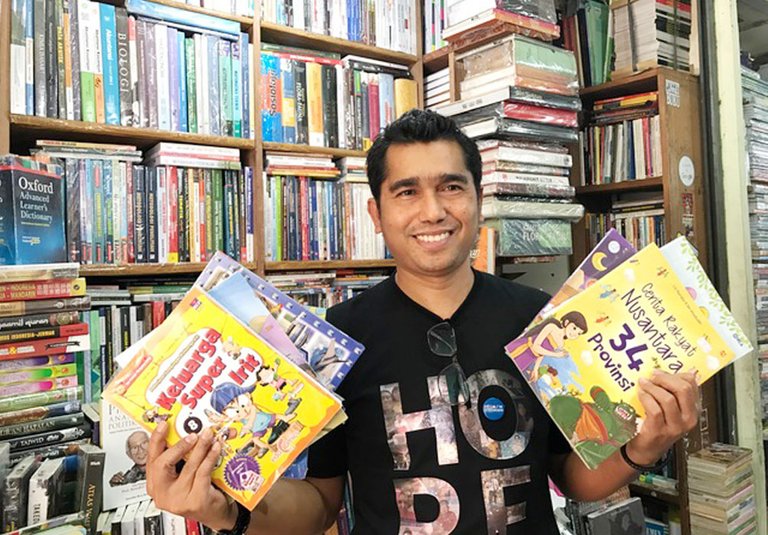 Ini di Shopping Center Yogyakarta, bukan di Aceh.
Does a city still need a bookstore in today's digital age? The book referred to here is any book to read, not a notebook.
The answer to that question can vary. But let's look at a small town in Aceh; Lhokseumawe. The city that was once named Petro Dollar used to have a busy bookstore, located on Jalan Sukaramai. His name is Arun Post.
Here not only sells various books, but also various types of magazines and newspapers. When I was studying at the State Polytechnic of Syiah Kuala University (now Lhokseumawe State Polytechnic) in 1993 - 1996, my friends and I routinely spent time at Arun Post.
We not only want to buy books, but rather to find our works whether loaded or not. Magazines such as Anita Cemerlang, Aneka Yess, Ceria, GADIS, NOVA tabloids, Aura, Indonesian Women, KARTINI Magazine, Femina, and so on, were explored. Is there a short story or our article published in it.
Especially for Anita Cemerlang, I have a signal to see whether my work is loaded or not. When I was regularly writing in this teenage fiction magazine, the column, Anita's Front Number, was often informed about the works of a number of famous writers that would be published, including mine. This is quite encouraging!
If I know that my work has been published, I usually read the book longer at the Arun Post, because when I return home I will definitely buy a magazine. Actually, I didn't have to buy the magazine because Anita Cemerlang always sent me a proof number.
But, I still bought it. Usually, I give this magazine to a friend whose life story is the inspiration for the short story.
At that time, Arun Post was always busy, especially when newspapers and magazines came.
---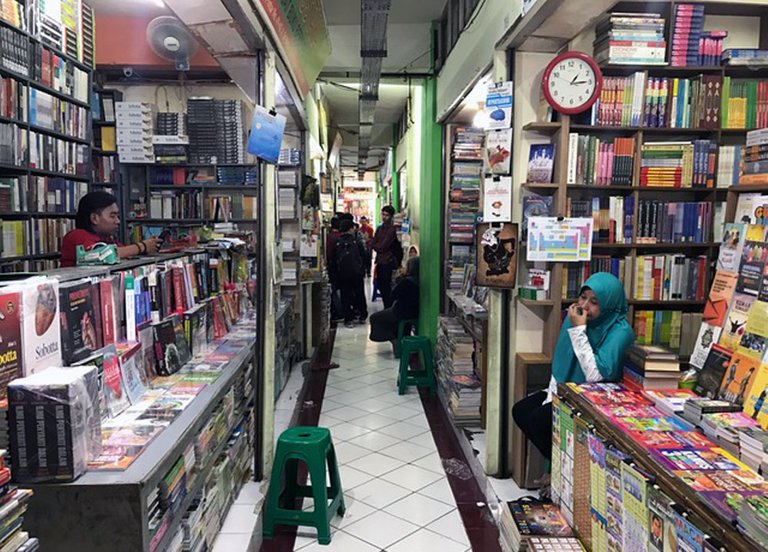 ---
Today, 16 September 2020, I am accompanying my first child who is looking for law books. As a first semester student of the Faculty of Law, Syiah Kuala University, he must equip himself with a number of reference books. I had reminded him not to look on the Arun Post because I had seen an announcement that the shop was going to be sold, although it has not been seen recently. The shop that is going to be sold certainly does not provide new items.
That is it. There were no books there and we headed for the ACC bookstore on Jalan Merdeka. It turned out that of the six books he wanted to buy, only one book was available and in large quantities and still in good condition. I am sure that the book is the target of students of the Faculty of Law at Malikussaleh University and so on.
The books displayed on the shelves were all old, yellowed books. I'm sure no one else is interested in buying it, maybe given it free will also be rejected. Finally, after buying that one book for Rp.38,000, we immediately decided to buy it online.
So, back to the question above. Still need a bookstore in a city. In my opinion, every civilized city should have a prestigious bookstore stocking new and complete books, and be a place for people to spend time there on weekends, taking children in search of wholesome and nutritious reading.
But here business law applies. When many people are looking for books every day, the bookstores will stand by themselves. Business people want to set up a shop that is busy dealing, not build a dusty building cemetery.[]
---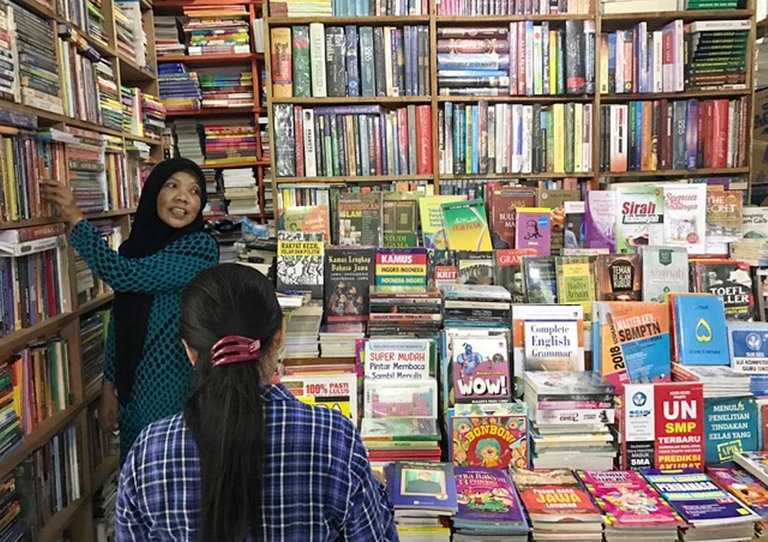 ---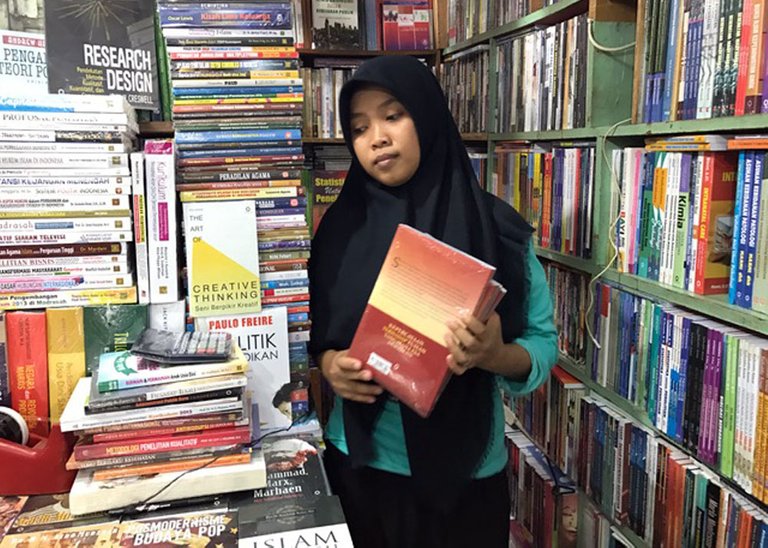 ---
Toko Buku Terakhir di Kota Kita
Masihkah sebuah kota membutuhkan toko buku di zaman digital sekarang ini? Buku yang dimaksudkan di sini adalah buku apa pun untuk dibaca, bukan buku tulis.
Jawaban atas pertanyaan itu bisa beragam. Tapi marilah melihat dari sebuah kota kecil di Aceh; Lhokseumawe. Kota yang pernah ditabalkan sebagai Petro Dollar ini dulu memiliki sebuah took buku yang ramai, terletak di Jalan Sukaramai. Namanya Arun Post.
Di sini bukan saja menjual berbagai buku, tetapi juga berbagai jenis majalah dan surat kabar. Ketika masih kuliah di Politeknik Negeri Universitas Syiah Kuala (sekarang Politeknik Negeri Lhokseumawe) pada 1993 – 1996, saya bersama kawan-kawan rutin menghabiskan waktu di Arun Post.
Kami bukan saja mau membeli buku, tetapi lebih kepada mencari karya-karya kamidimuat atau tidak. Majalah seperti Anita Cemerlang, Aneka Yess, Ceria, GADIS, tabloid NOVA, Aura, Wanita Indonesia, majalah KARTINI, Femina, dan sebagainya, kami telusuri. Adakah cerpen atau artikel kami dimuat di dalamnya.
Khusus untuk Anita Cemerlang, saya punya sinyal untuk melihat karya saya dimuat atau tidak. Ketika saya sudah rutin menulis di majalah fiksi remaja tersebut, di rubrik Anita Nomor Depan sering dikabari karya sejumlah penulis terkenal yang akan dimuat, termasuk karya saya. Ini cukup membanggakan!
Kalau tahu ada karya saya dimuat, biasanya saya membaca buku lebih lama di Arun Post, karena pas pulangnya nanti pasti membeli satu majalah. Sebenarnya, saya tidak perlu membeli majalah tersebut karena Anita Cemerlang selalu mengirimkan nomor bukti. Tapi, saya tetap membelinya. Biasanya, majalah tersebut saya berikan kepada kawan yang kisah hidupnya menjadi inspirasi lahirnya cerpen tersebut.
Waktu itu, kesibukan selalu hadir di Arun Post, terutama ketika koran dan majalah datang.
---
---
Hari ini, 16 September 2020, saya menemani anak pertama yang mencari buku-buku hukum. Sebagai mahasiswa semester pertama Fakultas Hukum Universitas Syiah Kuala, ia harus membekali diri dengan sejumlah buku referensi. Saya sudah mengingatkannya jangan mencari di Arun Post karena saya pernah melihat pengumuman bahwa toko itu akan dijual, meski belakangan pengumuman itu tidak terlihat lagi. Toko yang akan dijual tentu tidak menyedikan barang-barang baru.
Begitulah. Tidak ada buku di sana dan kami pun menuju toko buku ACC di Jalan Merdeka. Ternyata dari enam buku yang ingin dibeli, hanya satu buku saja yang ada dan dalam jumlah banyak serta kondisi masih bagus. Saya yakin buku itu menjadi incaran mahasiswa Fakultas Hukum di Universitas Malikussaleh dan sebagainya.
Buku-buku yang dipajang di rak semuanya buku tua yang sudah menguning. Saya yakin tidak ada lagi yang tertarik membelinya, mungkin diberikan gratis juga akan ditolak. Akhirnya, setelah membeli satu buku itu seharga Rp38.000, kami langsung memutuskan untuk membeli secara online.
Jadi, kembali ke pertanyaan di atas. Masih perlukah sebuah toko buku di sebuah kota. Menurut saya, setiap kota yang beradab harusnya memiliki sebuah toko buku bergengsi yang menyediakan buku-buku baru dan lengkap, dan menjadi tempat orang menghabiskan waktu di sana di akhir pekan, membawa anak-anak untuk mencari bacaan yang sehat dan bergizi.
Tapi di sini berlaku hukum bisnis. Ketika banyak orang yang mencari buku setiap hari, maka toko-toko buku tersebut akan berdiri dengan sendirinya. Para pebisnis ingin mendirikan sebuah toko yang ramai bertransaksi, bukan membangun kuburan gedung berdebu.[]
---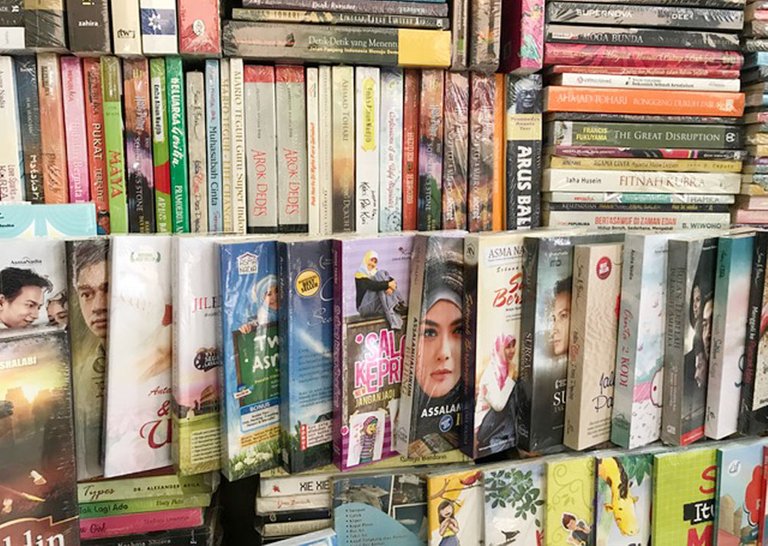 ---