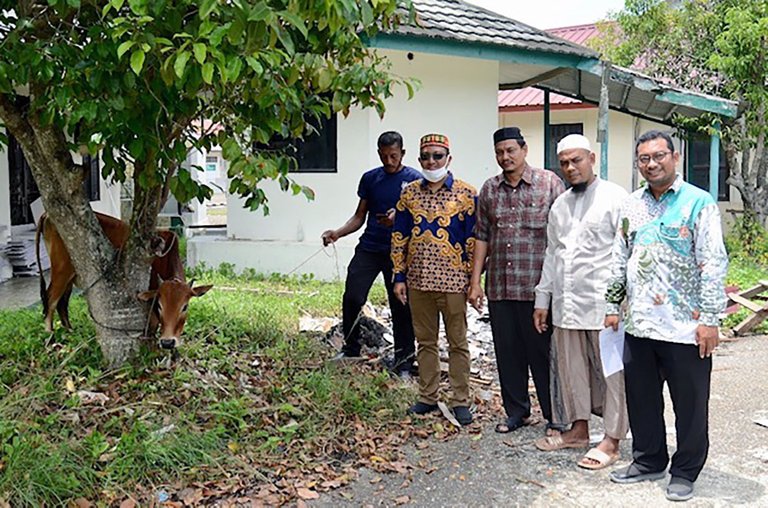 ---
---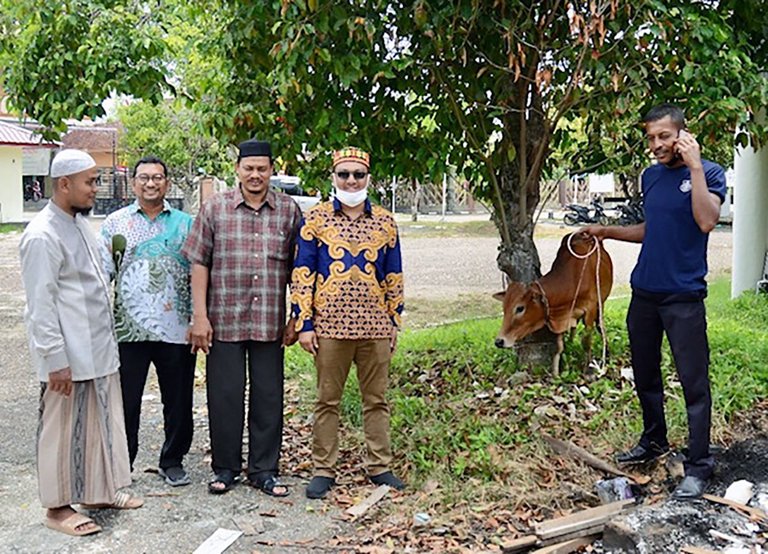 ---
Celebrating Eid al-Adha 1441 H, the Andaman Ltd Premier Oil Survey Team Malikussaleh University participated in the sacrifice. Submission of sacrificial bulls from the survey team was handed over to one of the campus circumference gates, Uteunkot, Lhokseumawe, Thursday July 30, 2020.
The handing over of the sacrificial bull was given directly by the Social Mapping Survey Team Leader, Teuku Kemal Fasya, which was received by the Uteungkot village. Uteungkot Village itself is one of the villages where Unimal students' boarding houses are located, especially from the Faculty of Medicine, most of whom come from outside Lhokseumawe.
According to Tuha Peut Gampong Uteungkot, Dr. Nirzalin, this sacrifice was considered very meaningful for the people in the Covid-19 era. "At present the purchasing power of the people is very lacking, so that when they get sacrificial assistance it feels like getting a speck of dew in the middle of the sahara," said Nirzalin who is also a lecturer in Sociology at Malikussaleh University.
Andaman Premier Oil Ltd itself is one of the high profile oil and gas companies that obtained oil and gas block concessions in Aceh in 2018, namely Andaman II Block. The Andaman II Block is 150 km from the Bireuen land. The company with its main office in the UK is already accustomed to conducting offshore oil and gas exploration and exploitation (offshore), with a good predicate.
With the new players in the oil and gas industry in Aceh, it is hoped that it will provide economic leverage among the people of Aceh, without forgetting that Aceh, especially North Aceh as a productive economic region, especially agriculture and marine affairs.[]
---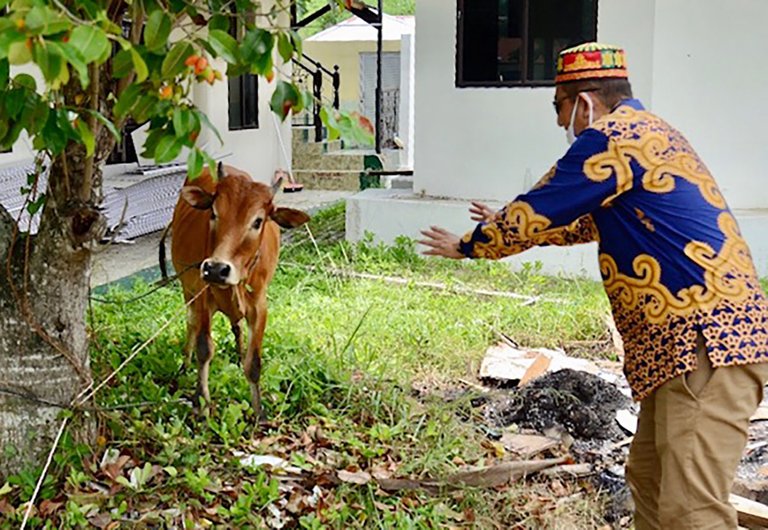 ---
Tim Survei Premier Oil Unimal Sumbang Lembu Kurban
Menyambut Idul Adha 1441 H, Tim Survei Premier Oil Andaman Ltd Universitas Malikussaleh ikut melaksanakan kurban. Penyerahan lembu kurban dari tim survei diserahkan kepada salah satu gampong lingkar kampus, Uteunkot, Lhokseumawe, Kamis (30/7/2020).
Penyerahan lembu kurban itu diberikan langsung oleh Team Leader Survei Pemetaan Sosial, Teuku Kemal Fasya, yang diterima oleh perangkat gampong Uteungkot. Gampong Uteungkot sendiri merupakan salah satu gampong yang menjadi tempat kos-kosan mahasiswa Unimal, terutama dari Fakultas Kedokteran, yang sebagian besar berasal dari luar Lhokseumawe.
Menurut Tuha Peut Gampong Uteungkot, Dr Nirzalin, bantuan kurban ini dianggap sangat berarti bagi masyarakat di era Covid-19 ini. "Saat ini daya beli masyarakat sangat kurang, sehingga ketika mereka mendapat bantuan kurban terasa seperti mendapatkan setitik embun di tengah sahara", ungkap Nirzalin yang juga dosen Sosiologi Universitas Malikussaleh.
Premier Oil Andaman Ltd sendiri adalah salah satu perusahaan migas high profile yang mendapatkan konsesi blok migas di Aceh pada 2018, yaitu Blok Andaman II. Blok Andaman II ini berjarak 150 km dari darat Bireuen. Perusahaan yang berkantor utama di Inggris ini telah terbiasa melakukan eksplorasi dan eksploitasi migas lepas pantai (offshore), dengan predikat baik.
Dengan adanya pemain baru dalam industri migas di Aceh, diharapkan akan memberikan daya ungkit ekonomi di tengah masyarakat Aceh, tanpa melupakan bahwa Aceh, terutama Aceh Utara sebagai daerah ekonomi produktif, terutama pertanian dan kelautan.[]
---