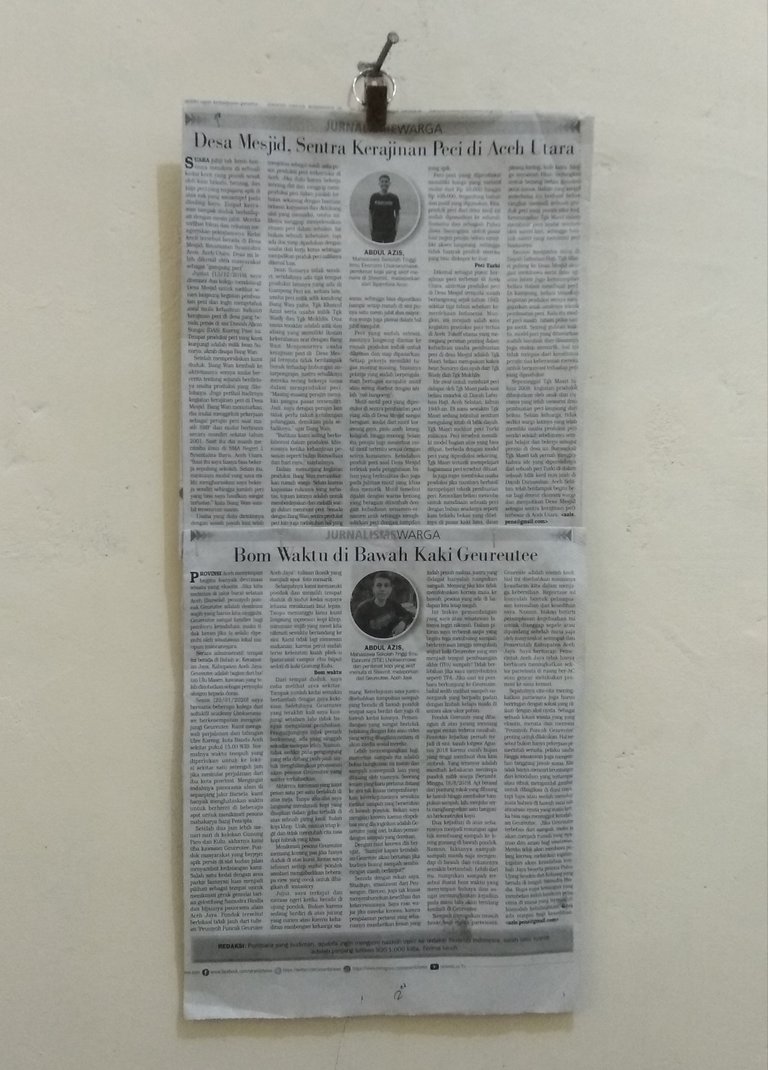 Friday, December 20, 2020, around 7 in the morning a short message came to my number. I don't know who sent the message, because it doesn't save it in the WhatsApp contact. Its contents are brief, only a photograph of the Serambi daily newspaper. There is a sign written "Village of the Mosque, Peci Craft Center in North Aceh", shocked, moved, and happy all mixed up because that is the article that I have sent to the editor of the Serambi daily newspaper since 6 days ago.
This is the first article I sent to the porch, and thank God that simple ideals were realized at the first opportunity. Because still lay, I need 5 days to write it including asking for responses from some of the more skilled colleagues. Next, I also asked a friend about the procedure for sending it to the editor. It took more than a week until I finally pressed the send button in my email.
I sent it on Saturday, December 14, 2019, at 13.03, since then I regularly see the citizen journalism column every day, but right at the time, the article was published I just forgot to check and thankfully there was someone who had first told me via WhatsApp.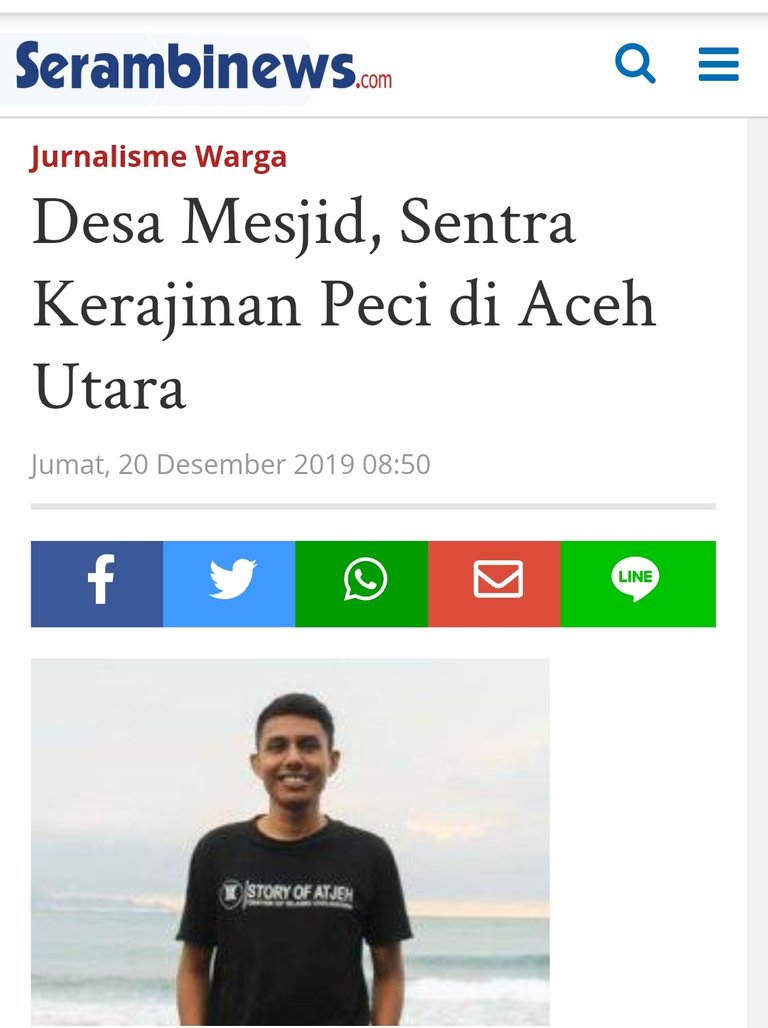 The article titled is "Desa Mesjid Sentra Kerajinan peci di di Aceh Utara" contains the cap production activities in the village, incidentally, Mesjid is my village. Even though the specialty products are already famous, through that article, I tell the early history of the emergence of cap production activities in the village located in Syamtalira Aron.
One month after the first article was published on the Indonesian porch daily, I sent another report from another journalist, "Bom Waktu Di bawah Kaki Geurutee" which is the title of the article. There is one similarity between the first writing and the second, they were both written on a Friday. Friday is indeed a blessing day.
This article was published after two days I sent it if the first article discusses a village that produces local crafts. In the second article, I wrote about the other side of Peuniyoh Geurutee. Attractions in the district of Aceh Jaya is famous for its beautiful sea view, combined with the majestic valley of Jaya so that anyone who visits will feel at home. And indeed, it was proven from netizen uploads on social media.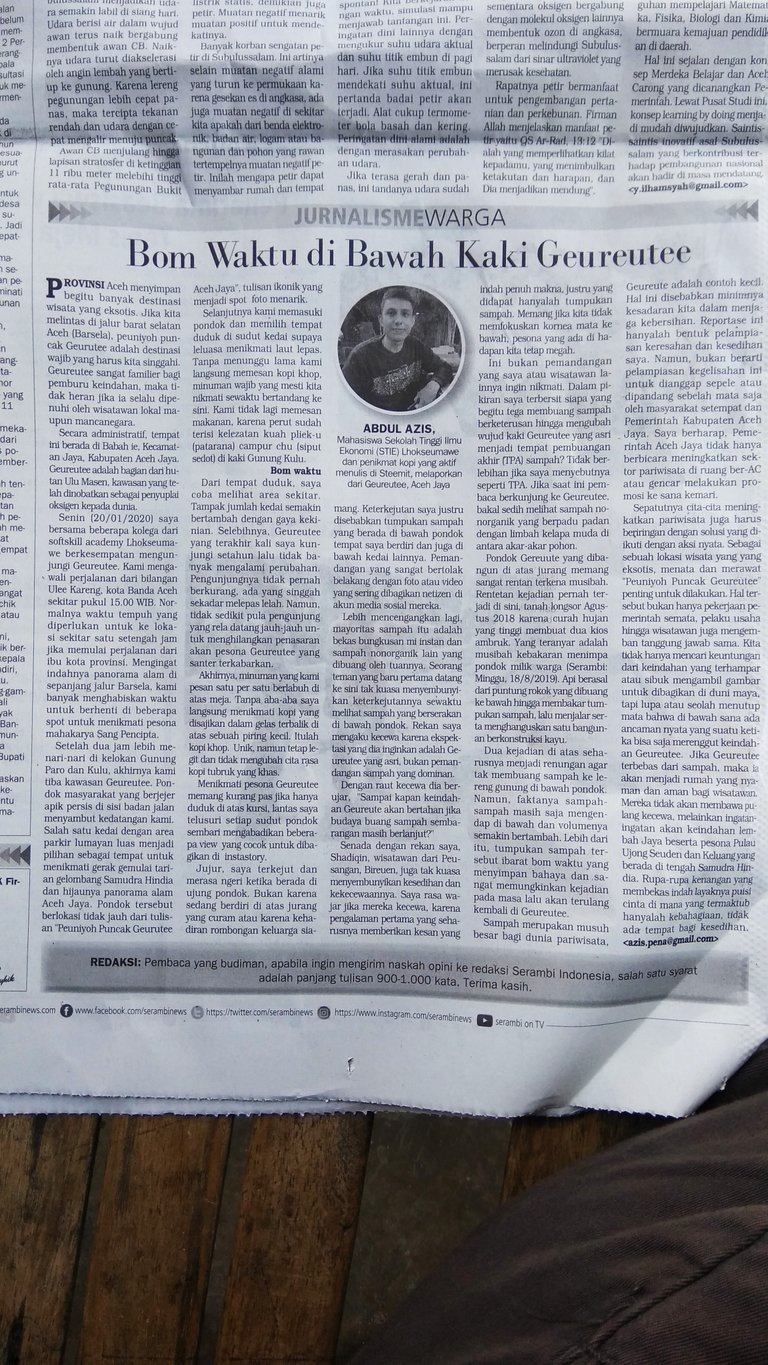 Unfortunately, everyone who visits only sees various forms of beauty but forgets about trash (I call it a time bomb) which is under the stalls lined up there. This paper is a form of my anxiety about the fate of Geurutee. The presence of garbage is very dangerous and can trigger disasters, so through that article, I was thinking to make anyone open their eyes to look after each attraction.
That was a meaningful experience for me, two experiences that were present on the same day. Although only in the citizen journalism column, I was very happy and from the two experiences I got new friends and also the spirit to continue to spur creativity.
Bahasa
Jumat, 20 desember 2020 sekitar jam 7 pagi sebuah pesan singkat masuk ke nomer saya. Saya tidak tau siapa pengirim pesan itu, karena tidak menyimpannya di kontak whatsapp. Isinya singkat, hanya sebuah foto koran harian serambi indonesia. Di sana terpampang sebuah tulisan "Desa Mesjid, Sentra Kerajinan Peci di Aceh Utara", terkejut, terharu, dan bahagia semua campur aduk karena itu adalah tulisan yang telah saya kirim ke redaksi serambi indonesia sejak 5 hari yang lalu.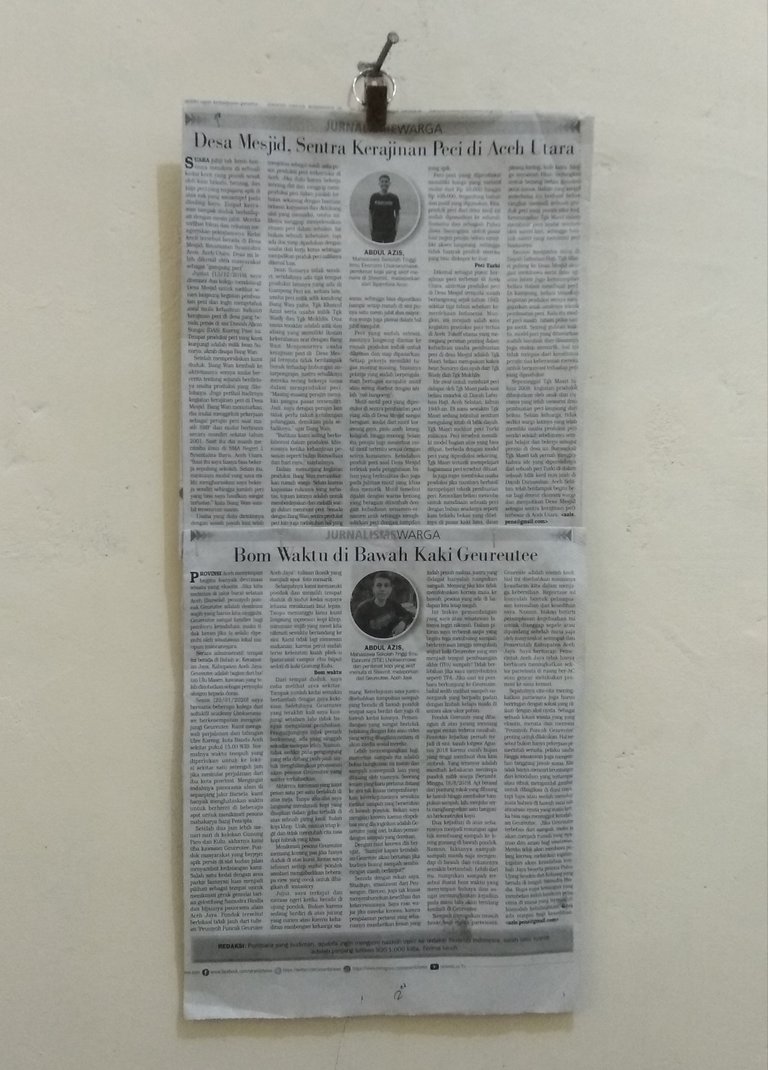 Jumat adalah hari yang baik dan sakral dalam Islam, hari baik yang telah memberikan kenangan yang baik juga bagi saya. Untuk pertama kalinya tulisan dimuat oleh harian serambi indonesia dalam kolom Jurnalisme warga.
Ini adalah tulisan yang pertama kali saya kirim ke serambi, dan alhamdulillah cita-cita sederhana itu terwujud pada kesempatan pertama. Karena masih awam, saya membutuhkan waktu 5 hari untuk menulisnya termasuk meminta tanggapan beberapa kolega yang lebih mahir. Selanjutnya saya juga bertanya pada kawan tentang tata cara pengiriman ke redaksi. Butuh 1 minggu lebih hingga akhirnya saya menekan tombol kirim di email saya.
Saya mengirimnya pada Sabtu, 14 Desember 2019 pukul 13.03, sejak saat itu saya rutin melihat kolom jurnalisme warga setiap harinya, namun tepat pada saat tulisan itu dipublis saya justru untuk memeriksa dan syukurnya ada seorang yang justru lebih dulu memberitau saya via wa.
Tulisan berjdudul "desa mesjid sentra kerajinan peci di aceh utara" berisi tentang kegiatan produksi peci di desa tersebut, kebetulan mesjid adalah desa saya. Meski produk pecinya sudah terkenal, melalui tulisan itu saya ingin menceritakan sejarah awal munculnya kegiatan produksi peci di gampong yang berlokasi di Syamtalira Aron itu.
Satu bulan setelah tulisan pertama dimuat di harian serambi indonesia, saya kembali mengirim laporan jurnalis lainnya, "Bom Waktu di Bawah Kaki Geurutee" adalah judul dari tulisan itu. Ada satu kesamaan antara tulisan pertama dengan yang ke dua, mereka sama-sama dipbulis pada hari yang Jum'at. Jumat memang hari yang berkah.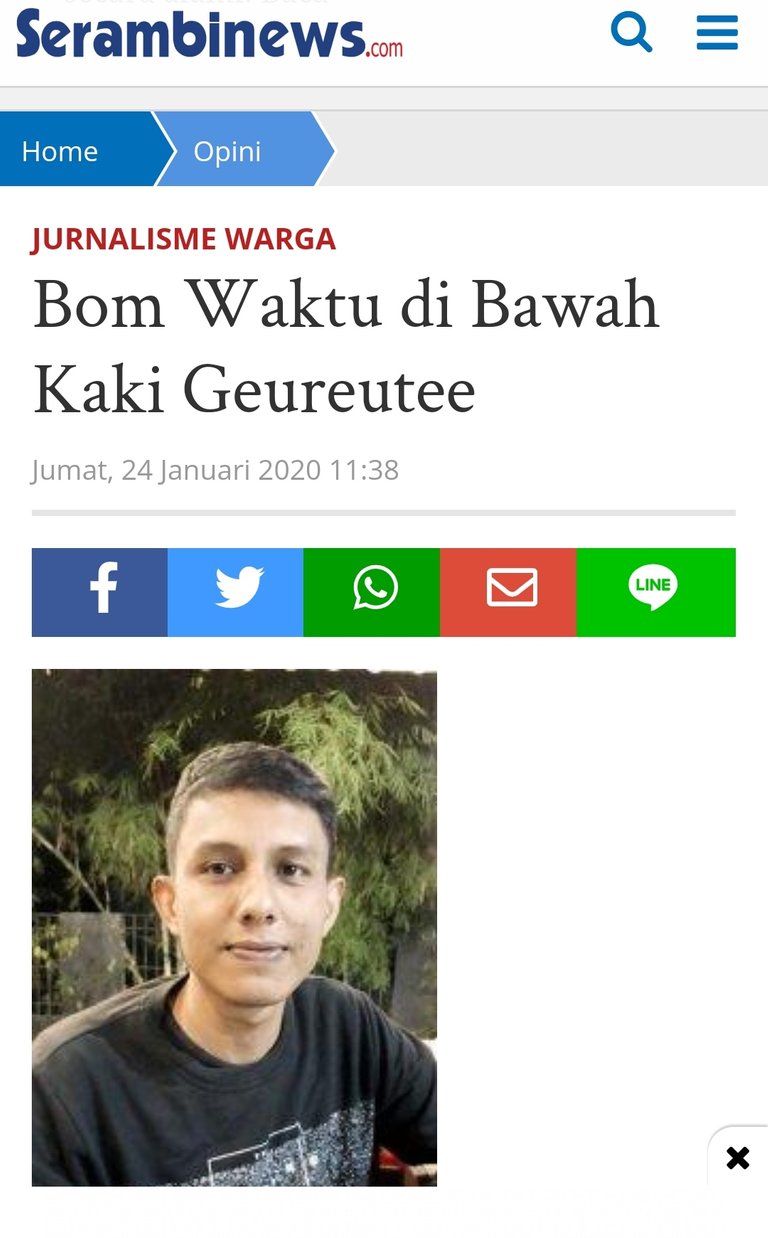 Tulisan ini dimuat setelah dua hari saya mengirimnya, jika pada artikel pertama membahas tentang sebuah gampong yang memproduksi kerajinan lokal. Dalam artikel ke dua tersebut, saya menulis tentang sisi lain dari Peuniyoh Geurutee. Objek wisata yang ada di kabupaten aceh jaya itu terkenal dengan view laut yang indah, berpadu dengan lembah jaya yang megah sehingga membuat siapa saja yang berkunjung akan betah. Dan benar, itu terbukti dari unggahan netizen di social media.
Sialnya setiap orang yang berkunjung hanya melihat rupa-rupa keindahan saja, tapi lupa akan sampah (saya menyebutnya bom waktu-red) yang ada di bawah kios-kios yang berjejer di sana. Tulisan ini adalah bentuk keresahan saya tentang nasib Geurutee. Kehadiran sampah itu sangat berhaya dan bisa memci terjadinya bencana, jadi melalui tulisan tersebut saya berkeingan untuk membuat siapa saja supaya membuka mata untuk menjaga setiap objek wisata.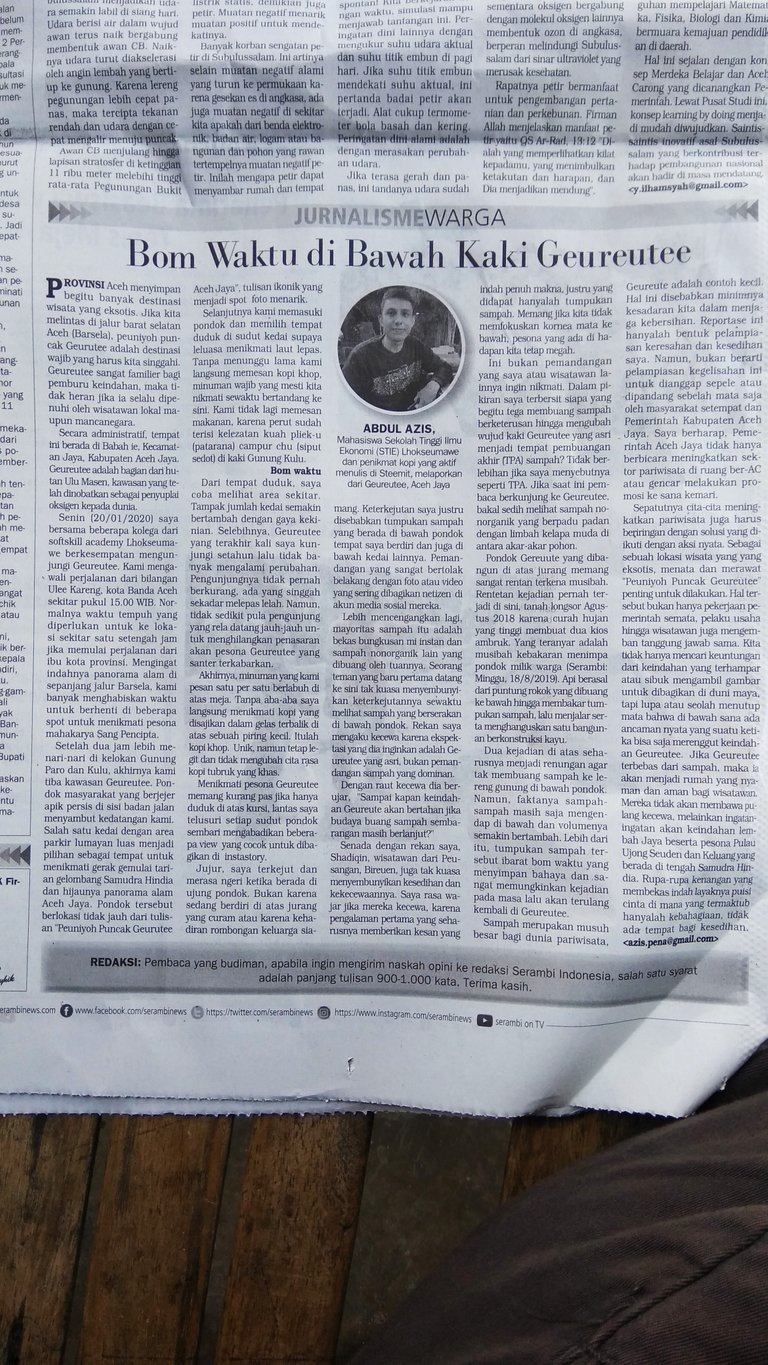 Itulah pengalaman yang penuh makna bagi saya, dua pengalaman yang hadir di hari yang sama. Meskipun hanya di kolom jurnalisme warga, saya sangat bahagia dan dari ke dua pengalaman itu saya mendapatkan teman-teman baru dan juga semangat untuk terus memacu kreatifitas.
Bom Waktu di Bawah Kaki Geurutee
Desa mesjid, Sentra Kerajinan Peci di Aceh Utara
THANK YOU, @azissuloh.