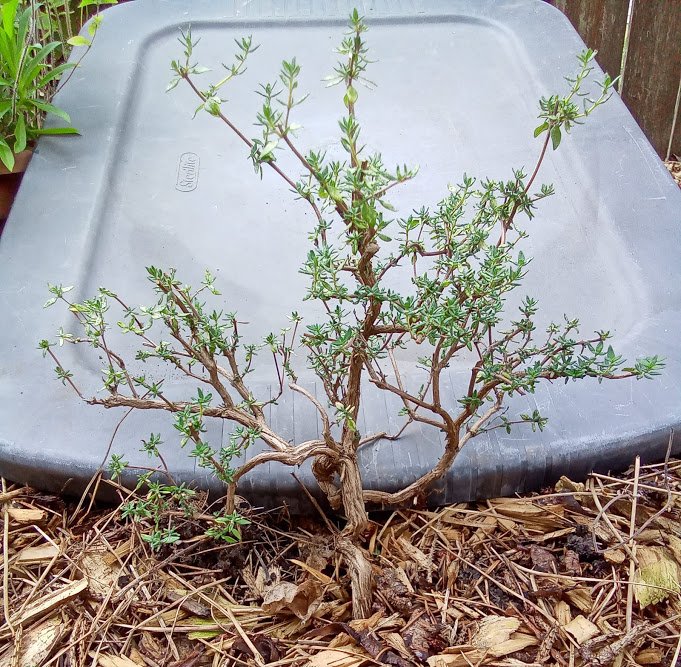 Every once in a while I run into plants that can be made into tree-form.
This is the result of my years of growing Thyme in the ground, and carefully pruning it back every year.
Herb: English Thyme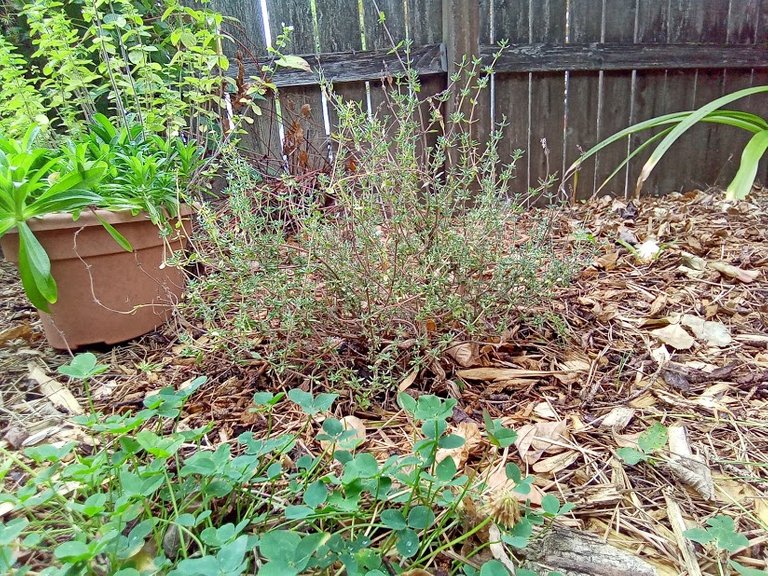 In July, the tree look like this.
Most of the flowers have expired.
The leaves are starting to dry up. The ends are becoming wild and leggy. The trunk is completely masked by this year's new growth.
When it gets this bushy, this is a great time to prove. It gives us the most options for styling the tree.
Trimmed into Tree Form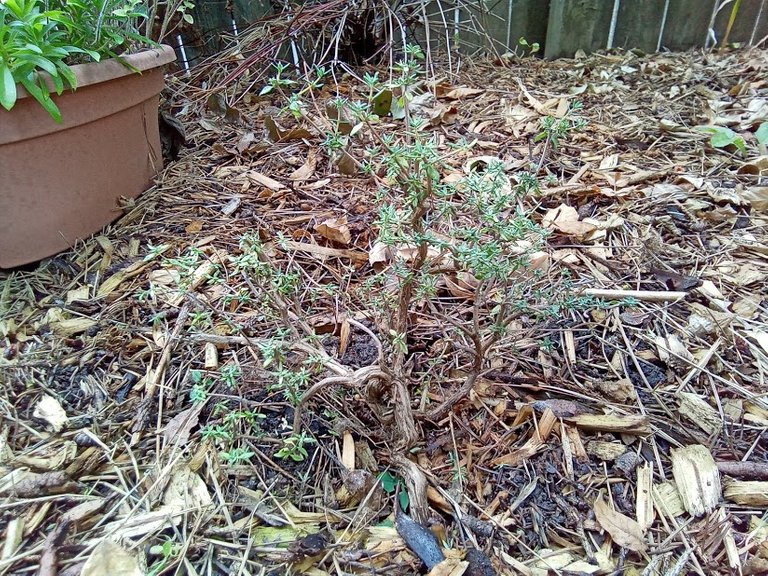 All branches are reduced in length.
Thyme forms leaves in these little tufts of leaves in segments all along the branch. I like to reduce the branch tips down to no more than two or three of these leaf cluster segments.
And of course, I snipped off all the dead branches, and wildly criss-crossing branches.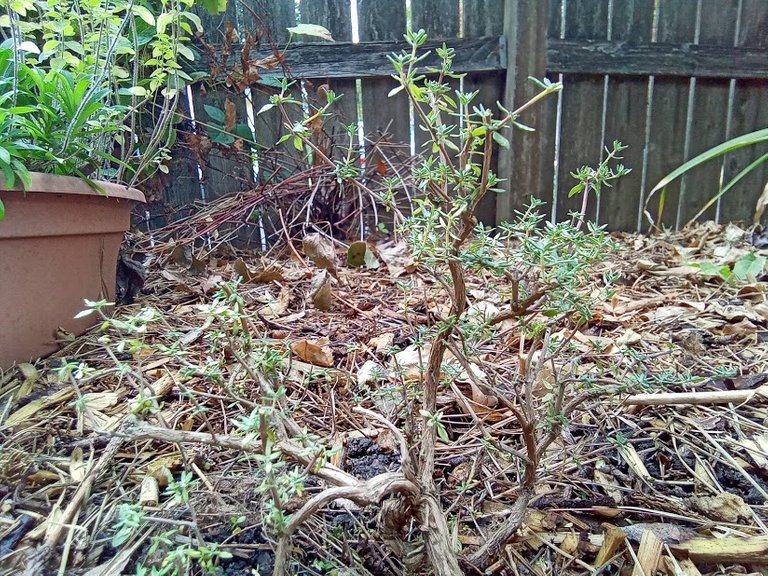 Thick branches crawling into weird directions, I leave them alone, as they are providing the most interesting shapes on the tree at this time.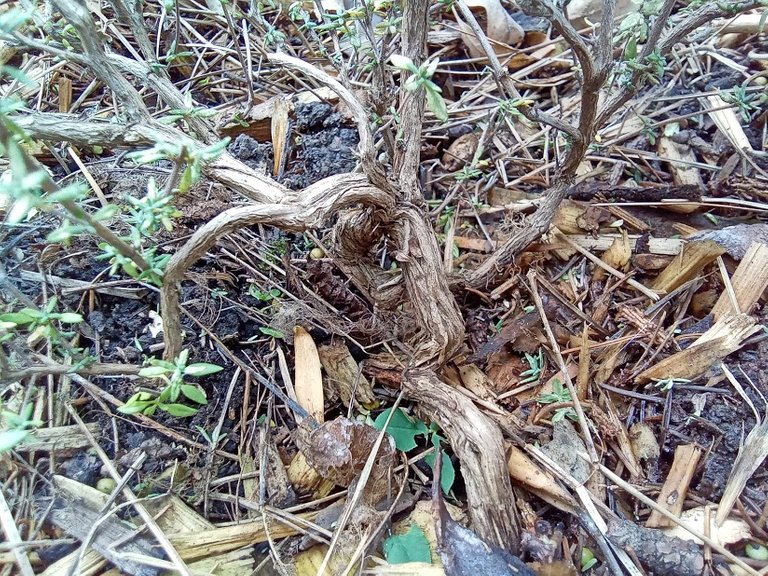 The base is barely pencil thick.
With the wood on Thyme, I have to be very careful not to bend the old wood. It will snap because it is very brittle and dry.
The bark peals easily, and it is better not to peal off too much to help it retain density and strength. Only the young shoots can be trained with very thin wire to guide them into shapes. Personally I like to let the young branches meander into any shape they want, as it looks more natural and wild this way.
Hardwood cuttings can be made from Thyme, but you have to be patient, as they can take many months before it roots.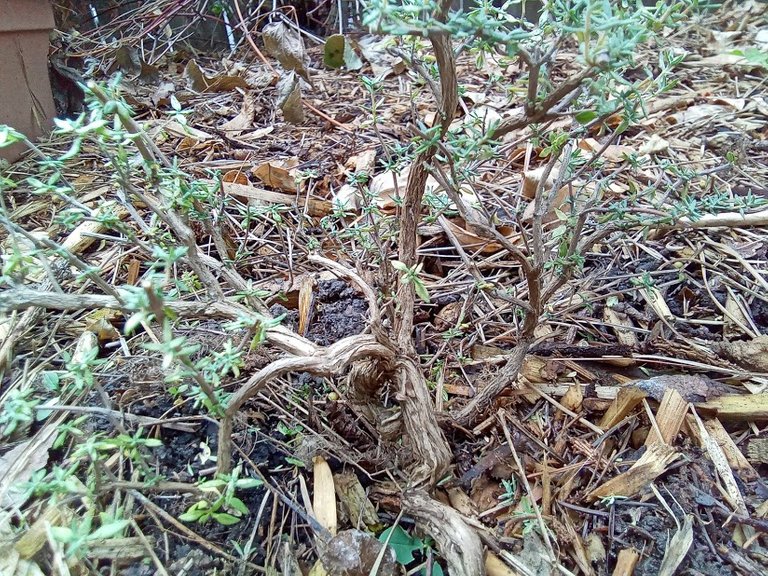 When Thyme becomes dormant in winter, the leaves might dry up and turn yellow, and fall off. Most of the trunk and branches will survive the frost. In Spring, new shoots will form from the old leaf nodes. Many new backbuds will also emerge from old wood. Ultimately the most vigorous buds will form the long wild stems, which will become smaller extensions of the current branches.
After years of growth and trimming back, I should be able to develop this into a proper bonsai tree, full of thick pads of small clustered branches covered in a green carpet of leaves on top.
Historical Information
ID: 0050
Nickname: Unnamed
Type: English Thyme
Age: 5 years, approx.
Grown: Seed
Last repotting: In ground since 2016. Seed started in a pot.
Wired: Never
I was searching through Hive Searcher for past historical articles I posted showing this Thyme tree, but I haven't located any. If anyone discovers any of my past articles relating to this tree, please share so I can add the links and dates to my records.
---
Photos in this post are all #originalworks by @creativetruth, unless stated otherwise.
Find me on discord and chat with other tree growers, bonsai enthusiasts, and gardeners.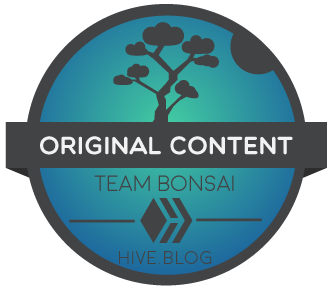 #teambonsai
@hive-193614
#hive-193614
#bonsai
No memberships. Love trees. Make friends. Grow together.
---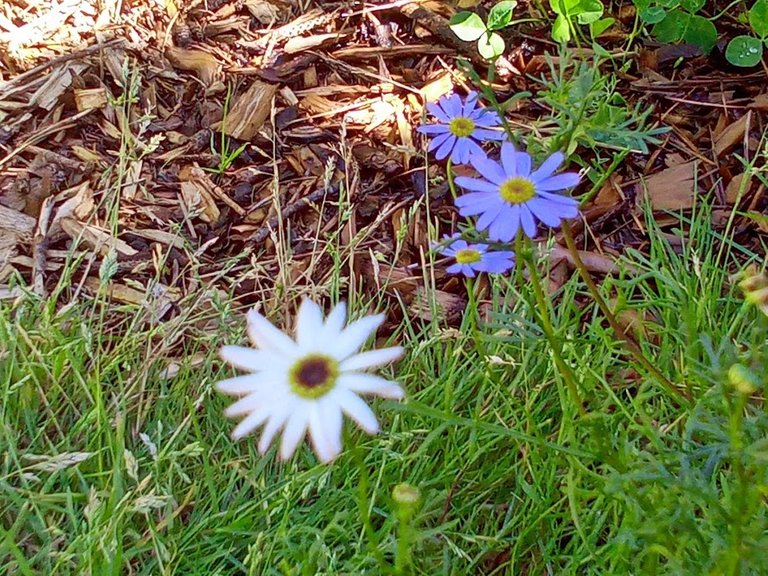 Post Beneficiaries:
This is my way of thanking each of you for your friendship and support. By sharing my talents on Hive, I can also share to help with your needs.
Let my success also grant you some happiness too.