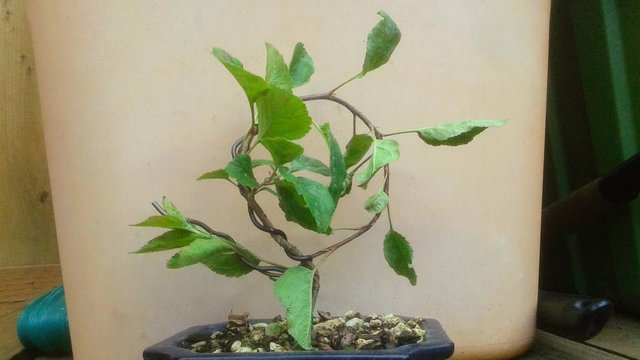 Today, July 4, 2020 marks the grand opening of a new community.
#TeamBonsai is now more than just a hashtag.
It's a community now!

@hive-193616 is now the official Team Bonsai account, so be sure to follow.
You're Invited
Consider this an open invitation to share all bonsai related posts in the new Team Bonsai community..
Nearly any posts found on the blockchain using the #bonsai tag is welcomed to be shared within the Team Bonsai community.
As admin, @creativetruth, I am going to do my best to continue to curate and encourage artists in all of their bonsai endeavors. Currently the community is set to follow my trail by upvoting all content I find interesting using the #bonsai tag. If you would like to see better rewards, then consider making a delegation to our community, or help us to curate posts from all community guests.
There are not many active bonsai hive authors yet. My aim is to help bonsai enthusiasts succeed here on Hive, by simply sharing their love for the hobby.
Let me know if you have an interest in becoming a moderator. I'm searching for active curators, content creators, helpers, and people with good ideas to help the community to grow.
Mission Statement
The motto is "Grow Together".
My mission is form many branches, roots, and vines across the Hive blockchain, by forming friendships with those of similar interests. In this case, it is through the art of bonsai!
Ways to Follow
Follow @hive-193616. This is the Team Bonsai community.
Team Bonsai: Community Home Page, Most recent posts
https://peakd.com/c/hive-193614/created
(Actions: Hit the subscribe button to add the community to your feed.)
Team Bonsai: Topic
https://peakd.com/created/hive-193614
(Click the star icon to keep it as a saved topic.)
Either way, be sure to save the community to help us to curate any new #bonsai topics here.
Why Support?
Bonsai can be an expensive hobby with all of the master tools, rare trees, specialty pots, imported volcanic soil, and fertilizers. Sometimes even a greenhouse is needed to keep the trees alive. Master classes can be expensive too. It takes a lot of patience, trial, and error to slowly develop a tree into a work of art that can eventually outlive the artist.
Let's all help bonsai artists to receive a fair reward for their original contributions to the Hive blockchain.
There is no token for this community (yet). It is fully sustained by volunteer delegations and the generous curation efforts of fellow appreciators.
Upvote and share original #bonsai posts to show your support.
How to Share
Once you have the community subscribed, you can now post content either to your personal blog, or directly to the Team Bonsai community.

The next time you create a post, look for the text "Write a new post in" at the top of the page, and click My Blog to open the drop-down menu. Then choose Team Bonsai as your location to post.

By clicking the slider next to "Include also in my blog:", your blog will be posted in both your blog feed and the community feed at the same time.
This is how it works on Peakd.com. Might be slightly different on Hive.blog and other platforms.
Example Posting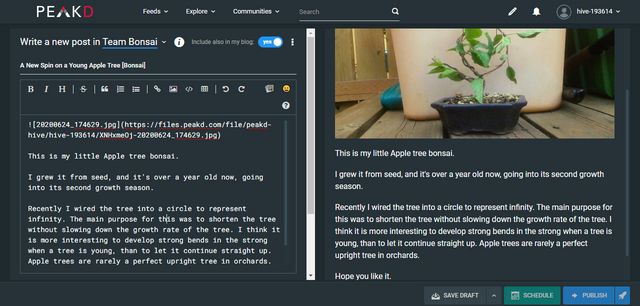 Make sure your writing and images are 100% original content to avoid penalties. A picture and a few lines of original text is all you need to share to start receiving rewards.
You can also post videos, art, music, poetry, or other original creations, as long as you demonstrate it is related to your love of trees or bonsai.
Well written bonsai posts often see rewards of $3 to $15 in Hive. I've had a few posts go over $50.
Include a #bonsai tag anywhere in your post for added visibility. Another welcomed tag is #teambonsai, but not required.
Banners
Feel free to borrow our banner logos, and include them into your posts.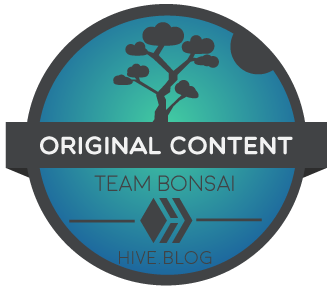 Both of these logos were designed by the extremely talented @mendezand.
Conclusion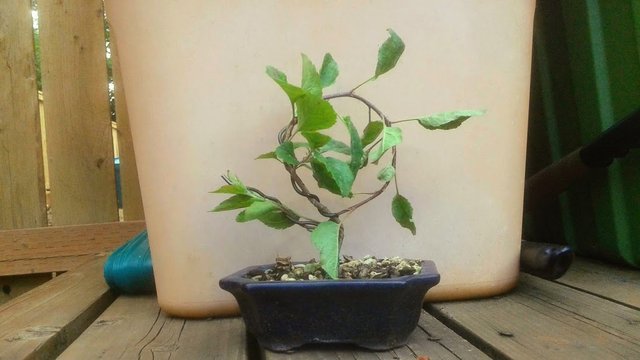 Young Apple tree recently wired by @creativetruth.
The circle represents infinity and promise.
Thank you everyone for supporting my original bonsai collection over the years. I look forward to supporting yours too!