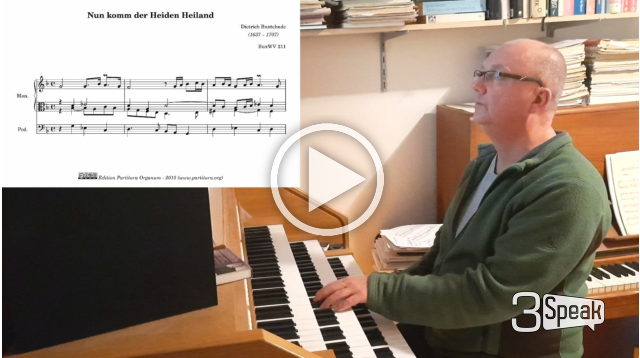 ---
This is my entry for the Secrets of Organ Playing Contest, Week 104. I play Buxtehude's choral prelude to "Nun komm der Heiden Heiland", BuxWV 211.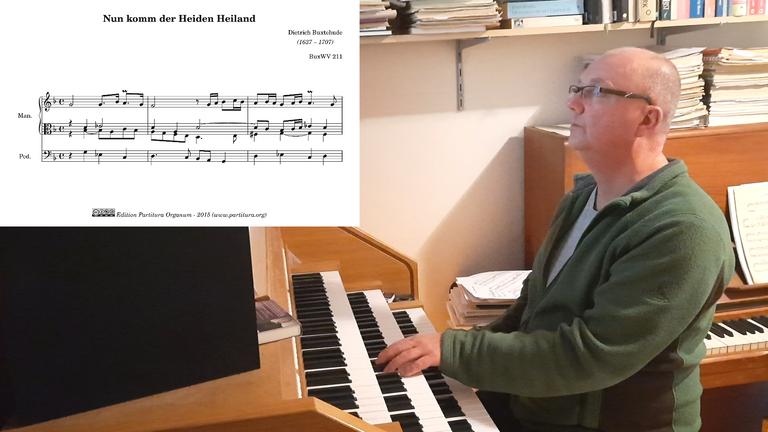 As it is the day before Christmas, and also because the word of this week's contest is Christmas, what better piece to play than a prelude on the most beautifull (to my ears) Christmas hymn there is? The sheer volume of music based on the melody of this Christmas hymn shows that I am not the only one who thinks it a beautiful melody. Buxtehude wrote a beautiful prelude in his familiar style: the right hand plays the melody, often richly adorned. The left hand and the feet play the accompaniment, based on motifs taken from the melody, in a proces called 'fore imitation'. Notice in particular bars 14 and 15 where the pedal plays the complete last line of the choral melody, before the soprano plays the same melody with a lot of embelishments.
I read the music from the computer monitor behind the music stand. That's why I look so high up while playing.
The recording was done with the Hauptwerk software and the sampleset, made by Sonus Paradisi, of the Klapmeyer organ in the St. Nikolai church in Altenbruch (http://www.sonusparadisi.cz/en/organs/germany/klapmeyer-organ-altenbruch.html).
And, as per the contest rules, here's the youtube video as well: