Beauty and the Beast - Alan Menken (Cover) [ENG/SPA]
---

Imagen de Gaëtan GUINÉ en Pixabay

Saludos a todos en la comunidad de #Music, hoy quiero compartir mi interpretación con la trompeta de «Beauty and the Beast», una canción compuesta por Alan Menken y Howard Ashman para la película de Disney. Esta pieza es de género Show Tune y Pop, este estilo es bastante interesante, ya que es una canción producida y adaptada para una película musical animada. La película la he visto un montón de veces, y es la Señora Potts, la tetera, quien comienza a cantar esta canción. La actriz Marta Martorell es quien hace el doblaje y canta. Otras versiones que he podido disfrutar son la de Angela Lansbury, Celine Dion y Peabo Bryson, Ariana Grande y John Legend. Hace poco leí la historia del hombre que inspiro el cuento, y me pareció bastante interesante. La lección de esta película es que debemos valorar a las personas por lo que son, y no por su aspecto físico. Vivimos en un mundo superficial donde importa más lo exterior que lo interior. Ahora, también cada uno tiene su bestia interna que debe domar. Podemos ser una manzana bella por fuera, pero por dentro podrida y con gusanos. Es importante tener un equilibrio, y cuidar tanto el exterior como interior del vaso. Ambos elementos son importantes para la felicidad.
Greetings to everyone in the #Music community, today I want to share my trumpet performance of "Beauty and the Beast", a song composed by Alan Menken and Howard Ashman for the Disney film. This piece is of the Show Tune and Pop genre, this style is quite interesting, since it is a song produced and adapted for an animated musical film. I've seen the movie a bunch of times, and it's Mrs. Potts, the teapot, who starts singing this song. The actress Marta Martorell is the one who does the dubbing and sings. Other versions that I have been able to enjoy are that of Angela Lansbury, Celine Dion and Peabo Bryson, Ariana Grande and John Legend. I recently read the story of the man who inspired the story, and I found it quite interesting. The lesson of this film is that we must value people for who they are, and not for their physical appearance. We live in a superficial world where the exterior matters more than the interior. Now, each one also has his internal beast that he must tame. We can be a beautiful apple on the outside, but rotten and wormy on the inside. It is important to have a balance, and take care of both the exterior and interior of the glass. Both elements are important for happiness.

Imagen de OpenClipart-Vectors en Pixabay

Esta canción tiene varios cambios de tonalidad, comenzando en Si Bemol Mayor, luego en Sol Mayor, Do Mayor y por último La Mayor. Se encuentra en un registro cómodo para la trompeta, sin embargo, me toco practicar por varias horas para que el sonido fuera claro, limpio y sin vibrato. Como el fin de semana estuve estudiando Base de datos, una materia de la Universidad, no tuve mucho tiempo para tocar la trompeta. Entonces me tocaba ponerme en forma, y luego hacer lo mejor para presentarles una interpretación a la altura que se merecen. Espero que disfruten de esta canción y esta los conecte con los recuerdos de la infancia. Un gran abrazo fraternal para todos y mis deseos de éxitos en esta semana.
This song has several key changes, starting in B Flat Major, then G Major, C Major, and finally A Major. It is in a comfortable register for the trumpet, however, I had to practice for several hours so that the sound was clear, clean and without vibrato. Since I was studying Database, a subject at the University, I didn't have much time to play the trumpet. So it was my turn to get in shape, and then do my best to present them with a performance at the level they deserve. I hope you enjoy this song and it connects you with childhood memories. A big brotherly hug for everyone and my best wishes for success this week.
---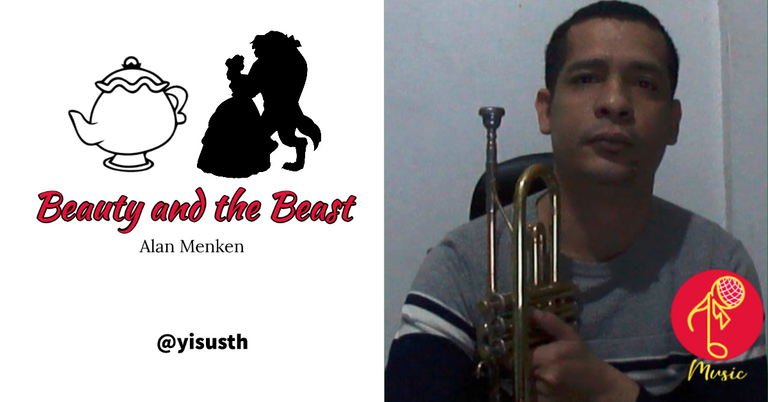 ---
Ooh-ooh-ooh, ooh, ooh
Tale as old as time
True as it can be
Barely even friends
Then somebody bends
Unexpectedly
Just a little change
Small to say the least
Both a little scared
Neither one prepared
Beauty and the beast
Ever just the same
Ever a surprise
Ever as before
And ever just as sure
As the sun will rise
Oh
Oh
Mmm, oh-oh-oh
Ever just the same
Ever a surprise
Ever as before
Ever just as sure
As the sun will rise
Oh, oh, oh
Tale as old as time (ooh-ooh)
Tune as old as song
Bittersweet and strange
Finding you can change
Learning you were wrong
Certain as the sun
Certain as the sun
Rising in the east
Tale as old as time
Song as old as rhyme
Beauty and the beast
Tale as old as time
Song as old as rhyme
Beauty and the beast
Oh, oh, oh
Ooh-ooh-ooh, ooh, ooh
Beauty and the beast
---

---
▶️ 3Speak
---
---