Hi fellow Hiveians,
Today we were at the lake house for the first time in what feels like forever!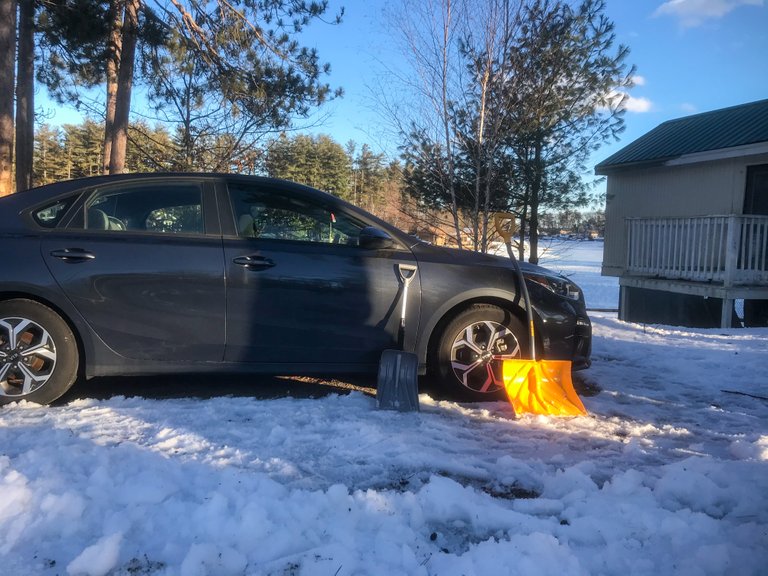 Defrosting
It was nice that we've finally got a bit of a respite in the weather around here, temperatures have risen to the 40's and even touched 50 so that was a very welcome development. Our son was going absolutely stir-crazy in the house. We had a few weeks where it was routinely in the teens and single digits, particularly at night, a little too cold for a toddler to be outside playing in the frigid temps. Makes for great ice-forming weather though! The last time we were at the lake it was partially frozen but still had a pretty decent chunk that was still clear water. Not today! It was in the low 20's and teens for a good part of 3 weeks straight every night so that froze the lake solid. Great for the winter sports people!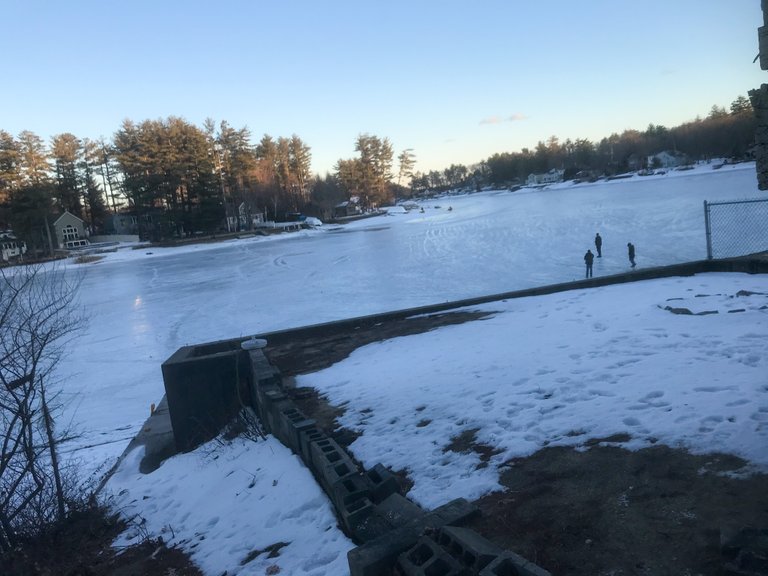 It was cool to see the ice rinks, skating sections and ice fishing areas all over the place! There were more snowmobile tracks than one could count so it definitely gave the people who were stuck inside otherwise, plenty of things to do. Our son is still a little too young to go out playing on it but we are also not frozen-pond people ourselves. I've spent a decent amount of time on frozen lakes when I was younger but I don't have enough knowledge or experience to know what's a dangerous area and what's not so we erred on the side of caution and stayed off the ice. Still fun to see all of the stuff set up for the families!
There weren't any parts of the lake that didn't have a little skating rink within eyesight. Cool stuff! Lots of families on this lake which is nice to see, hopefully we can get to know some of the younger ones this coming summer!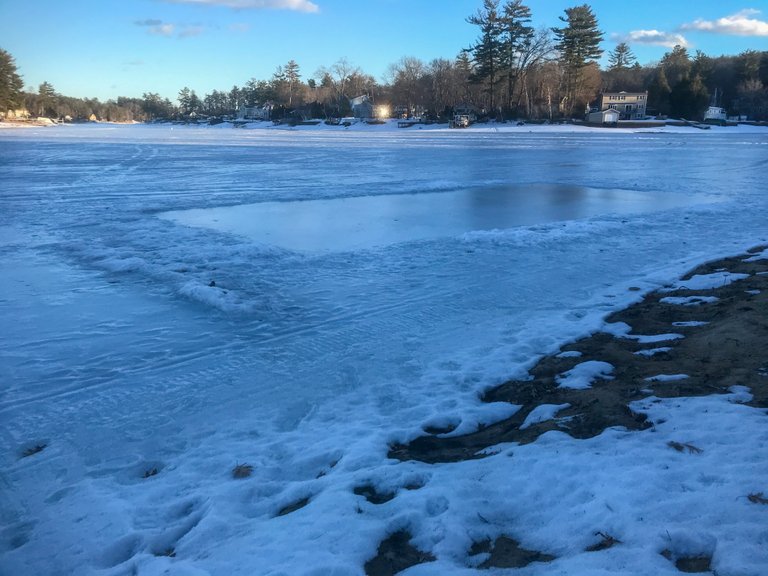 Every few minutes we heard another snowmobile starting up and driving away, I can only imagine what it was like earlier in the day when the sun was out shining, how often people were going out checking their ice traps and things.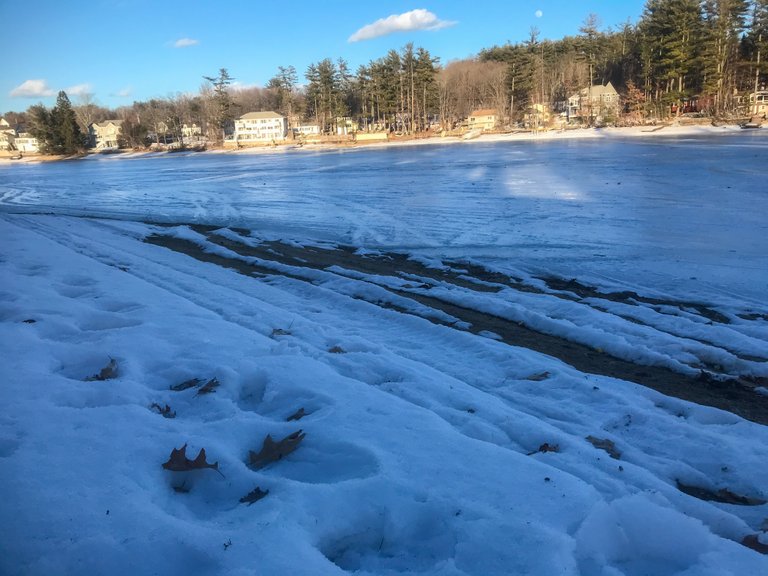 Thankfully one of the things we weren't sure about was the property getting driven all over by the snowmobiles. In previous years, my wife's uncle told us that they were all over his land but what we didn't have the heart to tell him was because the land looked like it was completely abandoned! It was so disheveled that you thought nobody even was there. When we spent weeks cleaning the place though, the people sitting around his fire pit drinking and breaking bottles when he wasn't there stopped. The same goes for the wintertime which was great to see.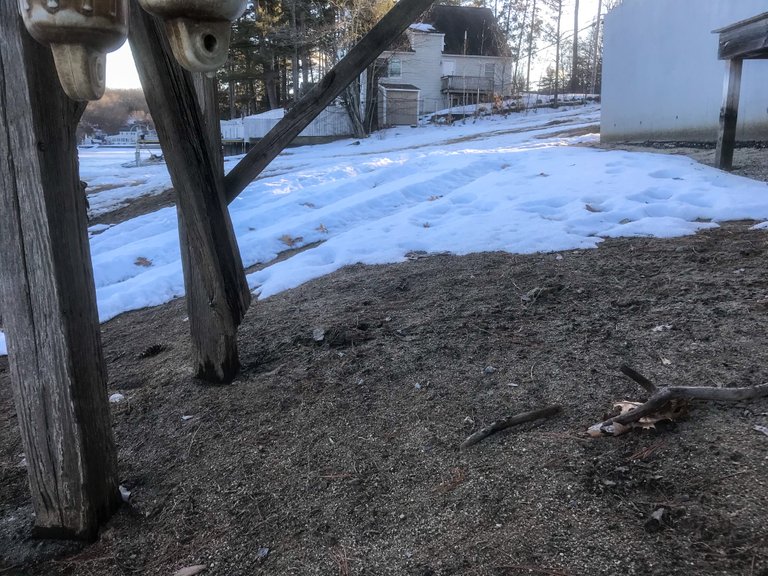 Hard to believe this view could have only been taken with an underwater camera at this height, a short 7 months ago!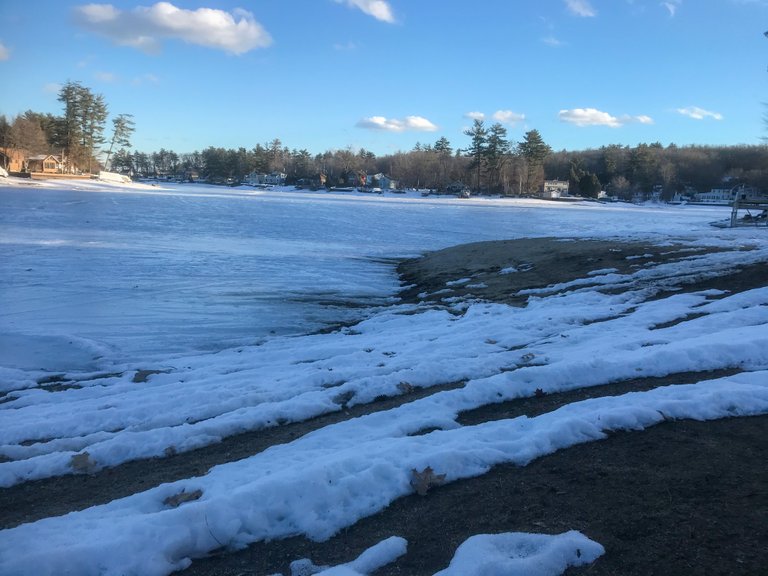 The other thing that could be the reason people have thankfully stayed away is that my car has been sitting here posting watch over the property. Not willingly though, because of miserable people and their propensity to try to be social justice warriors. It was nice to spend time here though, let the little man run around free and play in the snow while I shoveled out the car, ready to take it back home in a couple weeks. Those break rotors are going to squeal quite a bit when I drive it home the first time, gotta break all that rust off lol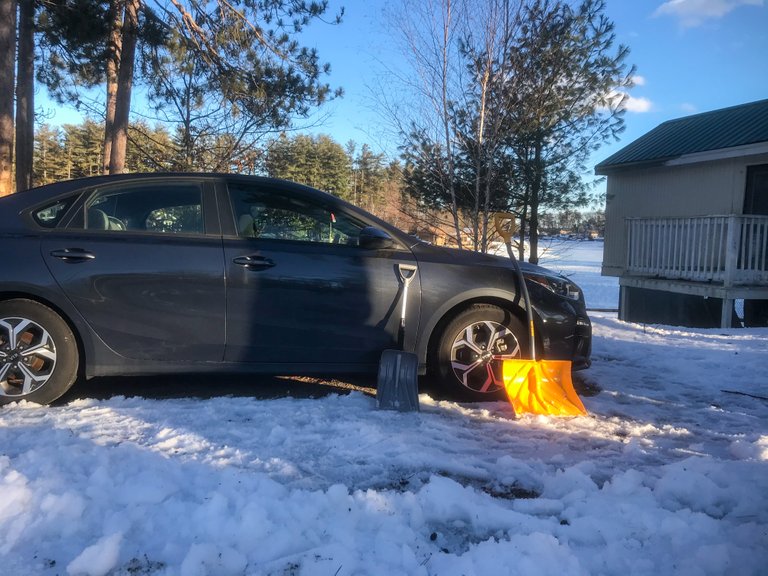 Connect with me!
Do you want to get paid, in crypto, for searching the internet? Try using and signing up for Presearch to earn some great crypto! I've currently got 2,233 PRE tokens, with a market value of $168.13. It doesn't sound like a lot but when you search using sites like Google you get paid $0! Join Presearch to break Google's stranglehold on the internet searches. If you'd like to sign up, use my referral link!
https://www.presearch.org/signup?rid=513043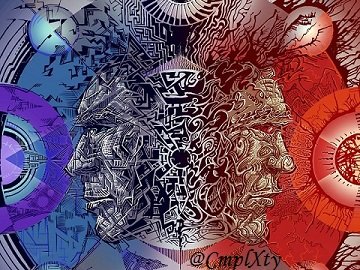 Image source