La danza de la Mariposa / Butterfly dance





De antemano reconozco que no soy fotografa profesional, pero un amigo que si lo es, me dijo que necesito es muchas ganas de hacerlo bien, entusiasmo, perseverancia y una buena oportunidad, yo considero que todas esos requerimientos logré reunirlos, porque para decir verdad, yo estaba era fotografiando una flor y de repente llegó esa mariposa.
Beforehand I recognize that I am not a professional photographer, but a friend who is, told me that I need a lot of desire to do well, enthusiasm, perseverance and a good opportunity, I consider that all these requirements were met, because to tell the truth, I was photographing a flower and suddenly that butterfly arrived.





Yo no tenía planificado ese día salir a tomar fotos, porque había otro tipo de actividades planificadas, pero mi cámara esta en el teléfono, siempre lo tengo a la mano, al ver un jardín, con un flor color tan llamativo, me dispuse camara a la obra, fue cuando llevo esa linda y coqueta visita a invadir mi espacio, digo a dar un toque especial, de repente llego a robar camara esa mariposa, y poso de manera tan espontánea que capturó mi atención.
I had not planned that day to go out to take pictures, because there were other activities planned, but my camera is on my phone, I always have it at hand, when I saw a garden, with a flower color so striking, I was ready camera to work, was when I took that cute and flirty visitor to invade my space, I mean to give a special touch, suddenly came to steal camera that butterfly, and posed so spontaneously that captured my attention.





ESPAÑOL
Los detalles tanto de la flor como de la manera llegaron a unirse, se fusionaron de tal manera, que me permitieron capturar estás hermosas imágenes.
ENGLISH
The details of both the flower and the way it came together, merged in such a way, that allowed me to capture these beautiful images.
---





Confieso que el día inicio con una brisa fría, pero con el pasar de las horas, empezó a levantarse el sol, lo cual me permitió iluminar estos momentos con el desfile de esta mariposa.
I confess that the day started with a cold breeze, but as the hours passed, the sun began to rise, which allowed me to illuminate these moments with the parade of this butterfly.
---















Este privilegio lo quise compartir con todos en hive, pero muchísimo más con todos los grandes amantes de la fotografía, porque quiero aprender, quiero estar con ustedes porque tienen mucho que mostrar, mucho que enseñar y yo aquí estoy lista para ver, oír, y fotografiar.
I wanted to share this privilege with everyone in hive, but much more with all the great lovers of photography, because I want to learn, I want to be with you because you have much to show, much to teach and I am here ready to see, hear and photograph.
---





No todos son grandes amantes de las mariposas, hay otros que le tiene una fobia tan grande que jamás la tolerarian, yo por mi parte la amo, y siento un gran privilegio haber tomado estas fotos.
Not everyone is a great lover of butterflies, there are others who have such a phobia of them that they would never tolerate them, I for one love them, and I feel a great privilege to have taken these photos.
---










Yo siento que está hermosa mariposa movía sus alas posando para mí, con clase mostró toda su esencia, y permitió ser captada por mi lente.
I feel that this beautiful butterfly moved its wings posing for me, classily showed all its essence, and allowed itself to be captured by my lens.
---





Los colores de la mariposa,sus diversos movimientos, la misma flor, hizo un gran contraste, lo que me sorprendió es que aún con mi presencia, ell siguió posada, no hubo susto.
The colors of the butterfly, its various movements, the flower itself, made a great contrast, what surprised me is that even with my presence, it remained perched, there was no scare.
---










Seguro que el nectar de esa flor estaba muy rica, tanto que sirvió como cómplice para esta sección de fotos.
Surely the nectar of that flower was very rich, so much so that it served as an accomplice for this section of photos.
---





La casualidad me llevo a este lugar, para obtener fotos variadas, espero sean cautivados, así como yo, mi cámara está en el celular y tiene 46 megapíxeles.
Chance led me to this place, to get varied photos, I hope you will be captivated, just like me, my camera is in my cell phone and it has 46 megapixels.
---





Espero poder obtener un teléfono que tenga una cámara con mejor resolución, no por lujos, sino para mejorar mi cámara a 108 megapíxeles, por ahora, aún son solo planes, pero según mi trabajo, en el cual me esmero, y un sistema de ahorro, pronto podré obtenerlo.
I hope to be able to get a phone that has a better resolution camera, not for luxuries, but to improve my camera to 108 megapixels, for now, they are still just plans, but according to my work, in which I work hard, and a saving system, soon I will be able to get it.
---





Las fotos son propias tomadas con mi teléfono Tecno Camón 17, es importante añadir el uso de la app Canvas para editar la portada y el banner.
The photos are my own taken with my Tecno Camón 17 phone, it is important to add the use of the Canvas app to edit the cover and the banner.
---
Esta historia es original creada por @crisch23, creada exclusivamente en hive en la comunidad de Photography Lovers porque me gusta hacer muchas fotos, se usó deepl como traductor.
This story is original created by @crisch23, created exclusively on hive in the Photography Lovers community because I like to take a lot of photos, deepl was used as translator.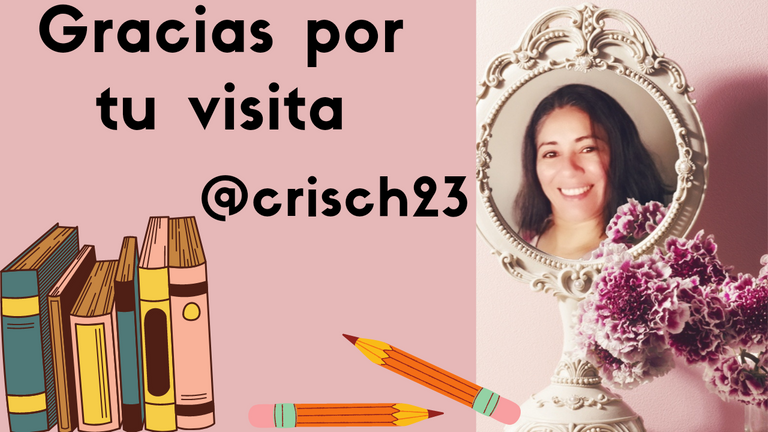 ---
---