Rising Star Card Giveaway #5 - by pero82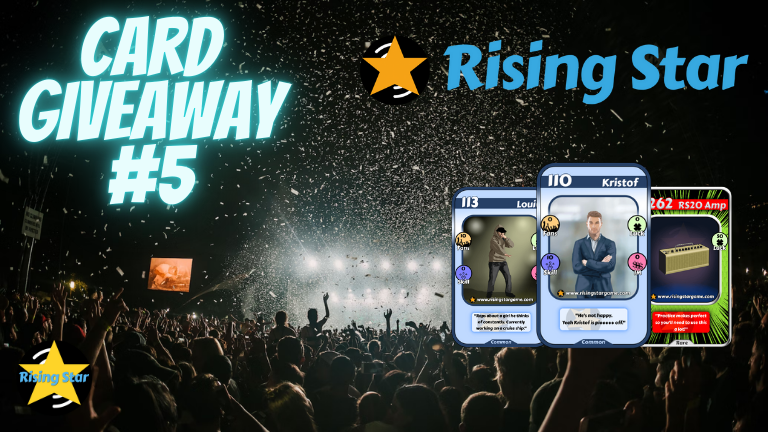 ---
Hello everyone! Pozdrav svima!
Welcome to the 5th edition of Rising Star Card Giveaway! During this week (and weeks to come) I will organize a Rising Star Giveaway in which you can win one of the cards from a pack I opened during the week in three separate giveaways. 🎁
---

---

~~ 💎 WINNER ANNOUNCEMENT 💎 ~~
First, lets start with the last week's giveaway results! We had 41 entries for Rising Star Card Giveaway #2 and the winner was decided by the spin of the wheel!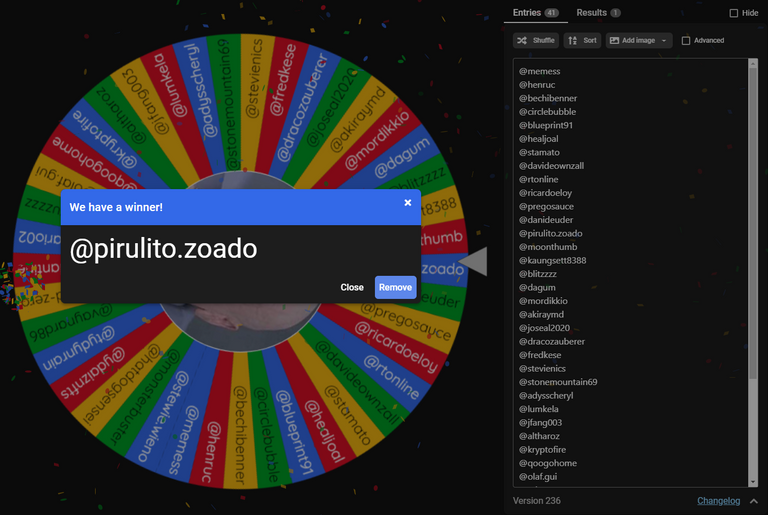 Congratulations 🥇 @pirulito.zoado 🥇 !
You are the winner of the "113 Louie" card!
Transaction: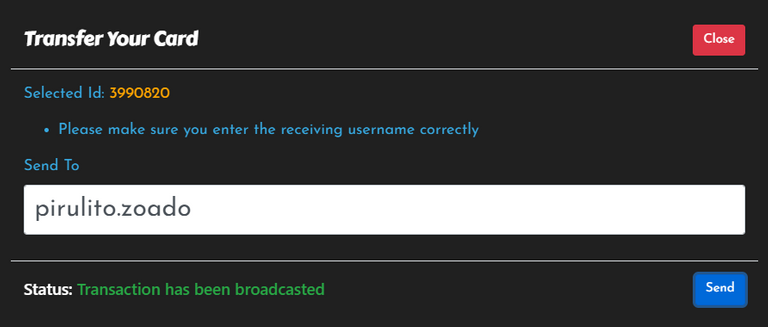 ~~ 🎁 GIVEAWAY 🎁 ~~
The giveaway is separated into 3 days:
First day (usually Monday) you will have a chance to win the first card.
Second day (usually Wednesday) you will have a chance to win the second card.
Third day (usually Friday) you will have a chance to win the third card.

But there is a twist for this third card!
If you entered the giveaway on first (and/or second) day you will have an extra "ticket" (or two) for third day giveaway, so make sure you enter that third day giveaway to be eligible for it and make use of your extra tickets.
This is the pack I opened during the week, and the cards that will be given away:

Today I will be giving away the second card of this week - 110 Kristof: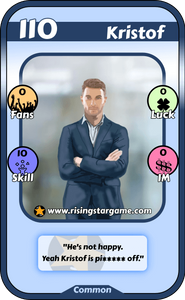 It has 10 Skill, with supply of 25000 (all of them have been issued and the card is currently discontinued). At the moment of writing this post it's price on the market goes from 300 STARBITS to 655 STARBITS.
There will be one (1) lucky winner who will be decided by a raffle with Wheel of names. The raffle will be done after the post deadline which is set to end of next Tuesday, the 24th of January at 23:59 UTC (aprox. in 7 days), and the winner will be announced in next week's giveaways post.
In order to participate:
You need to comment your in-game username and something like "I'm in"
Upvotes, follows and reblogs are optional, but are much appreciated.
🍀 Good luck to all the participants and see you next week. 🍀

~~ 📝 NOTIFICATION LIST 📝 ~~
I made a notification list of all the participants from my other giveaway, so you get notified when the results come. If you do not wish to be on the list, please let me know in your comment.
Previous participants:
@adysscheryl, @akiraymd, @akiyon, @aldrahad, @alex2alex, @altharoz, @amaari, @amaillo, @amaillo-m, @amigareaction, @an0na, @arieruzzzz, @astrocat-3663, @azj26, @bandada, @bechibenner, @beszys, @bitandi, @blitzzzz, @blueprint91, @bokica80, @callmemaungthan, @camillecrls629, @caren07, @circlebubble, @coquicoin, @cosmicpigee, @crazyphantombr, @cripz1crypto, @dafusa, @dagger88, @dagum, @daje10, @danideuder, @davideownzall, @dayron101184, @dccryp, @deepspiral, @delta1031, @denndee, @desertjoe, @dewabrata, @diegoloco, @diochen, @dirolls, @dk1trade, @draco19, @dracozauberer, @dragonballfan, @dr-doofus, @drstealth, @dubble, @d-zero, @eddqq, @elcholitosanto, @emeka4, @engilhramn, @espinozapj, @felquin, @flquin, @fredkese, @freed99, @gamernova, @gentlepusa, @giorvis23, @glitt3r, @golddiggernrw, @gomek, @goridor, @gpanda911, @harpreetjanda, @hatdogsensei, @healjoal, @heatman, @henruc, @hoosie, @ianballantine, @ieronimus, @ifarmgirl, @imfarhad, @jdike, @jfang003, @jimboy04, @joalheal, @joaophelip, @johnweed, @jomancub, @joseal2020, @josman831, @jugones2, @kaazoom, @kaiggue, @kaungsett8388, @king-moy, @kryptofire, @lespipirisnais, @listik303, @lorddiablo, @lottery-entry, @luizeba, @lumkela, @lumpiadobo, @macclean, @maggotmilk, @mario02, @marvinix, @mauriciolimax, @melinda010100, @memess, @mephiko, @mhowii, @micheal87, @middle-earthling, @molixs00, @monsterbuster, @moonthumb, @mordikkio, @newnow497, @newsc0rpi0, @nftland89, @nietokilll, @nopasaran72, @noroi, @nozzy, @nurodan, @olaf.gui, @orenj1, @pauliinasoilu, @peniel2010, @perales, @pirulito.zoado, @pix21, @plicc8, @pooky, @pravesh0, @pregosauce, @psalm111, @qoogohome, @queen-silvia, @reiell1, @rentaw03, @ricardoeloy, @rimurutempest, @ronnybryant, @rtonline, @savagecollector, @scotty297, @sieghard1990, @siramadeus, @skaydre, @sorsa, @stamato, @stekene, @stevermac1966, @stevienics, @stewie.wieno, @stonemountain69, @strongmek, @supriya.gupta, @surien, @tawadak24, @tempt, @tengolotodo, @thaddeusprime, @the-pockets, @tokutaro22, @treefrognada, @tydynrain, @uggya, @vagabond42069, @vaynard86, @verdesmeralda, @vicentel, @vicer0y, @vinz4short, @wazock, @xheadhunterz, @yankosoito, @ydaiznfts, @ydiaznfts, @yeckingo1, @yurel95, @zonadigital21

Please support this proposal to help bring new users to Hive via Rising Star Game.

Rising Star - The Play2Earn NFT virtual music career game built on Hive.
---
---