Merryfields for Market Friday! All Things Flowers.
The day ends and I try to remember where all the hours went, and what I did with them. It was not one thing, but the sum of many little ones, strung together to make it complete. I wouldn't have it any other way. For all practical purposes, this is my life and I love it. It is that time of year, when flowers and plants take their place in the garden, to bud and bloom, unfolding the seasonal bliss that comes with it. Are you ready to plant more? Who can resist?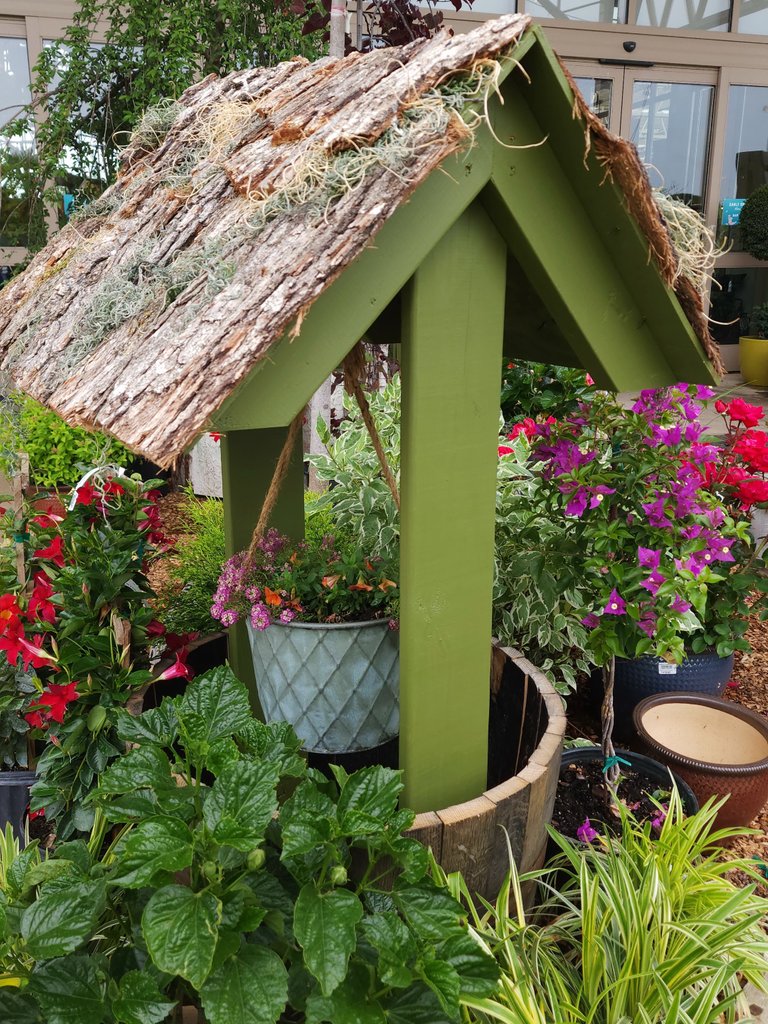 I generally go to several different places for flowers and all things gardening and today is no different. There are three different locations, a family-owned business, and the one we will be going to today is at 8132 Lee Hwy, Falls Church, VA 22042.
Today is #MarketFriday initiated by @dswigle (Denise, that's me!!) Join me as we share our markets across the globe. I always look forward to seeing what you send me! It is amazing to see the different markets and cultures of our friends here on Hive.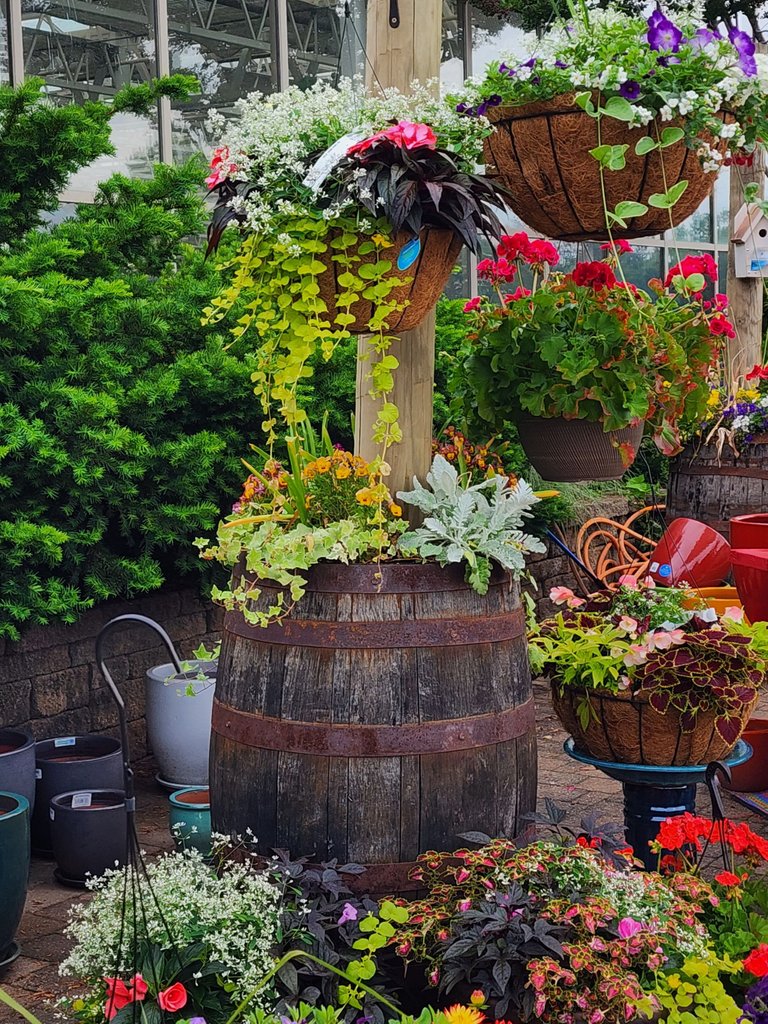 It is easy to see why it is one of my favorite places. They are extremely creative in their arranging and have an eye for all those little details that make a difference. I look at how they put their baskets together. The large basket that they put together (the one on the right) is $39.00, which is too much for me to want to spend, even if I like it. I can see that they put 10 different plants in there, so the value is there. But I am sure that we can find something more affordable.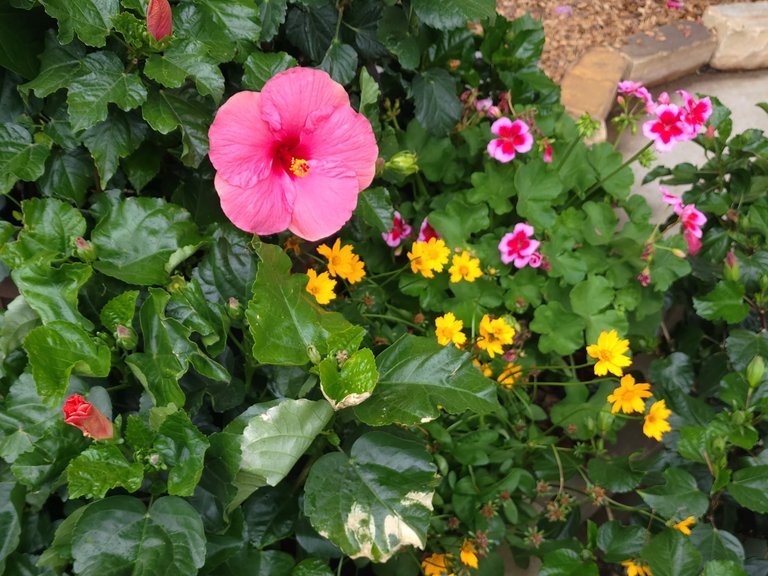 A lovely hibiscus. It has just finished raining, then it burst out in a fit of sunshine. Everything looks fresh, looking just perfect. I don't resist. I take the pink hibiscus home with me. It is not a deal, but, she is a beauty, I came exactly looking for this bush for the garden in my front yard. It will flower all summer and right until the frost come to visit. So that won't be until at least November. Because I am not in a tropical climate that hey hibiscus prefer, I will dig it out and bring it inside for the winter. If I fertilize it, it will even bloom throughout the winter. Oh, the hibiscus! She is a giver!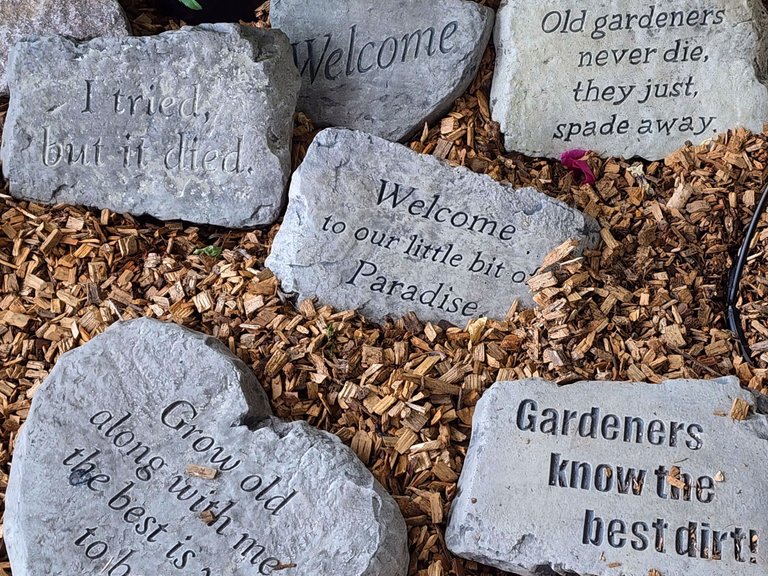 I like these little silly stones. I have one for my garden that says Worm Farm. Do you have signs or stones - making a little garden humor? I didn't buy one, but, if I did, they were priced from $8.95 to $10.99. Not too bad for the smiles they get. You just can't put a price on a happy face, yes?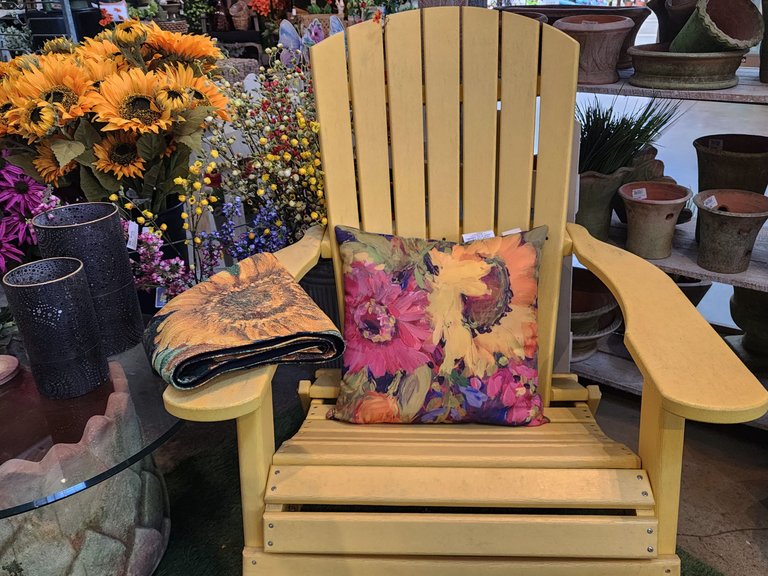 They set up little spaces to relax and take notes on merchandise that can be yours if you find comfort in your sit. They purposely design these areas so people will not be rushed or stressed about time. I literally take hours every time I go there. There is just no getting around it. I look at that Adirondack Chair for $157.00 and think to myself. I think that is something I could have done, without too much of a problem. I don't know. Do you think this would be hard to make? Maybe not easy, but, perhaps it is possible. But, I have already seen it for sale at L.L.Bean for $299.00 Hello? For that much, I would try to make it myself! But, admit it, it is kind of nice looking and I like the color.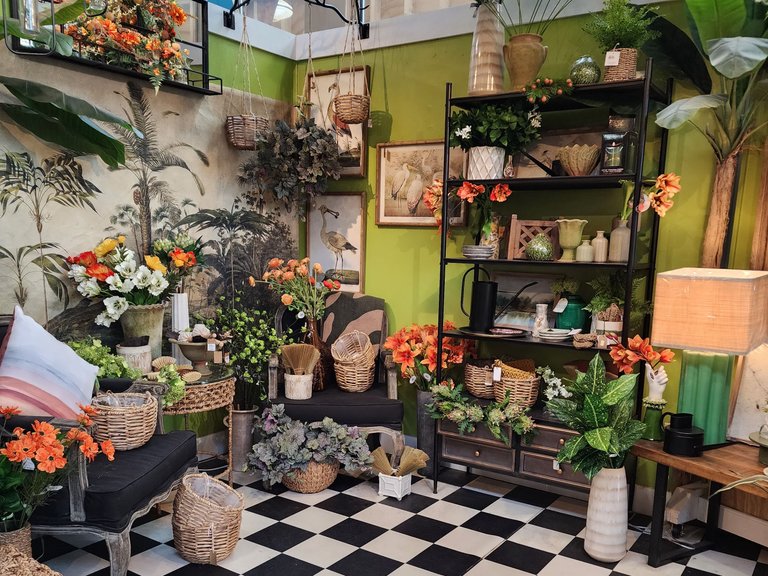 This is on the inside, close to where you walk in the front door. They have these spaces set up as individual rooms and this particular one they have usually set up as a kitchen space. Not so much this time, but, you can see the checkerboard floor, the telltale sign of a kitchen. Perhaps even a retro kitchen. It has little pieces, pieces of art, framed pictures and lamps... baskets, and pillows for the couch. Whatever you see is for sale. Everything is priced and if you take one away, they reimagine it once again.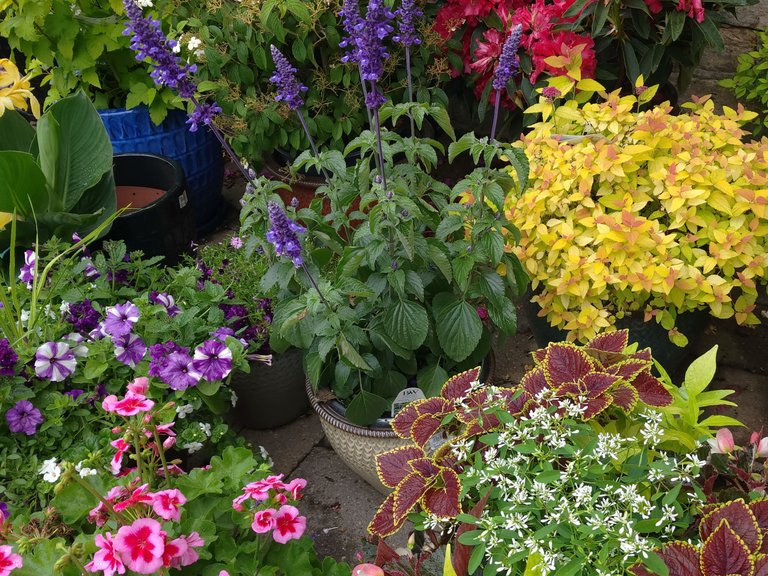 I look at this picture and marvel at their ability to put these plants together and make them look so lovely. My imagination doesn't stretch that far, also keeping in mind that the plants will grow bigger and they still have to fit into the scene. They usually do. I can come back in three weeks and they will have grown, seemingly melding into one another. Darn it, if they don't look stunning. My question is always, how do they do it? Every. Single. Time. They are that good.
It is a meander through the pots and trees here. The pink petunias sit on top of a blue bird bath, they use every object they can to achieve the look. The pots have a wide range in price. The smallest pot that they have is about $6.95 for a 5-inch and the largest is $159.00 - but, I couldn't tell how big it was, but, it was huge! They were all ceramic. The rule of thumb is a 12" plant needs a pot that is usually 4 or 5 gallons. I usually get one that is bigger than the plant and let it grow into it. Nowadays, I don't really buy too many pots, I have a collection of them at home that have been passed down to me or given as gifts. I can remember the days when I had none and had to buy one every time I bought a plant. That ship has sailed. Now it is me passing on the pots as I have too many. How about you? Do you have more pots than you know what to do with? Or are you still buying every time you get something new?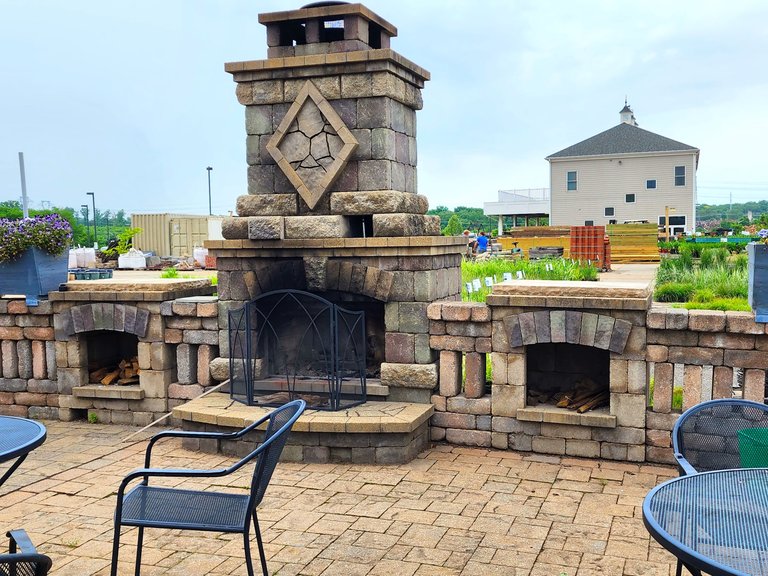 This nursery also runs a landscaping business, designing gardens, building patios and anything you could possibly use on one. This is another area that they place for people to relax, have a snack or coffee, something to drink, and enjoy the fire they build on cold days or perhaps when they are having a BBQ with hot dogs. You get to enjoy one. On either side is a place to put the wood. Wouldn't that be nice to have that in your own backyard? This one has been there for years and is a little over-abused, but, I still love it.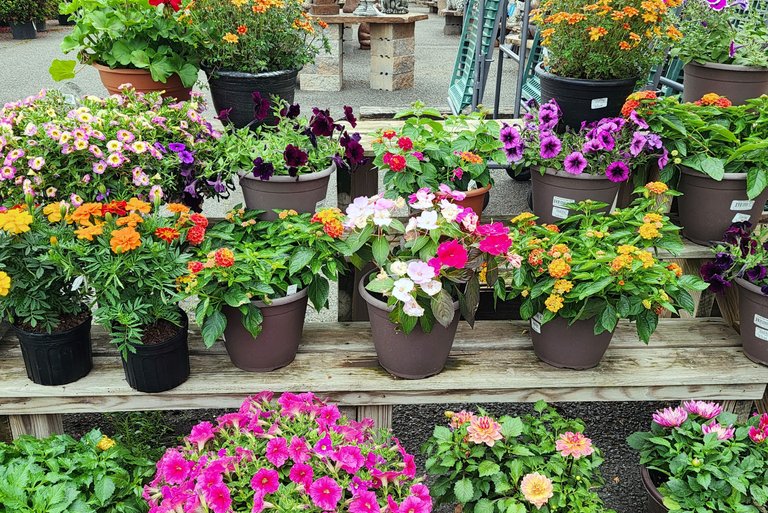 They built basic three or four-tiered wooden shelves to just set the plants on in the annual house. That is where the plants live. They last one season and then go to seed. I find them more colorful and unique than the perennials that come back every year. Annuals are cheaper nd offer a spot of color in places that have none.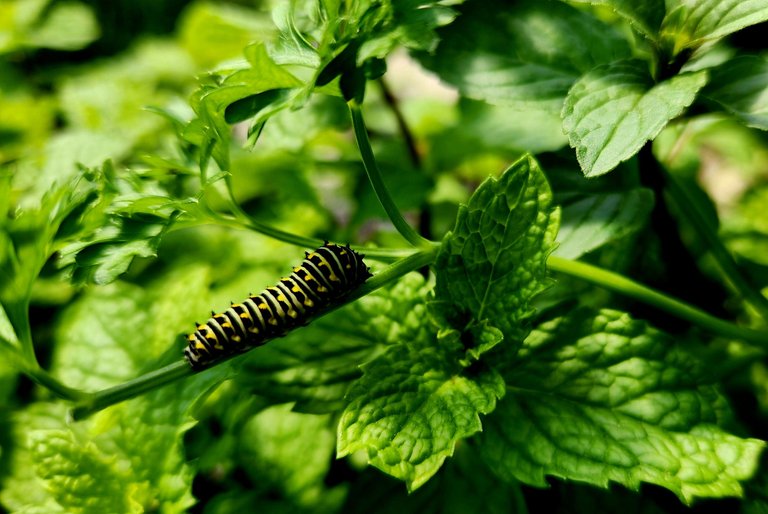 Yikes! And what did I see? I think he will be a black swallowtail, but not sure. Does anyone want to venture to guess? He comes free with this plant! :) Or we could just go to the Garden Critter class they are having next week.

You too can learn all about garden critters! They have even hired a Wildlife specialist to host it! I have been to a fair amount of their seminars and I have to say that they are pretty good. Plus, they serve snacks! In case that helps.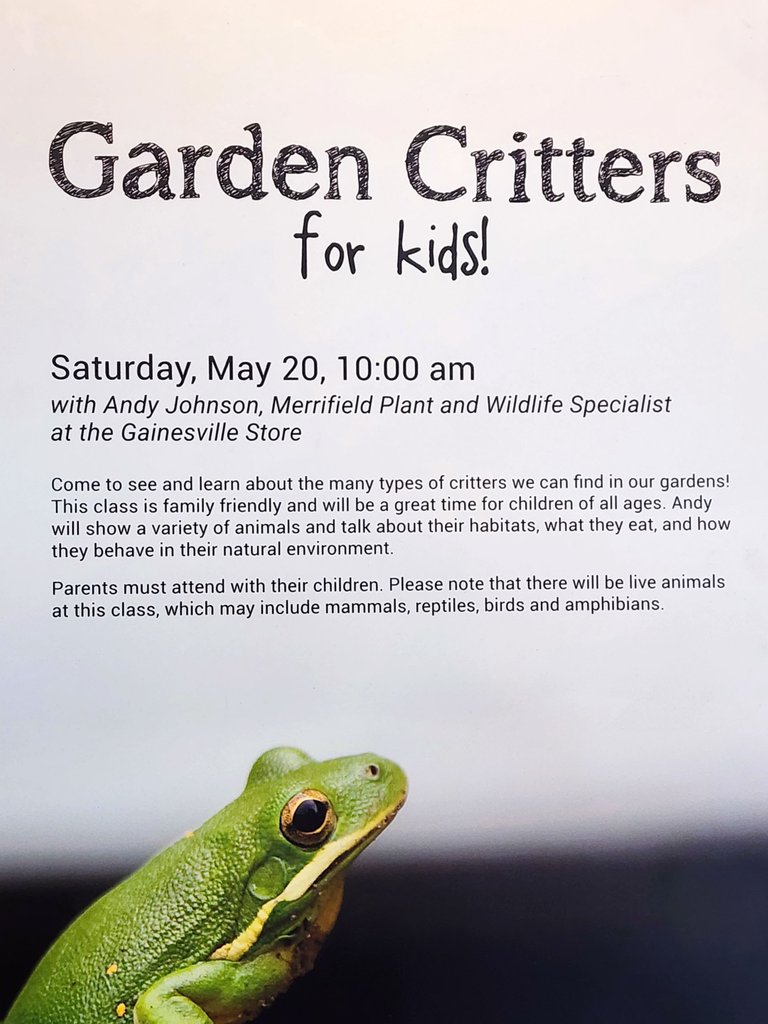 Please leave the link to your post here so it can easily be found by others. It helps you and me to have them in one place. Where else can you take such a quick trip around the globe? Thank you so much for joining us!! ❤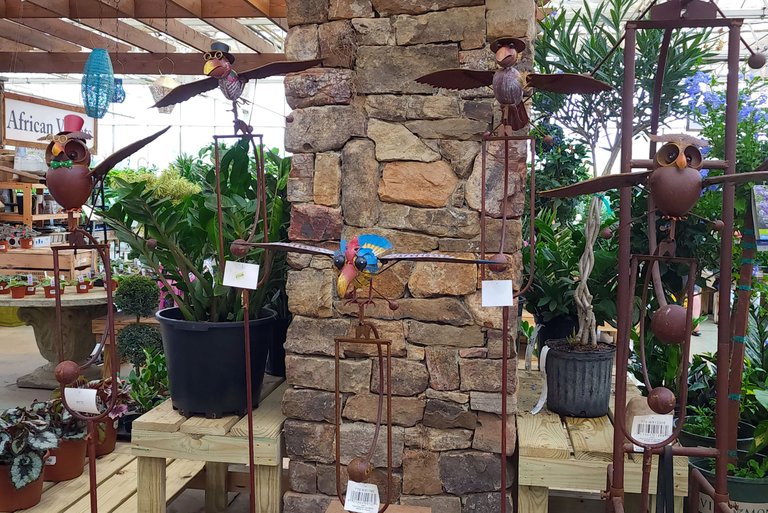 And just like that, this post is done. I hope you had a good time and learned a little something new. As always, I want to thank you for taking the time to visit, and just remember, #MarketFriday loves you! Thank you for supporting the challenge! Have a most fabulous day! Cheers!!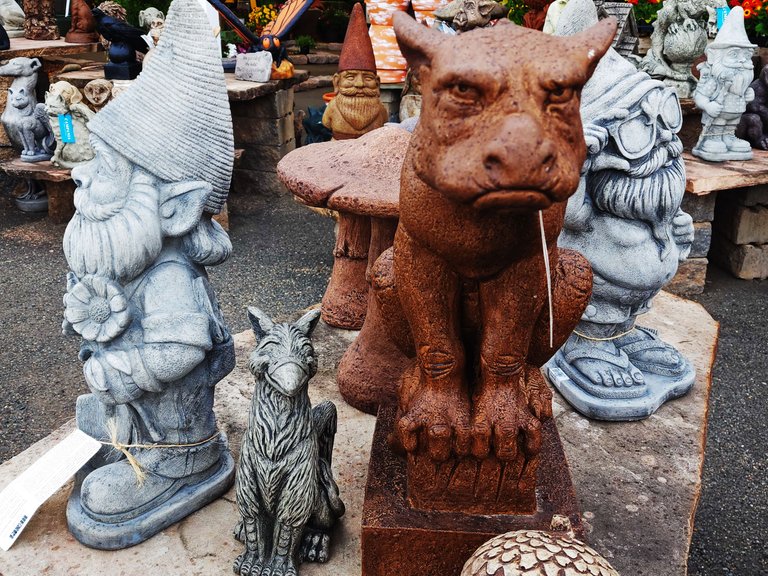 Flowers. Always. To color my day. #alwaysaflower Let the sun shine in your life and let the joy touch your soul. Let this day be yours. Don't let anyone take your sunshine away Beleive it or not, I didn't finish telling you about it, so there will be a continuation later this week! Fair warning!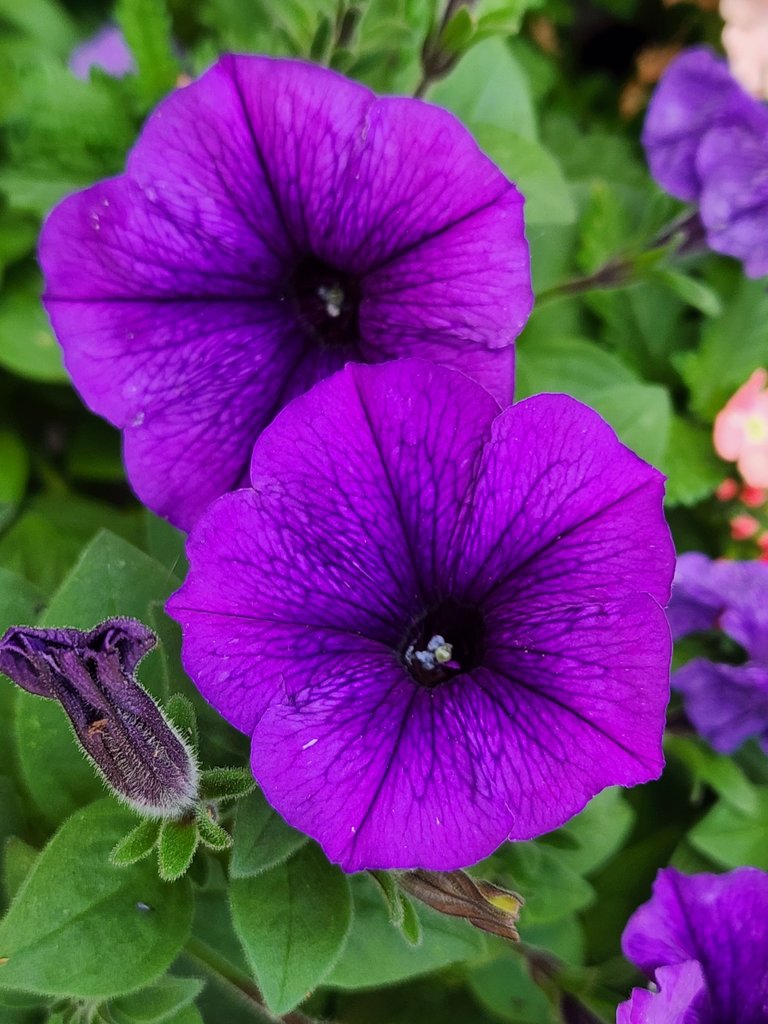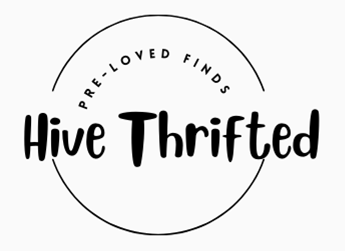 A big shout out to @lizelle and the Hive Thrifted Community Store that opened recently, and it is just waiting to be discovered by the Hive Community! If you've not heard about HIVE THRIFTED this is your opportunity to declutter, put unneeded items up for sale, and earn HIVE or HBD! Check out the intro post here If you like the idea of extra income the easy way, read up on it in the intro post, you won't be sorry! Any Questions? Ask away! If you reblog the current post from Hive Thrifted, which you can find here we can start filling up the Hive Thrifted store,

---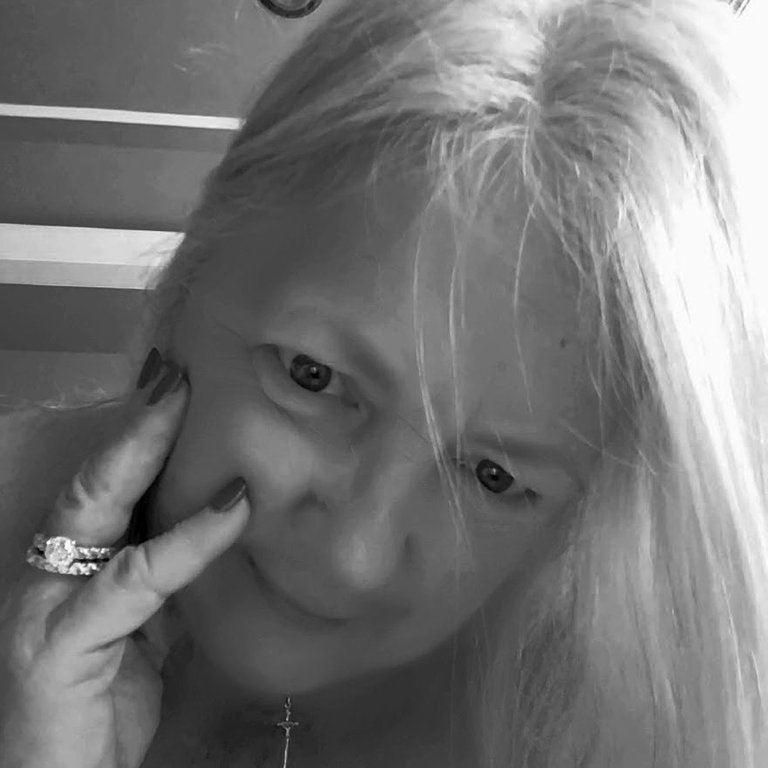 ---
Fridays are all about the #MarketFriday Challenge! Looking to take part in it? Here is how:
Rules of the Road to Join #MarketFriday!
Go to the market, or anywhere that you pay money for a service.
Take pictures! Be creative!
Tell us a little bit about the market or the event. What brought you there? What did you buy? How much did it cost? Was it expensive? Did it go up or down? I need something other than 50 pictures of the market.
Post the pictures. Of course, you should tell a little bit about the ones you post, it is too difficult to guess on some
Use the MarketFriday Community Platform to post (#hive-196308) This is not required but appreciated.
PLEASE Drop the link into the MarketFriday comment section so I can find it!!
Following me and reblogging the post would be appreciated, but not a rule, more vision for more views on the #MarketFriday posts!
You must put #MarketFriday by @dswigle somewhere on your post.
As always, please remember! #MarketFriday loves you!

#TeamUSA is a growing community of quality-content people from the United States or those living here. Check us out on Discord!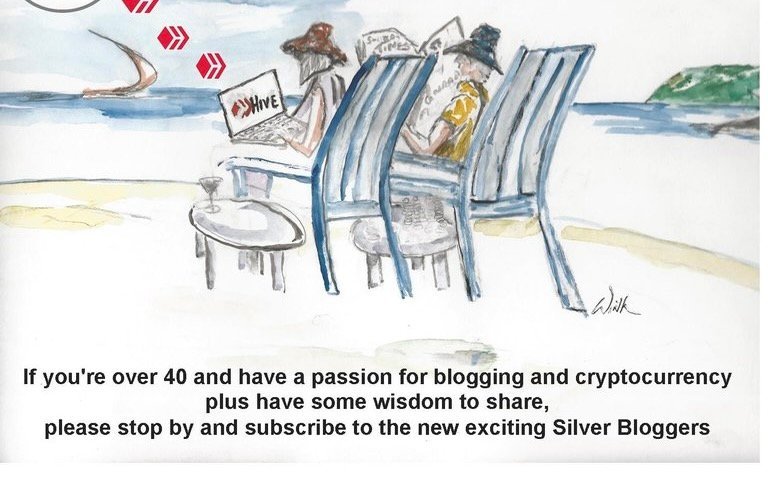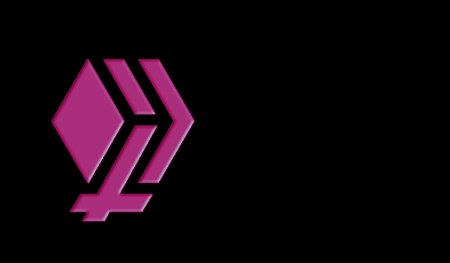 ---
---