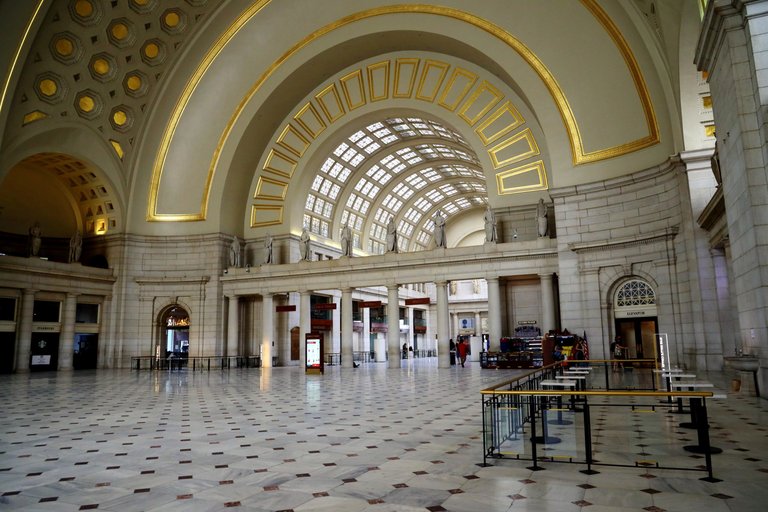 Union Station, Washington, DC
Anyone who works downtown will agree that mass transportation is the best way to get around unless you are walking. Washington, DC is a very walkable city. It has been hard hit since the pandemic, most of the cars are empty, despite social distancing with seating. People have been driving in since the outbreak. The metros were closed, so the entire government just about shuts down. We depend on our Metro!
I used Uber to get to a station in Northern Virginia, then metro down to DC. When I got to the station parking lot, I was appalled that the station that has spaces for 900 cars has 10 cars in it. Ten! Obviously, telecommuting is quite the rage still. There are literally over 60,000 parking spaces for cars in the area, not including parking for the metrobus.
source
The Metro Lines consist of six different colors, red, blue, silver, orange and green. I use the blue line the most, which runs from the west to east then heads south. It serves the stations for the Smithsonian, Arlington Cemetery, McPherson Square, which is the White house stop and the National Airport, just so you can save the limousine fare.
Fares are calculated by how many stops you actually travel and this fare can vary during peak travel time/off-peak hours. Peak hour price- $2.25 to $6 per trip.Off-peak price-$1.85 to $3.85. All riders must pay with a SmarTrip card or your phone app. The SmarTrip can be purchased at any station. The phone you can use the play store. But, you already knew that.

Today is #MarketFriday initiated by @dswigle (Denise, that's me!!) Join me as we share our markets across the globe. I always look forward to seeing what you send me! It is amazing to see different markets and cultures of our friends here on Hive.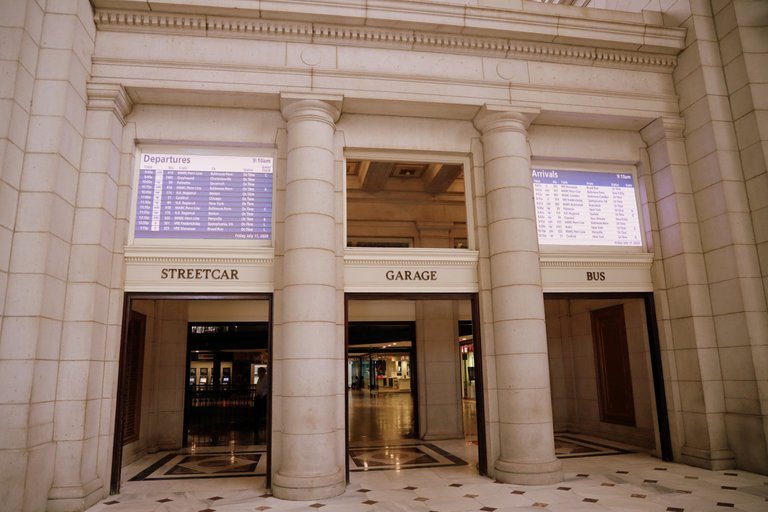 Union Station is a surface street network that is free. However, it consists of only one line that is a little over 2 miles. I personally take the metro. It is quick and easy and gets me to work on time. The metro here works well in the city and many of the suburbs. When it snows and covers the tracks, the metro closes, too much rain, one of them off the tracks... You name it, it's happened.

STOP!! BRAIN TEASER AHEAD!!
Question: The following four groups of letters are nonsense. But, if you add just one letter to each group then rearrange the letters, you'll create four real words. The letter you need to add is the same across all four groups. What is it?
AEEHRT
AGINNR
CEELMO
DEFLNORU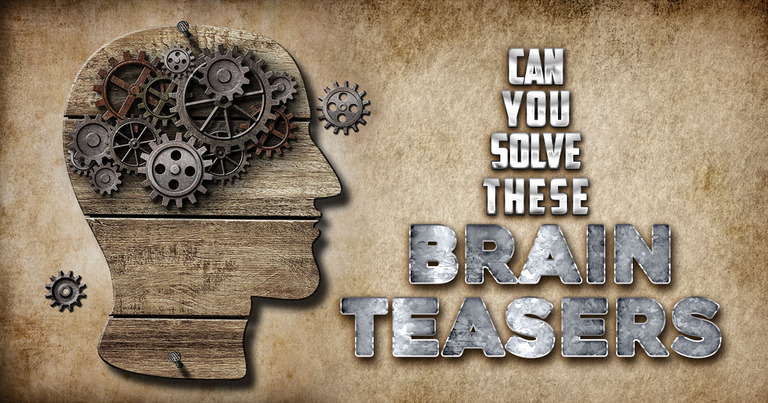 source
Answer: The letter is W...how many of you got it?
Weather
Warning
Welcome
Wonderful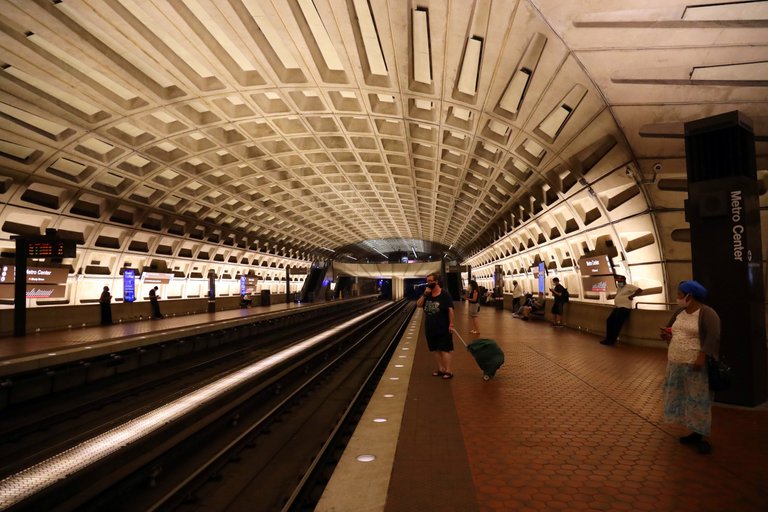 To figure out which platform to stand on, you need to look for the end-of-line destination. That is the color train you want. Look how empty!! You usually have to fight for a seat!I'm okay with this. I only take it when I have to. I have been driving more than normal. Better safe than sorry.
The only seats you can sit on are the ones without a tag. The rest you need to skip to remain socially distant. I would say that people have been good and respecting that.
Notice that there is one-way traffic here also. There is no turning back once you make the decision to forge ahead! Just keep moving along.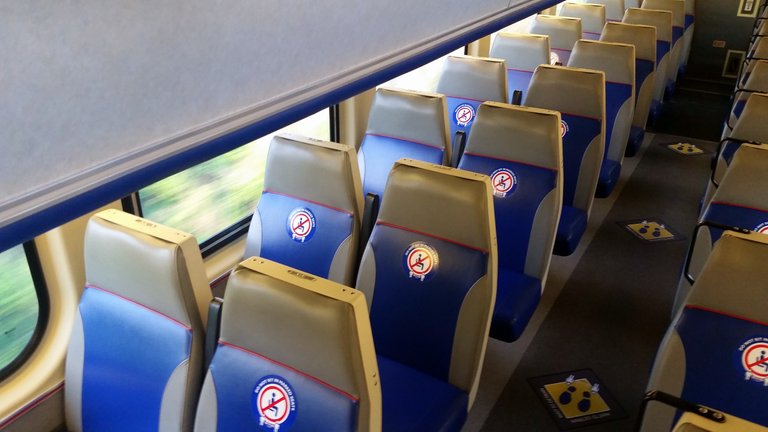 The focal point of the Union Station's main entrance is the Christopher Columbus Memorial Fountain, which many know as the Columbus Fountain. It was designed by Lorado Taft in 1912. It depicts Columbus on the bow of a ship, which you can clearly make out on the right-hand side of the picture.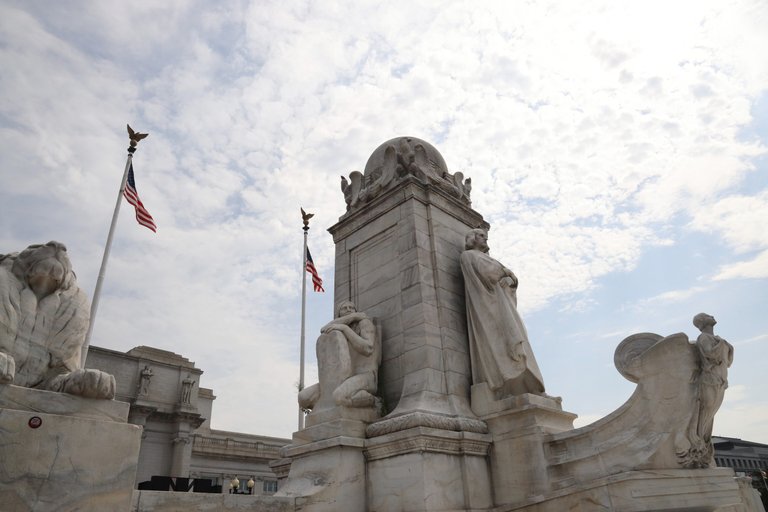 A large statue sculpted of Columbus for Columbus Circle, this has seen graffiti and many words have been used to describe it. Not all of them nice.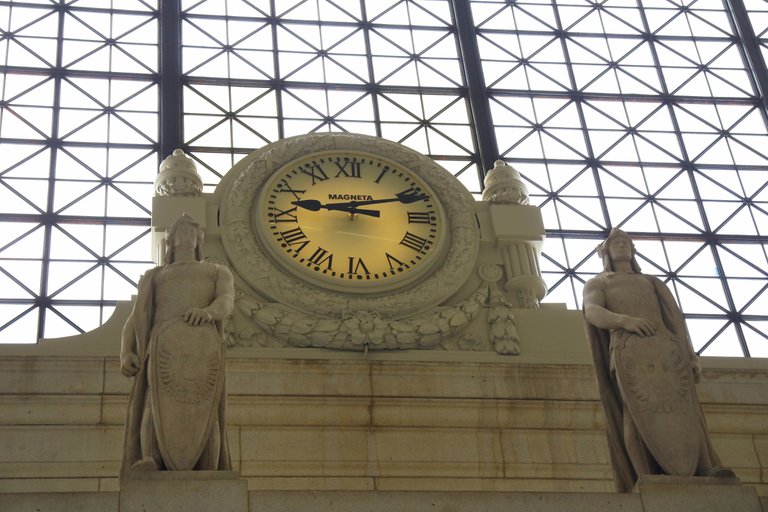 I like this station and its and major transportation hub that it is. Amtrak's headquarters is here. So, if I want to take a train, it is convenient. The metro makes life so much easier for everyone that lives here. And next time I get down there, which will be tonight... I will show off more of the statues representing Roman legionnaires that ring the balcony level of Union Station's Main Hall. There are thirty-six of them.

Of course, who doesn't love a good food truck??!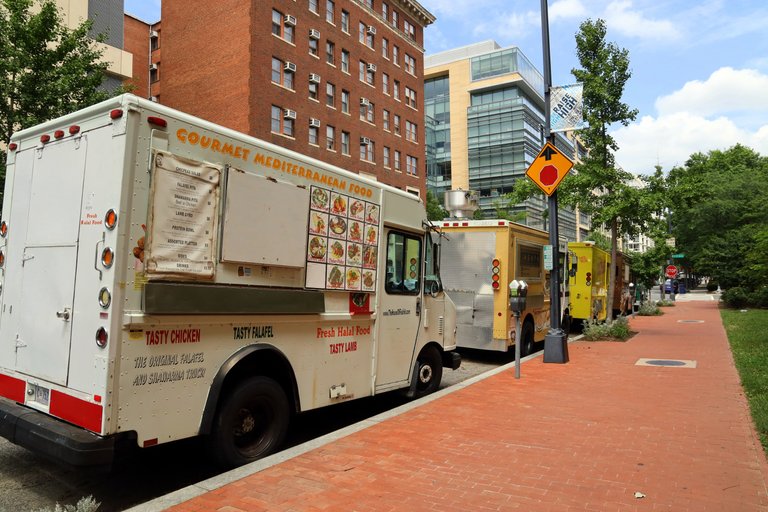 Rules of the Road
Go to the market, or anywhere that you pay money for a service.
Take pictures! Be creative (or not, we don't judge!)
Tell us a little bit about the market, what brought you here?
Post the picture(s)
Use the MarketFriday Community Platform to post
Or drop the link into the MarketFriday post so I can find it
Have fun!

Please leave the link to your post here so it can easily be found by others. It helps you and me to have them in one place. Where else can you take such a quick trip around the globe? Thank you so much for joining us!! ❤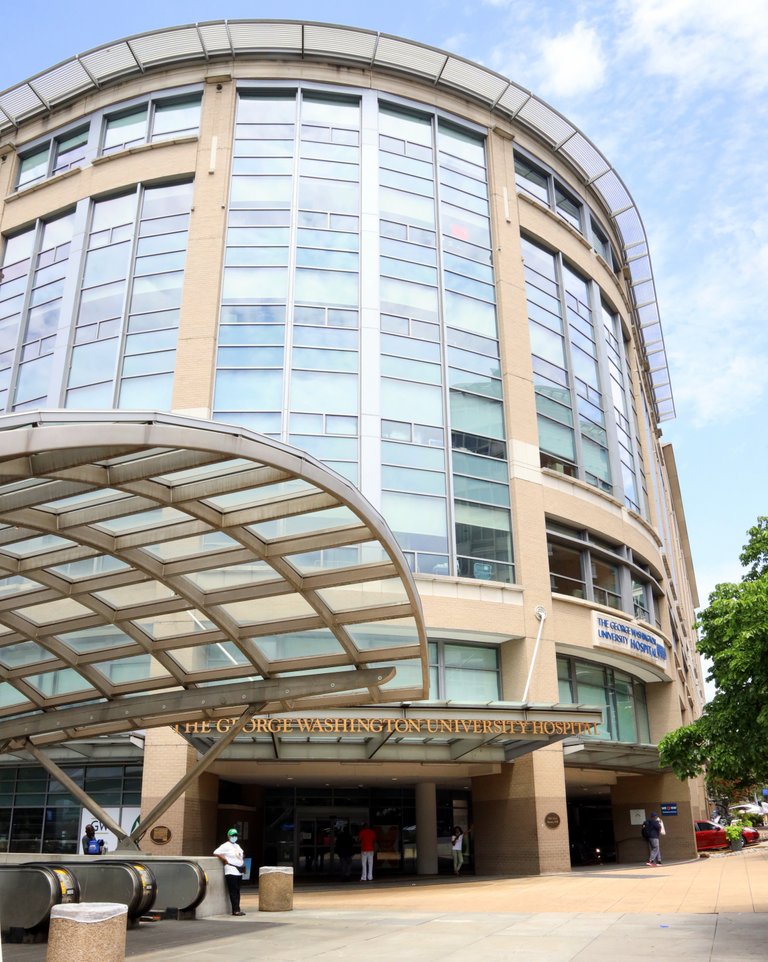 Work or play, it takes you where you want to go.

And just like that, this show is over. Come back tomorrow and we will do it again. The market? Oh, yes! Wherever money is exchanged for a service or for merchandise. Be different if you wish! It does not have to be a traditional market! Thank you for supporting the challenge! Just remember! #MarketFriday loves you!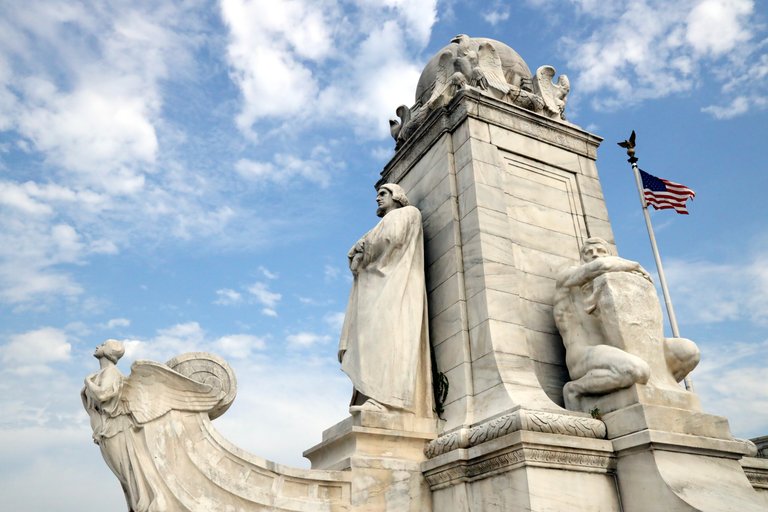 May there always be a flower, to color your world. #alwaysaflower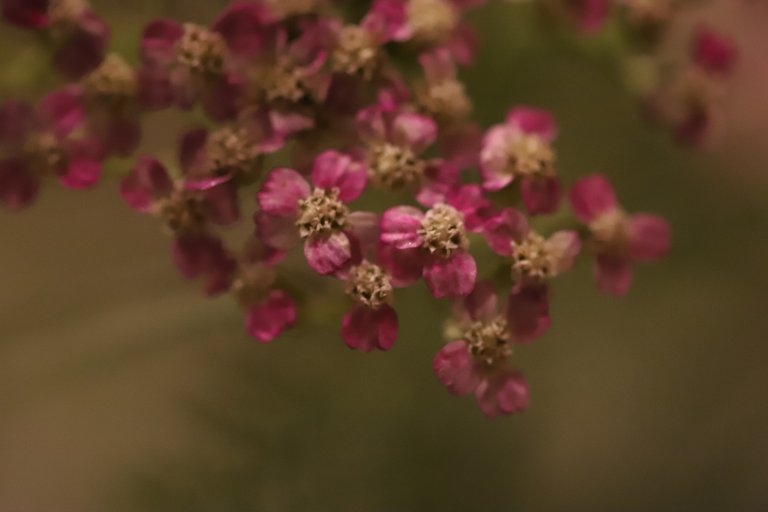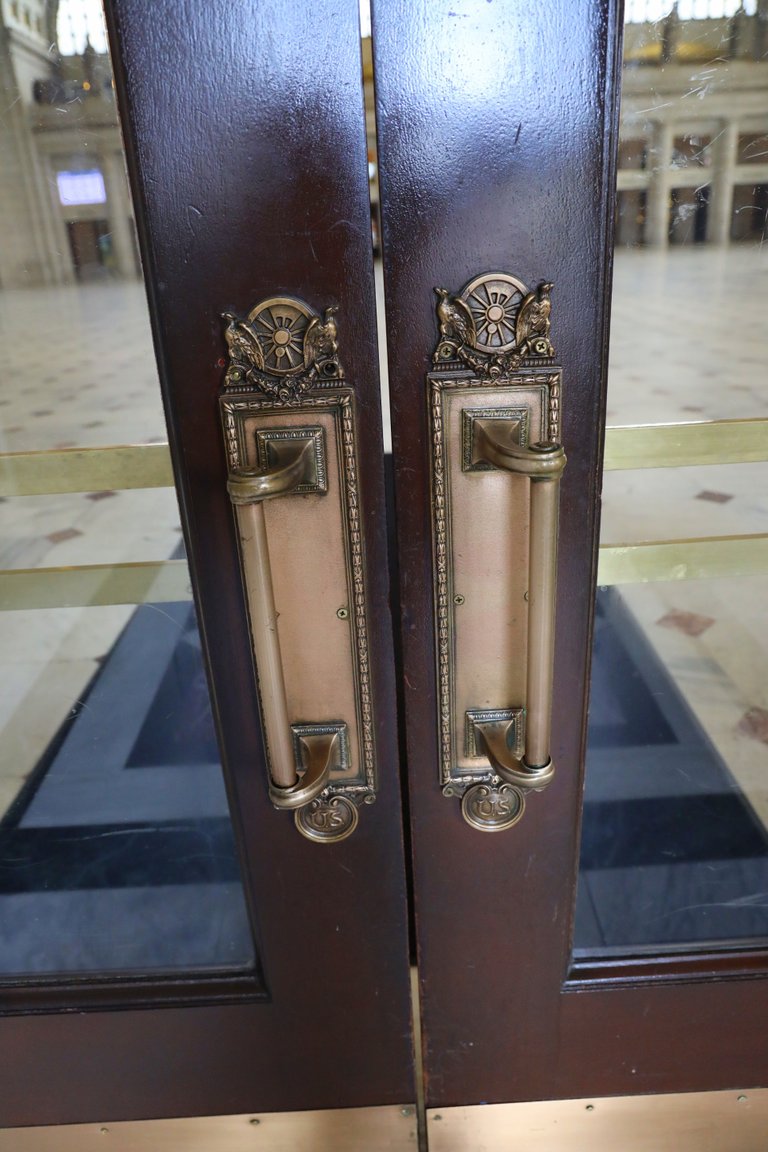 It holds the beauty of yesterday, the architectural styles do. It goes from old-time classical and Beaux-Arts to name a just a few!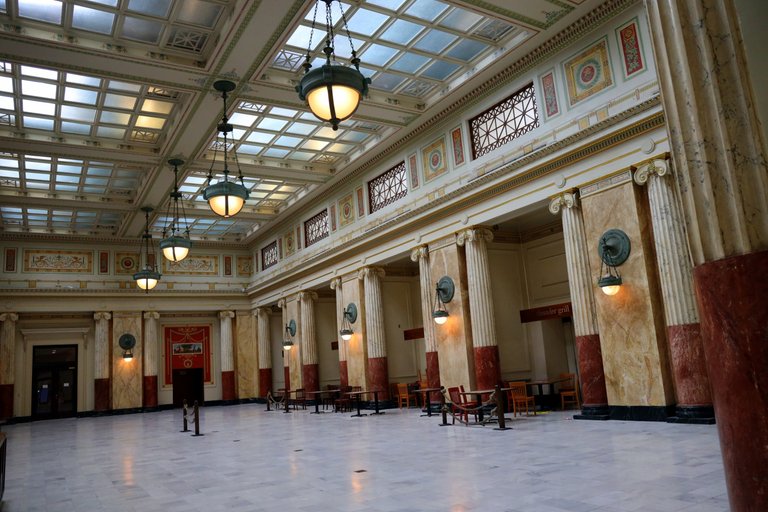 Even though many places have been cleared to carry on as normal, please wear a mask when you go out and use proper social distancing.

---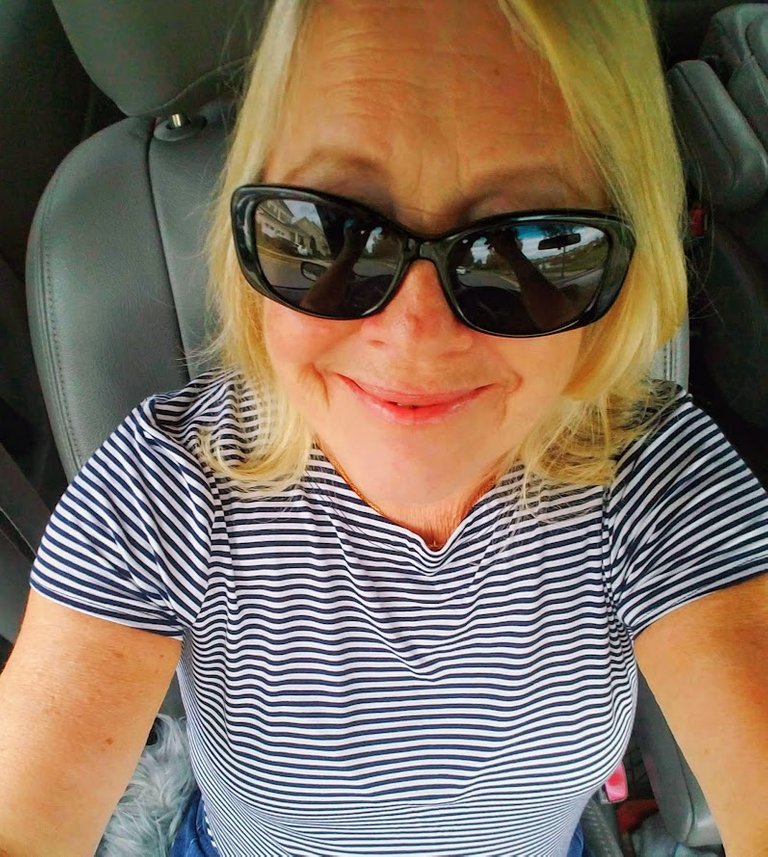 ---
Thank you for visiting my post 💖 Because of you, I come back to post again and again, I am encouraged by you, for the time you take to visit, comment or even upvote. For all of these reasons, I am eternally grateful. Don't ever forget what a wonderful world we live in, people. Some days, it is not as easy to see, how wonderful it really is. Kindness counts. Wherever you go, whatever you do.

they set my aunts house on fire
i cried the way women on tv do
folding at the middle
like a five pound note.
i called the boy who use to love me
tried to 'okay' my voice
i said hello
he said warsan, what's wrong, what's happened?
i've been praying,
and these are what my prayers look like;
dear god
i come from two countries
one is thirsty
the other is on fire
both need water.
later that night
i held an atlas in my lap
ran my fingers across the whole world
and whispered,
"where does it hurt?"
it answered,
"everywhere"
"everywhere"
"everywhere"
warsan shire

#TeamUSA is a growing community of quality-content people from the United States or those living here. Check us out on Discord!