Chemistry of water -Part 19-
- Chemical oxygen demand (COD):
COD represents one of the indicators of pollution, especially for industrial wastewater, as it is used as a comparison between filtered water and the same water before filtration to know the effectiveness of filtration. This measure allows the quantification of oxidizable compounds to be estimated.
A solution of potassium dichromate (K2Cr2O7) is used in an acidic medium, in the presence of a mediator of silver sulfate and mercury sulfate, to oxidize the compounds soluble in water; after oxidation the remaining amount of potassium dichromate is titrated with a solution of Mohr's Salt.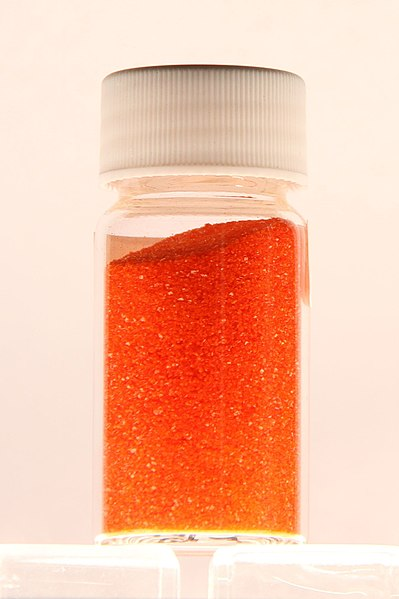 Potassium dichromate in a vial
50 ml of the water to be tested were placed in a flask having a 500 ml capacity. Then, 5 ml of silver sulfate solution and one gram of mercury sulfate are added, and after dissolving them, 25 ml of potassium dichromate solution is added to the sample in addition to 70 ml of concentrated sulfuric acid. The flask is then heated at boiling point for two hours with a cooler around its mouth, after that, the hops are cooled, and its content is expanded to 350 ml with distilled water, with the addition of drops of Ferroin indicator. After the oxidation process, the amount of potassium dichromate remaining inside the flask was titrated using Ammonium iron(II) sulfate solution, and the same experiment was repeated on 50 ml of distilled water.
To determine the chemical oxygen demand, use the relationship shown below:
COD= [8000.(V0 - V1). t] / V
V0: The volume of ammonium sulfate needed to calibrate the sample (ml).
V1: Volume of ammonium sulfate needed to titrate distilled water (ml).
V: Volume of the aqueous sample (ml).
Oxygen demand (COD) is also measured automatically by means of special pumps through which the water sample and reagents are pumped into a reactor surrounded by a heating coil to maintain the boiling point during measurement. The device also contains a photodetector for chromium, whose concentration in the medium is proportional to the concentration of oxidizing substances, and thus the chemical demand for oxygen can be determined.
References:
[AQUAPROX- Livre: Traitement des eaux de refroidissement. Imprimé en France par EMD S.A.S- 53110 Lassay-les-Chateaux. N° d'imprimeur: 15566- Dépot légal: juin 2006. N° 842- Cyclus print 90°]

[Introduction to Water Chemistry (Pollution- Treatment- Analysis). Dr. Nasser Al-Hayek. Publication of the Higher Institute for Applied Sciences and Technology (HIAST). Syrian Arab Republic, 2017.]

"Chapter A2. Selection of Equipment for Water Sampling" (PDF). National Field Manual for the Collection of Water-Quality Data (Report). Techniques of Water-Resources Investigations, Book 9. Reston, VA: U.S. Geological Survey. March 2003.

Folco Laverdière, Anja Holstein, Laurent Thiebaut, Robert Mallee, Guillaume Gravejat, Benjamin Des clozeaux: Les principales methodes d'analyse,1999, p5.
---
---