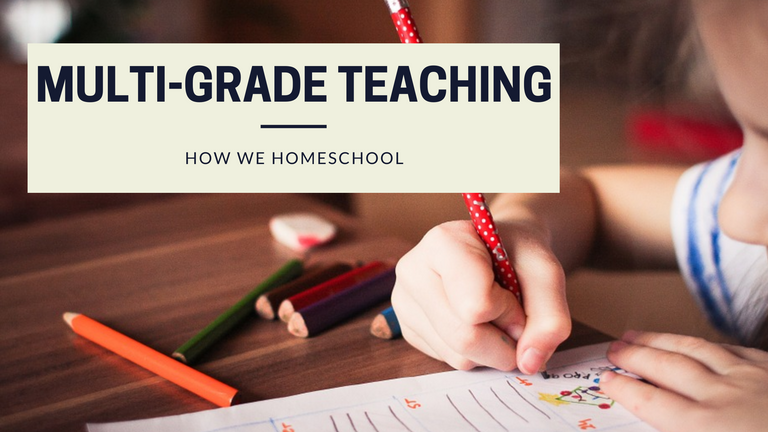 Photo: Pixabay by picjumbo_com. Edited via Canva
Homeschooling Three
The other day, I came across @romeskie's new homeschool journey as she now tackles three learners at home! I know how hard it could be, having three of my own, but at the same time, this is truly one of the most rewarding experiences a mother can also get.
It was three years ago when I put in in my heart that I wanted to homeschool my children. I transitioning to a new job at that time, and there was a gap of two months in between the visa applications. I wanted to spend more time with them in these crucial growing up years, and I was convinced that to do that, I have to be more hands on to their education, too.
Fast forward to 2020, my little home school now has a 6th grader, 1st grader, and a kindergartner. I can't say it is easy. No, it is far from that. Homeschooling is both hard work and heart work.
Multi-Grade "Class"
A multi-grade class is one that consists of two or more levels taught by one teacher. So technically, I am a "multi-grade" teacher. Hoorayy!
Parenting multiple children is already difficult in every sense. Time and again, our patience will be tested, and not more than once we will come to "question" our very own parenting approach. We make adjustments here and there, to give the individual needs of our children. As we know, children - even if they came from the very same parents, can be very different from each other.
In the same way, homeschooling two or more kids with different grade levels at the same time is difficult. First, each child has his own learning style, not to mention different learning needs. As I said, each child has a different personality and so it cannot always be a perfect homeschool set-up. One time you find a cooperative child, the next moment you see him distracted and wreaking havoc everywhere.
Habits and Attitude
Multi-grade homeschooling can be made easier by cultivating good habits of the children to become responsible learners overall. Discipline is really important, both on the teacher and learners' part -- keeping everything organized to achieve overall curriculum and competency objectives.
Quick Help
Fortunately for us, our homeschool provider has been very supportive of their enrolled families, and they provide very helpful training and seminars. It was really helpful to us especially back when we were just starting to navigate this very unfamiliar arena.
Here are some of the tips that we got from the training we went through earlier this year, which touched upon multi-grade teaching.
1. Aligning the curriculum maps of all learners. Being able to identify common major topics that can be touched and discussed to all learners at the same time can be very helpful. Several topics are revisited every school year, that just varies in complexity as the grade level progresses. Example in Language - topics about nouns, pronouns, verbs, adverbs, etc. are repeated each year, just varying in complexity.
2. What they can go through together, together they go through. This is basically just a complement to the above point. There are lots of activities that the children can go through together, but each of them gets different output from the particular activity. An example is this project made by my kids earlier, where the goal of my 5th grader was to test theoretical and experimental probability, while my kindergartner got to practice counting and addition.
@divinekids doing an activity together, while achieving both desired competencies for multi-grade learners.
3. Collaborative Learning. Older kids can help the smaller or younger siblings go through their lessons. In our case, my eldest helps me teach the smaller ones' lessons like simple mathematics, reading, science, etc. Sometimes, when my smaller ones have a hard time understanding the way I present the lesson, the eldest helps me translate these lessons in ways his siblings can better understand.
4. Be creative. Oh, I cannot emphasize more how homeschooling has challenged my creativity many times. Children get bored easily, they want "action" almost all the time. This is where great resources come into play. Thankfully again, our homeschool provider regularly presents curated resources that help us bring some diversity on how we tackle lessons in our little home school. I also join homeschool groups where parents exchange ideas, tips and resources. Oh, a real life saver.
5. Connect! Community is the key. Join homeschool coops that can help supplement our learning. There is a growing number of homeschoolers in Abu Dhabi, and thankfully, our homeschool provider has set up a homeschool coop for us that makes it easier for us to connect with fellow homeschoolers. We get support and exchange resources with each other. Before the pandemic, we organize lots of meetups and workshops that our children can attend. Now, with the pandemic, we just make do with virtual meet-ups.
6. Integrate & Collaborate! When thinking of activities, try to integrate 2- 3 subjects in one. Cooking, for example can easily cover Science, Math, and Home Economics. Field trips to museums can cover History, Language, and Arts. There are even times when you can integrate "all" subjects at the same time, but try not to overdo it.
Try to also come up with projects that demonstrate the collaborative efforts of your children. Let them do art projects together, "organize" a party, or cook together. Remember, children learn as they put their hands into a task.
Enjoy
Obviously, there are times (or most of the time) homeschooling can be very daunting. Teaching multi-level learners is not easy. There are times when I even question if I can really do it.
In times like this, I again go back to the very reason why we homeschool. We take a step back and remember to take a breather. After all, we are not in a race. We'd love to raise children who love to learn, are critical thinkers, and would be very productive people in the future.
We only go through this phase once, and I would like to enjoy this moment I share with my children. I would not trade this experience for anything!
---
How about you, what tips can you share, homeschooling multi-grade learners?
Thanks for reaching this far. Happy homeschooling!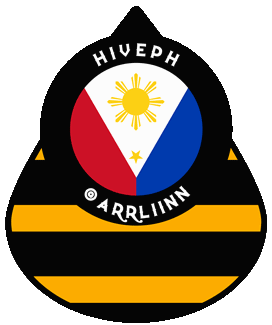 Many thanks to @bearone for this beautiful Hiveph badge!
Join and subscribe to the HivePh Community : Supporting Filipinos Worldwide
Join us in Discord.