I'm very happy to see that after the ''massive beast-mode run'' that we had the previous week with hive (and the following and 100% expected dump) the TA is starting to show the first signs of demand and trend change behaviour in the current downtrend (all these analysis are my opinion, as always).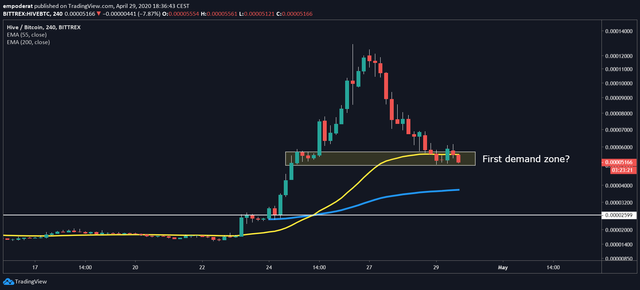 I'm doing this technical analysis in the 4H timeframe, as higher timeframes (still) don't provide enough information IMO. if we add the fact that Hive is 1 month old... hehe, what else to say.
As I mentioned before, we had the massive run up, (bla, bla bla...) now we dump, AND as I stated before, the price is starting to hold at the ~5000 sats zone. This zone also coincides with the 55 EMA, a moving average which I'm loving lately to spot medium-term trends.
This spot could be the first zone to start averaging in again if you have a 'swing' position (which obviously don't have, as I'm 100% powered up, but still I like to watch charts)
In fact I think we're (still) going down due to the fact that BTC is pumping today. +8% isn't a average day for BTC, should say.
If the current level doesn't hold (which is a very real possibility btw and more specially if Justin starts playing their shitty games) I hope the 200 EMA to hold (my blue line).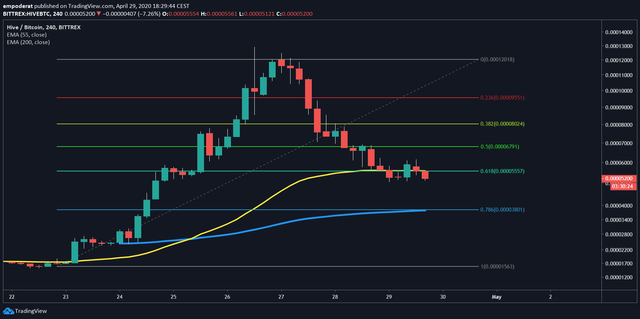 Would also like to mention that the ~5000 sats level coincides with the 0,618 fib. retracement. If this level fails to hold I expect the next one (0,786) to hold as last-instance support.
Even If the first level fails to hold (I won't go full x100 long here hehe) I can only say ''thanks'' to everyone who's making Hive possible.
After all this is being a mythic journey. And we should be feeling proud of all the recognition that we're facing.
We as the Hive community we're real champions. I'm starting to feel better gradually and can't stop checking @coingecko lately.

Thanks for reading!
You can follow me on Twitter