I think i dont need to write what happened today but literally minutes ago Richie from Bittrex added text.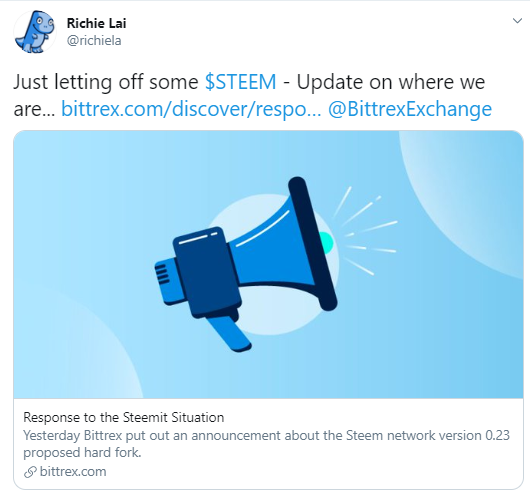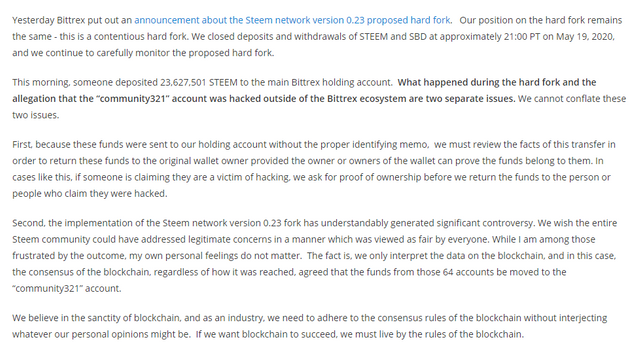 https://global.bittrex.com/discover/response-to-the-steemit-situation
Yesterday Bittrex put out an announcement about the Steem network version 0.23 proposed hard fork. Our position on the hard fork remains the same - this is a contentious hard fork. We closed deposits and withdrawals of STEEM and SBD at approximately 21:00 PT on May 19, 2020, and we continue to carefully monitor the proposed hard fork.
This morning, someone deposited 23,627,501 STEEM to the main Bittrex holding account. What happened during the hard fork and the allegation that the "community321" account was hacked outside of the Bittrex ecosystem are two separate issues. We cannot conflate these two issues.
First, because these funds were sent to our holding account without the proper identifying memo, we must review the facts of this transfer in order to return these funds to the original wallet owner provided the owner or owners of the wallet can prove the funds belong to them. In cases like this, if someone is claiming they are a victim of hacking, we ask for proof of ownership before we return the funds to the person or people who claim they were hacked.
Second, the implementation of the Steem network version 0.23 fork has understandably generated significant controversy. We wish the entire Steem community could have addressed legitimate concerns in a manner which was viewed as fair by everyone. While I am among those frustrated by the outcome, my own personal feelings do not matter. The fact is, we only interpret the data on the blockchain, and in this case, the consensus of the blockchain, regardless of how it was reached, agreed that the funds from those 64 accounts be moved to the "community321" account.
We believe in the sanctity of blockchain, and as an industry, we need to adhere to the consensus rules of the blockchain without interjecting whatever our personal opinions might be. If we want blockchain to succeed, we must live by the rules of the blockchain.
Bittrex is a no1 spot i trust my money with, been with them since their very start when they were gaining popularity. I wonder how this is going to end.
Surely todays day is one of the craziest in crypto due to HF itself, then whitehat sending to Bittrex.
This is going to make press about HIVE/STEEM and all this big again just like initial split/fork.
Bittrex BTC/HIVE Chart


REAL WAYS TO MAKE PASSIVE INCOME FROM CRYPTOCURRENCY - DOWNLOAD FREE EBOOK NOW