Keep Hive Buzzing - Support our proposal!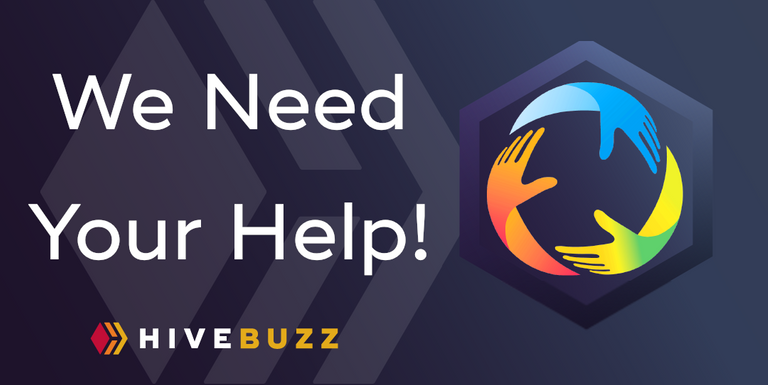 HiveBuzz is considered by many users on Hive as an excellent motivator and an effective user retention tool.
For the past 6 years, we have been working tirelessly to enhance the user experience on Hive. Our mission is to strengthen the feeling of belonging to a community with a fun and positive approach.
We've offered numerous badges and challenges that have helped users engage with one another, and we've seen the positive impact that it has had. We want to continue to infuse these values on Hive, and we are ready to deploy new ideas and badges planned for the future.
For the past three years, we have received funding from the DHF which has allowed us to grow our team and maintain our infrastructure. Thanks to this, we were able to continue to provide a quality service daily, but our last funding proposal expired at the end of 2022.
Lost funding
Despite our efforts in campaigning for support, we did not receive enough votes to renew the funding of our proposal.
Although more than 1570 users have already voted for our proposal, which ranks it at the top of the proposals supported by the community. However, it did not manage to get above the HBD Stabilizer which today acts as a threshold to obtain funding. The HiveBuzz proposal needs a voting equivalent of another 9 million HP to be funded (you can check it here).
There could be several reasons why you might not have voted for the HiveBuzz proposal or renewed your vote.
One reason could be a lack of awareness or understanding about proposals, our project and its impact on the community.
Supporting a proposal on Hive does not cost anything to you. You do not need to delegate Hive Power or send HIVE or HBD. When you cast a vote for a proposal, you are essentially signaling your approval of the proposal and indicating that you would like to see it funded. This voting power is proportional to the amount of Hive Power you hold.
Perhaps you have not seen enough communication or promotion from the HiveBuzz team about the work they do. Therefore, we urge you to read our proposal. Take the time to do your own research and understand the usefulness of a proposal like ours. We understand that many of you have limited time and resources, but we believe that by involving yourself in Hive governance, the whole ecosystem can grow and flourish.
Another reason could be the cost. The HiveBuzz proposal asks for daily funding of 280 HBD, which can seem expensive for some users. It's important to note, however, that the proposal covers the costs of infrastructure, human resources, communication and coordination with our partners, and the development of new features and badges to keep the Hive community engaged and motivated. This budget barely represents 0.1% of the daily budget of the DHF!
It's also possible that some users may not see the value in supporting projects like HiveBuzz. This could be due to personal preferences or a lack of understanding about the impact that our project can have on the Hive ecosystem. We are open to the discussion and ready to provide feedback on key indicators.
Finally, another reason could be it's becoming too hard to pass the above the HBD Stabilizer Proposal which serves as a threshold to obtain funding.
The HBD Stabilizer Proposal is a vital mechanism to stabilize the HBD token and prevent it from deviating too far from its peg. However, it's important to note that its current support is very high and may prevent other useful proposals like HiveBuzz from being funded without the support from top stakeholders. We also saw many users vote for the HiveBuzz proposal as well as the HBD stabilizer, which kind of negates their support for us.
Whatever the reason, this has been a disappointment for us as we believe in the value of our project for the Hive community. We have continued to work on HiveBuzz during these past months despite not receiving funding, but this is not sustainable in the long term!
The purpose of the proposal is to cover current and future costs in terms of infrastructure and human resources.
We need servers (web, processes, database, and storage) that require security and performance monitoring, maintenance and regular backups.
We have people working on new challenges and contests, design and implementation of new badges, development of new features, database design and maintenance.
We have people working on daily interaction with users, communication about new badges, challenges, contests, and features, translation management, events organization, and supporting and guiding newcomers.
Without proper funding, we will not be able to continue our operations and provide the same level of service to the Hive community!
Appeal to the Hive Community
We're calling on all Hive users to support our proposal so that we can keep gamifying the Hive experience and making it the best it can be.
We understand that the requested funding may seem like a lot, but we believe that the value we bring to the Hive community is worth it. We've seen so many times the positive impact that our work has had on user engagement and retention, and we believe that we can continue to enhance the Hive experience with your support.
Support our proposal
If you're already a supporter of our proposal, we want to say thank you! We couldn't have come this far without your support, and we hope that you will continue to support us in the future.
If you haven't yet voted for our proposal, or if you have not yet renewed your vote, we urge you to consider doing it.

Vote for our proposal on PeakD
Vote for our proposal on Ecency
Vote for our proposal using HiveSigner
A last word
We're passionate about the Hive blockchain and we believe that our work is essential to the Hive community. We're committed to making the Hive gamification the best it can be.
With your support, we can continue to enhance the user experience and strengthen the feeling of belonging to a community. We believe that our work is useful to the success of the Hive blockchain, and we hope that you'll join us in supporting our proposal.
Thank you for your consideration.
The HiveBuzz Team
---
---