Feedback from the December 1st Hive Power Up Day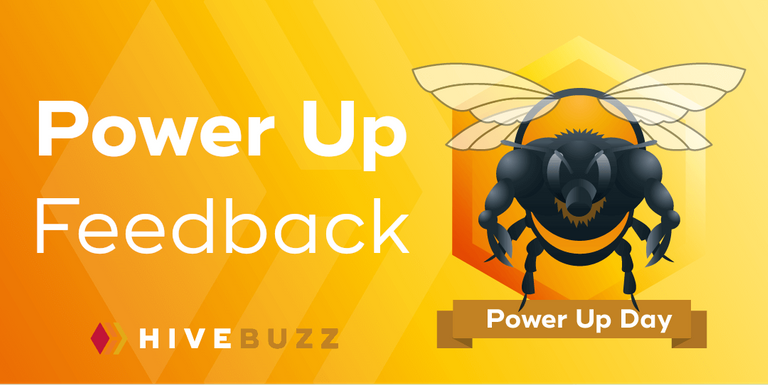 This December edition of Hive Power Up Day was the last of the year but not the least.
Although we did not run an ad campaign for this edition, participation remained high. This shows that the Hive Power Up Day is now part of the Hiver's habits. This is good news and we are delighted.
As usual, the Twitter #HivePUD or #HPUD tags were used a lot to share about it. More good news.
A few words from the PUD organizers

@traciyork
It's that time of year that folks are busy with things offline (as well as being 2020, need I say more?). So even though I was able to shout about Power Up Day during the December 1st #HiveChat on Twitter, I didn't expect many people to participate. And yet, here I am over 24 hours later, still trying to catch up with all the posts!

Again this reaffirms for me that we are a wicked awesomesauce and passionate community, and many people aren't focusing on the price and are instead taking the opportunity to build (and hold) their stake with an eye to the future. Especially as I know there are many who have to use their liquid Hive to survive in these days of Covid. So many thanks to everyone who was able to participate, no matter how big or small the amount.

And thanks as always to the @hivebuzz team for being so instrumental in getting the buzz going about supporting our blockchain home!
What are the PUD stats of this month?
As for the previous month, let's start with data about Power Up Helpers.
We have 17 users who have made a power-up to another account and have thus allowed 22 other users to get their PUD badge.
Once again, there were people helping several accounts!
Kudos to @blocktrades (3), @tazi (3), @lesiopm (2) and @straykat (2).
Together, the helpers gifted 1811.747 HIVE, the most generous being @blocktrades (1279,636), @lesiopm (120), @zirky (110), @french-tech (100), @tazi (45), @straykat (40), @reiseamateur (26) and @traciyork (11,111). They all gave more than the minimum 10 HIVE required.
A huge thank you to them all for their generosity! Show them some love by upvoting one of their recent posts.
Among the above-mentioned users, 8 of them helped at least one less powerful user who never got any power-up from anyone. These benefactors got the so coveted Power Up Helper badge: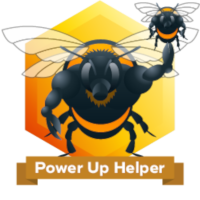 Congratulations to @kubak (3), @lesiopm (2), @reiseamateur (1), @sandymeyer (1), @straykat (3), @tazi (2), @traciyork (1) and @victoriabsb (1).
Here is the comparison with the previous editions of the PUD.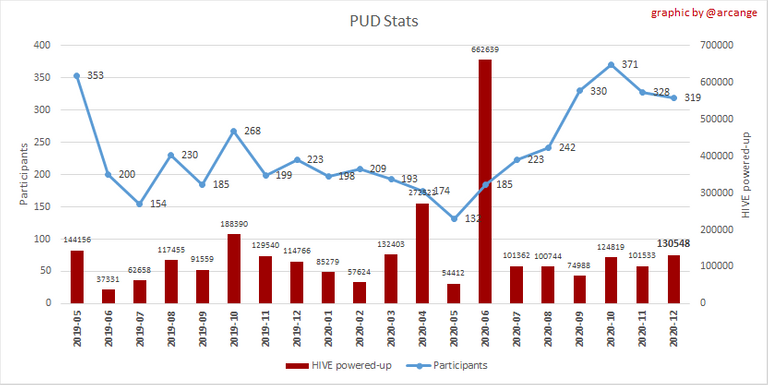 The number of participants is maintained, even if we can see a very slight decrease: 319 users made a power-up or helped someone else to power up. Although it's a little less than the month before, it's great considering we haven't campaigned for this edition.
On the other hand, we see a glaring increase in the volume of Hive which was powered-up, with a new record since HiveBuzz supported the project. No less than 130548 HIVEs have been staked. Congratulations to everybody.
Let's now look at what happened with the distribution of power-ups: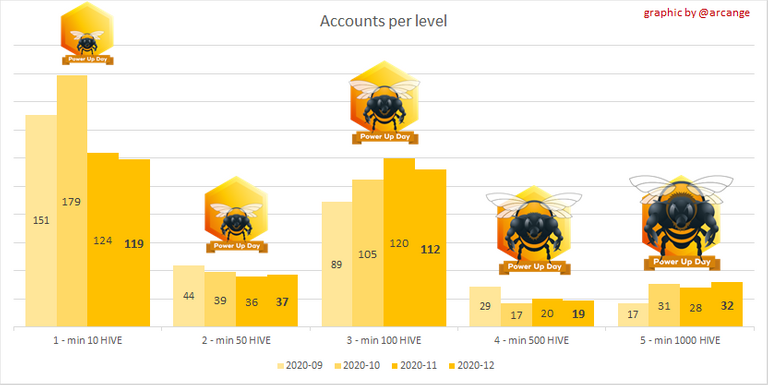 The keyword for this edition seems to be "stability". No major change in distribution.
We still had 32 big uppers who got the Jumbo-Bee thanks to a power-up of at least 1000 HIVE!
Among them: @therealwolf (27948,985), @daltono (15471,365), @policewala (6266,743), @french-tech (4474,452), @viper160891 (4011,288), @peakd (2970), @jarvie (2956), @walterjay (2252), @holovision (2198,926), @bil.prag (2000), @awah (1215,908), @theycallmedan (1151), @yehey (1150), @jerrytsuseer (1140), @forykw (1139,195), @the100 (1130,861), @revisesociology (1130,245), @nickyhavey (1100), @ewkaw (1050), @louis88 (1024), @satren (1010), @deanliu (1000), @engrave (1000), @indextrader24 (1000), @jacobtothe (1000), @jacuzzi (1000), @jaster (1000), @jeffjagoe (1000), @kreur (1000), @straykat (1000), @tazi (1000),
Become a Sponsor
Some amazing members of the Hive community are supporting the PUD by providing the event with prizes like delegations or giveaways. Another very appreciated way to motivate people to join.
More information on @traciyork's post.
If you want to become a sponsor of the PUD project as well, please get in touch with her.
See you on January 1st for the first PUD of 2021!
---
HiveBuzz is a project created by @arcange
---
---