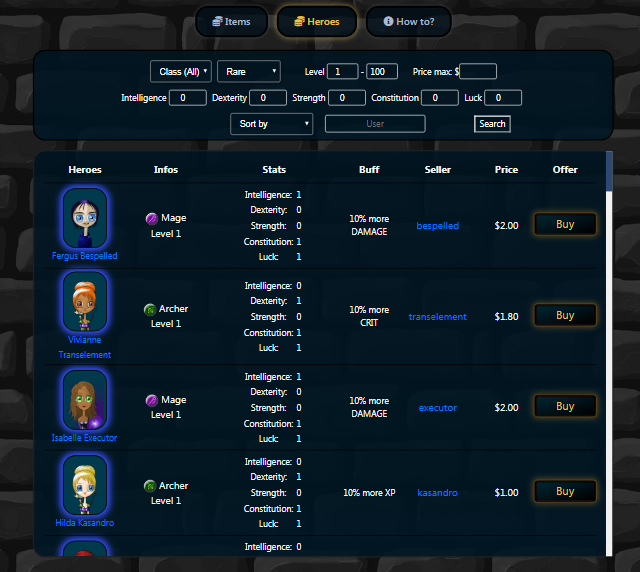 62% des Verkaufspreises für einen Hero geht als Verkaufsprovision an Holybread!
62% of the sales price of a Hero goes to Holybread as sales commission!
---
In der ersten Linie der Kauf eines rare Heros von@dotwin1981 für 2.21 Steem.

Die zweite Linie ein Item-Verauf an @abrockman dafür habe ich 0.419 Steem erhalten.

In the first line the purchase of a rare Heros from@dotwin1981 for 2.21 Steem.

In the second line an item sale to @abrockman for 0.419 Steem.

---
Und das kam bei dotwin1981 an: 0.84 Steem, lediglich 38% des Verkaufswertes!

And this is what dotwin1981 got: 0.84 Steem, only 38% of the sales value!
---
Das gleiche Bild beim Item Verkauf abrockman hat 53% an holybread und 47% an mich bezahlt.

The same situation with the item sale abrockman paid 53% to holybread and 47% to me.

---
Auch wenn durch Brotkrümmel wieder ein Bruchteil der Einnahmen an die Spieler zurück läuft halte ich die Provisionen die sich holybread gönnt für weit überzogen.
Even if a fraction of the income is returned to the players through breadcrumbs, I think the commissions that holybread allows itself are far too high.
---
Zum Vergleich:
Personaldienstleister nehmen ca. 30% des Lohnes ihrer Mitabeiter.
Ein Immobilienmakler bekommt ca. 7% Courtage
Finanzberater die ihnen ein Fond verkaufen bekommen bis zu 0.6% jährlich von Gesamtwert.
For comparison:
Personnel service providers take about 30% of their employees' wages.
A real estate agent gets about 7% commission
Financial advisors selling you a fund receive up to 0.6% annually of the total value.
---
Das Spiel ist wirklich grossartig es macht mir wirklich Spass, vielleicht hat man sich diese horenden Vermittlungsgebühren einfach nicht gut angeschaut. Ich hoffe das an dieser Stelle eine deutliche Korrektur möglich ist.
The game is really great, I like it, maybe they just didn't take a good look at these horrendous commissions. I hope that at this point a significant correction is possible.

Sollte ich wichtige Punkte übersehen haben, dann kannst du diese gern in den Kommentaren anmerken. Danke das Du dir für meinen Post Zeit genommen hast!
Should I have missed important points, you are welcome to note them in the comments. Thank you for taking the time!