Apocalyptic Homesteading (Day 644)
Hello Everyone!
An entry deleted, A moody morning, Faltering morale, A meadow trip, Staying busy & Some healthy deer!
I wrote most of an entry already on this overcast morning and deleted it which should pretty much say everything that needs to be said about how my day is starting off. In short, the stress, the pressure, anxiety and uncertainty of my current scenario is not just 'getting to me' but absolutely crushing me under its burgeoning weight.
The frustration that I am feeling is incredible, intense and continues to mount with each passing day. Although it could easily turn to anger (if gone unchecked and unrecognized as the frustration it is) I just cannot 'go there' with myself and nor do I want to. Sure I am angry with my own life choices that lead me to where I am but that has to be the beginning and end of any anger lest it steer me off course entirely.
Which yeah is a joke (and a bad one at that) because I have no 'course' at the moment besides keeping my head above the proverbial water and not caving to the inclination that keeps getting stronger every day to give up, let go of hope and accept that I have failed at life. My lack of conforming to the 'norms' of a mentally un-well society sure has played its part but again I blame myself and not said society... because yeah that is the realm of the simple minded, the intellectually deficient and the emotionally immature.
I keep saying what a dead-end in life that I have reached and although I doubt that folks grasp the depth of that sentiment I keep repeating it because it is utterly true and I best not ignore that it is a stark and increasingly dark reality (and future) that I am facing. Even if folks did understand it said understanding would change nothing so meh!
At this point I have lost most of my will to keep pressing forward each day, my morale is a total shitshow of lies I tell myself so I do not give up and my desire to communicate with folks is rapidly deteriorating. Heck, I even considered stopping these entries altogether because what is the point when all I feel inclined to write about is the blind alley that I find my life in at the moment.
Sure I break out of that inclination (with the writing) eventually each day but it is usually only after I have done some kind of early morning venting, gone hiking, taken a nap and browbeat myself into writing about anything other than what horrible shape my life is in and its lack of prospects that might offer me an avenue of escape.
Because yeah 'escape' at this point in any form is vastly more appealing than being stuck here surrounded by everything that represents the losses I have taken. Not that I will be getting off on that particular tangent this morning but whoa its a rough damned ride and candy-coating it as anything besides that just is not going to cut it.
Alright, it is now well into the afternoon and gah my overall mood today is steadily tanking. Perhaps once I get in a hike I will get to feeling better but whoa has it been a challenge so far today to not let out some kind of primal howl of frustration just in an effort to free myself from said frustration!
The only way that I have been able to get to sleep lately is by reading more of The Dark Tower series (I am on the second book now) and although my mindset has yet to adopt that of the main character... I am getting a little closer each time I do some reading. Usually I can really zone out when reading a book but this time around I spend most of my time completely preoccupied with the difficulties I am now facing in my own life.
I swear I have to re-read almost every page because my attention wanders so much that 'nothing sticks' and when I catch myself being distracted I am like: Huh what the heck is going on in this story! You would think that after reading and re-reading that series so many times now that I would know it all by heart but alas that just is not the case. Which after all is fine by me and part of why re-reading books is so enjoyable to me.
Okay, it is now a good bit later in the day and I have once again elected to do some writing instead of taking a nap. Considering that it has been a mildly productive day regardless of all the internal strife I am feeling I may as well try to word out some of what I got up to around here since earlier.
At some point I squeezed in some hiking and once again found myself loitering near the black muscadine vines and eating a bunch of the grapes before looking over the rapidly ripening persimmons. While I was inspecting the persimmon trees I noticed that there was not a single one of them on the ground (even after all the rain) and my guess is that the critters have been gobbling them up probably just as fast as they fall.
I also visited the grape arbor below the shelter site to check on the red muscadines but whoa I guess the birds (or squirrels) have been chowing down on them because there were hardly any of them left. I never mentioned it before but a while back I had noticed some kind of blight (or growth) on the exterior of pretty much all of those grapes and left them for the critters to eat after that.
It is worth noting that I also looked over the garden area and from the looks of things the potatoes are ready to harvest. I really have no idea what to expect from them given how little rain they got early in the year but over the coming days I think that I will start dumping the pots out and see what I find inside. Although it is kind of tempting to leave them where they are so they stay preserved (or can grow more plants) I keep having the idea to fry a bunch of them up.
Aside from all that jazz I took care of a bunch of domestic duties and even washed a good bit of dishes that I had forgot about because I had a tote covering the bus pan they were in. The tote was the one that I have been washing stuff in as I have been packing so I gave it a good washing also while I was in the mood to wash stuff!
Well, it is now even later in the day and I went and did more stuff even though I cannot quite recall what all it was aside from going on another hike. This time around I went to the meadow to see how it is doing and yup all that rainwater is already gone! I did startle the little herd of deer who were grazing on the far side of the meadow and got a good cussing for it by them as they ran off.
They even kept doing it as they circled wide around me and then a short time later I wound up startling them again as I was walking away from the area. For some reason they had gotten behind me (after circling around me through the woods) and were browsing only a few meters from where I was standing.
I guess they were there waiting on me to leave but honestly I was happy to see them again just to get a better look at them. All around they were looking rather meaty and only that one big doe (the same one I saw a few days ago) was on the scrawny side but actually looked like she was filling out again. I would guess that perhaps I was correct on her giving birth recently even if I failed to see a faun because she was definitely looking much better.
Those hikes have proven to be invaluable lately and although I dislike startling the deer I have still been sticking to the roads and staying out of the woods. Which is kind of a bummer because I have seen a lot of squirrel and rabbit activity and it would be neat to get further out into the bush and see how well the wildlife are doing out there. That said, I will pass on getting any more ticks on me this year if I can at all help it!
Okay, it is much later in the day and well past the time that I usually have these entries finished (and shared) but hey one of those 'technological hurdles' seems to have reared its head and I have yet to be able to get everything posted. At least this time it was not my technological hurdle and was some server problem but whoa that is kind of worse because it affects more than just me!
Anyway, it was a really long day and I perused the entire gradient of moods today and landed on one (oh so very late in the day) that was much better than the one I either started the day with or had to try to get myself out of for most of the day. I swear navigating this wacky head-space that I have been in has been quite the ride but I wish it was more a fun-house than this roller coaster of the bizarre that it has been!
All in all I am hanging in there and although I have no grand solutions at least I am still plodding along putting one foot in front of the other. I hope that everyone is doing well and has a nice day/night.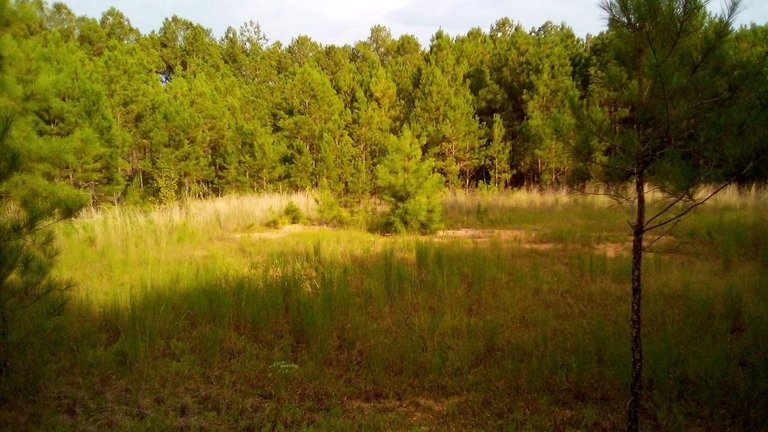 Yup the meadow is bone dry again!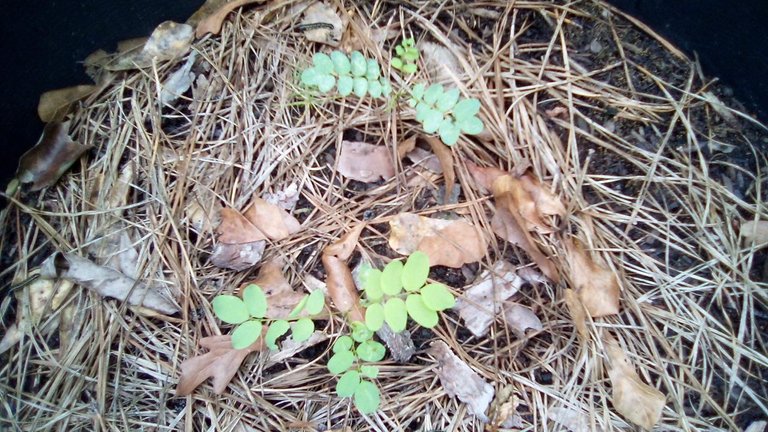 The little black locust really perked up after all the rain!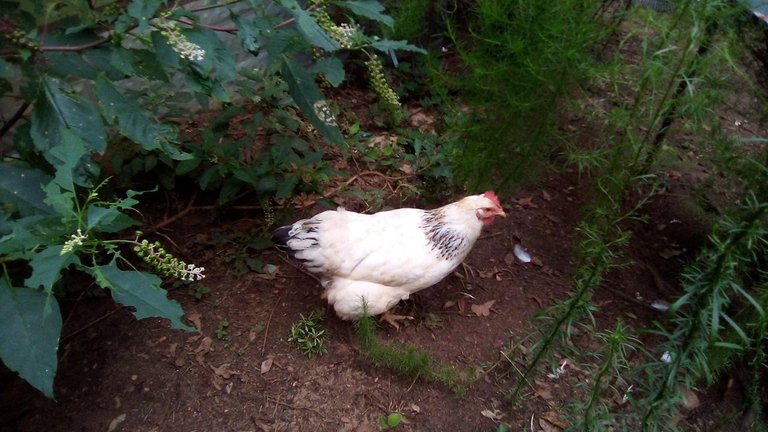 Emily is such a chill and quiet hen I hardly ever notice her!
Thanks for reading!

Please check out the Homesteading Community:
https://peakd.com/c/hive-114308/created
Homesteading Resources:
https://peakd.com/hive-114308/@jacobpeacock/homesteading-resources
Want to join Hive?
Sign Up Via My Referral Below!
https://peakd.com/register?ref=jacobpeacock

That Is All For Now!
Cheers! & Hive On!
---
---