The plan was to keep the vegetable garden small this year. I think it's safe to say I failed big time. In the greenhouse, there are more plants than ever before.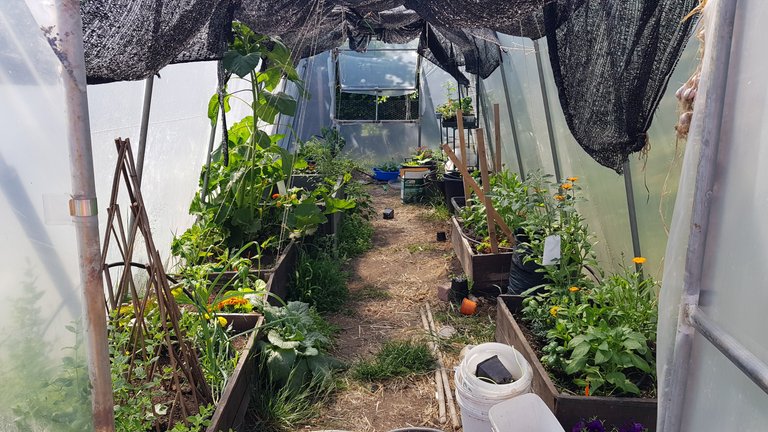 Click to enlarge
Hot And Dry
The weather has been like ... insane. These last 2 months, temperatures have been a lot higher than average. It's only spring, but we often reached 30°C (86° F). (For reference: Belgium has an average temperature in July of 17,8°C (64° F).)
But the heat is not even the worst thing... It hasn't rained either. In general, we're used to quite a lot of water falling from the sky, especially during April and May. But not this year...
The plants in the greenhouse are doing quite okay. There in there for a reason, most prefer temperatures that are a bit higher than what we usually get here. But the plants in the garden are suffering, even though I have been watering them every single day.
Just to give you an example: I planted 3 squash plants last week, and it feels like they grow smaller instead of bigger. They look good in the morning and the evening, but during the day, their leaves look all droopy. The poor plants look really, really sad.
The grass in our garden... well... it doesn't even look like grass anymore. Wait, I'll show you.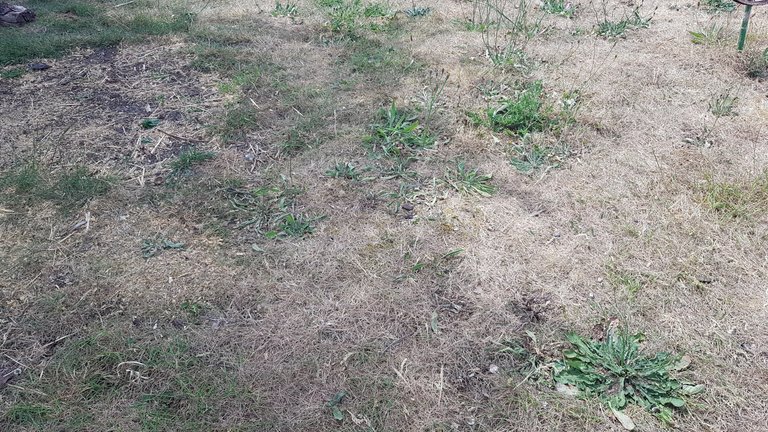 Click to enlarge
Dry, dry, dry. This usually doesn't happen till the end of July.
I never thought I'd say this, but I'm longing for some rain. According to the weather forecast, I'm gonna get more than I bargained for. During the next couple of days, temperatures will drop below 20°C, and we're going to get at least 2 weeks of rain.
The plants are going to be happy, there's no doubt about that. I bet I'll be sick and tired of the weather again by the time the weekend is here.
Haha, we Belgians are always complaining about the weather... 😂

The Greenhouse
I'm gonna split this post up in 2 parts. There's just so much I want to show you.
I'll start with an update of what's going on in the greenhouse. Even though all plants are still small, it already looks really full. This time next month, it's going to be a real jungle in there.
Thanks to the heat, the plants are growing really, really fast. To make sure the leaves wouldn't get burned by the sun, I had to put the shade tarp in pace already. But even then, temperatures are really high inside.
Melons
I have planted different kinds of melons at different times, so while some are not more than seedlings, others are ready to grow fruits already.
This little watermelon plant seems to be ready to go. Even though it's really small, it has two little flowers, waiting to be pollinated. If it's anything like last year and the year before, the plant won't grow very big, and one or two small watermelons will eventually grow. I'm keeping my fingers crossed.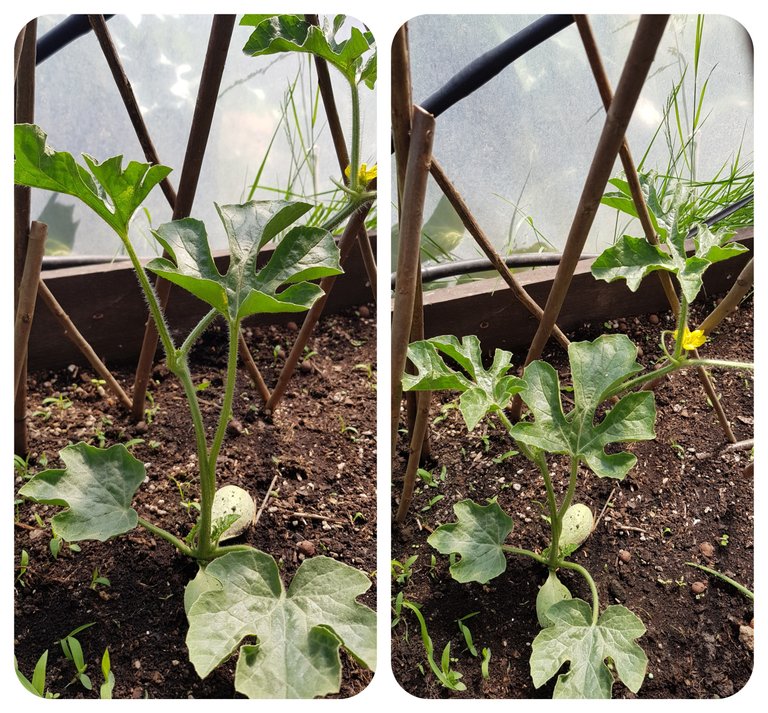 Click to enlarge


The other melons are all in the same bed. I can't remember why I didn't take a full picture of the bed. All three of them are cantaloupes (or sugar melons). The two small ones on the left I sowed myself, the right one is a seedling I bought in the store.
You'll notice I have plenty of beneficial herbs and flowers in each bed.
In this one, the (French) Marigolds are there to attract pollinators and predatory insects, act as a trap plant for slugs and to kill harmful nematodes in the soil. On top of that, they're edible. I sowed plenty of Marigolds, but most are still very small, so I cheated a bit and got some big ones in the store, just to have a head start.
The Nasturtium - which I have all around the garden - is there to keep aphids off my plants. It's a great trap plant. And one of my favorites to use in the kitchen too.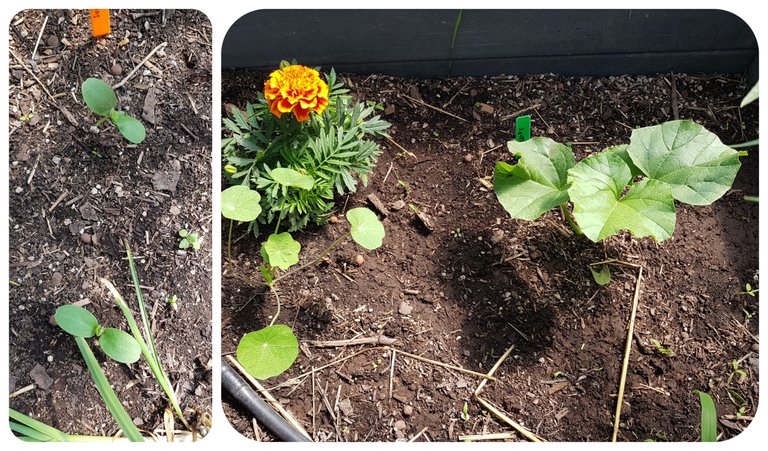 Click to enlarge
Tomatoes & Peppers
I actually planned to have only 2 tomato plants this year. But because I got a bit lazy by the end of the season last year and didn't pick up all the tomatoes that had fallen onto the soil, a couple of plants started growing spontaneously.
I'm a sucker when it comes to killing seedlings, so I gave a couple of them their own spot in the greenhouse. Guess I'll be in for an abundance of tomatoes later this year.... as usual. 😁
I saw this little beauty in the garden center last week. Roma tomatoes are great for making tomato sauce, so I decided to take it home with me. It's still small, but I have high hopes for it.
Again, some beneficial flowers and herbs.
French Marigolds, garlic (repels slugs and ants), basil (can improve growth and flavor of tomatoes), a baby calendula flower (to attract aphids and keep them away from the tomato plant) and some lettuce... just because we like lettuce 😉.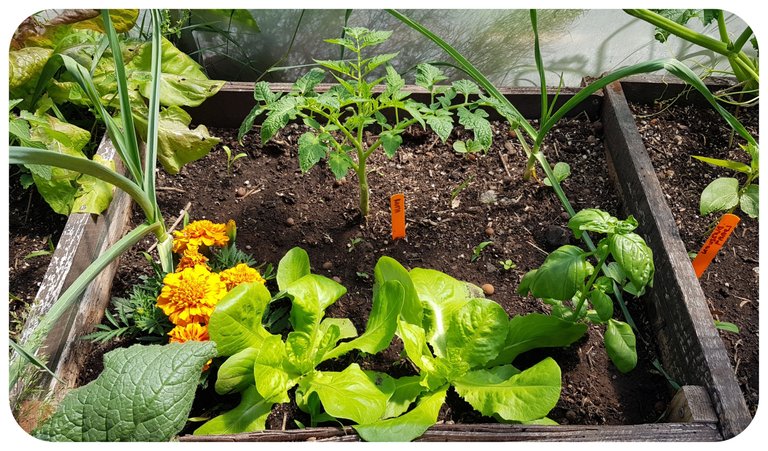 Click to enlarge
In the pictures below, you'll notice how I stick to some basic companion planting rules. Since my tomato harvests in the past were always a big success, I keep using the same combinations in my beds. Tomato plants, sweet pepper plants and the beneficial herbs and flowers I mentioned before (+ chives, that can improve the taste of tomatoes).
Cherry tomato and yellow sweet pepper: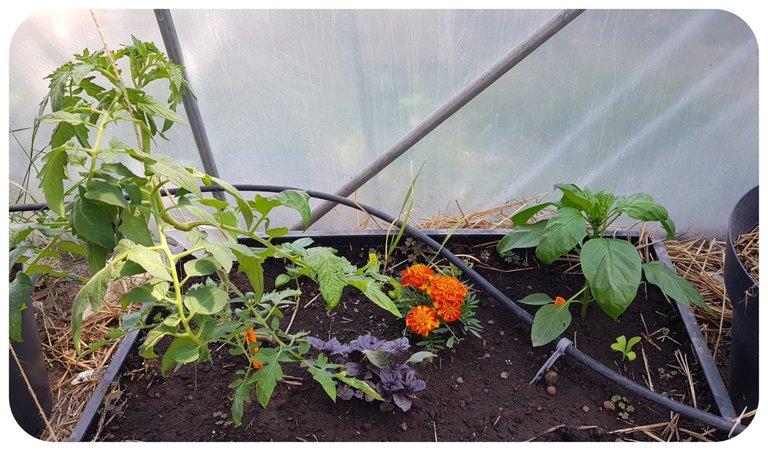 Click to enlarge


Unknown tomato and red mini bell pepper:
(The calendula flowers have grown a bit out of proportion in this one. The tiny bell pepper plant is a bit lost in the right corner, but as long as it gets enough light, I'm not really eager to move it anywhere else.)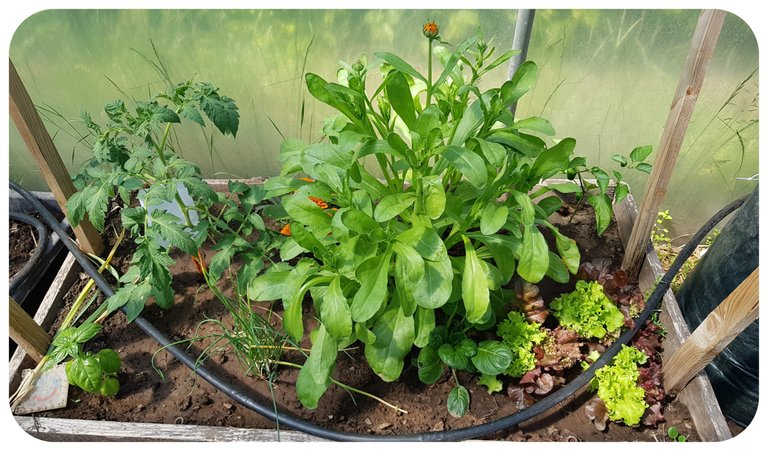 Click to enlarge


Unknown tomato and orange mini bell pepper: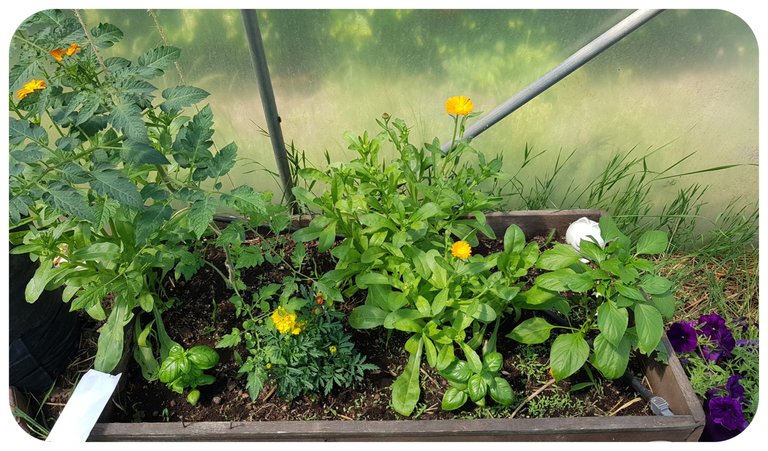 Click to enlarge


I really loved the fact that my Red Robin tomato sprouted again spontaneously. Red Robin is a dwarf variety that give a great harvest. As you can see, it is eager to start growing fruit already.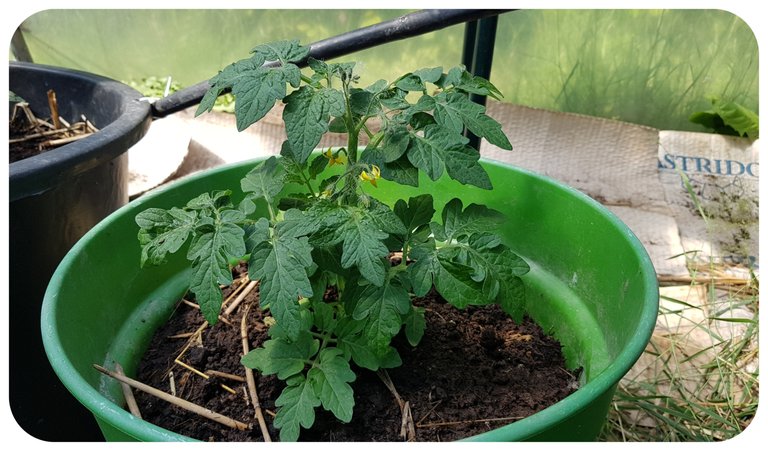 Click to enlarge
Both mini bell peppers are off to a great start. It's actually a bit funny to see: the plants are still so small, but they are growing peppers already.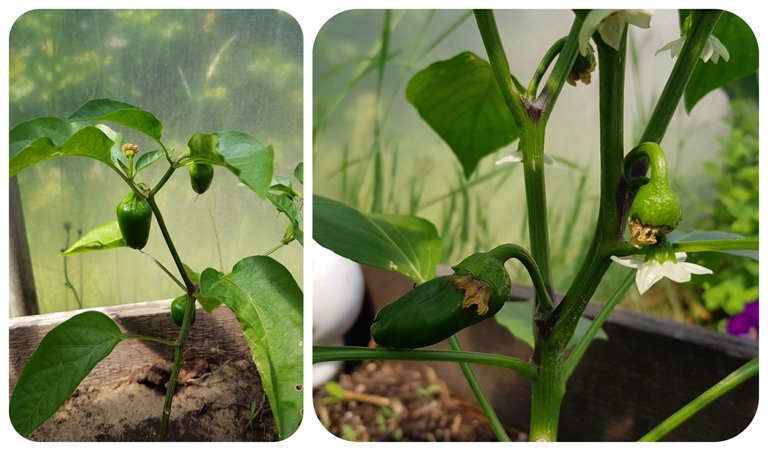 Click to enlarge
Cucumbers
If you have been following my gardening adventures, you probably know I love experimenting with veggies that are out of the ordinary for Belgium. These last couple of years, I always had a good number of unknown vegetables growing in my garden.
I toned it down this year (I wanted to keep it small, remember? 😂), and I have only 3 plants I haven't grown before. It's a complete coincidence they are all related to cucumbers.
Below, you can see a regular cucumber on the left. It's the only plant in the greenhouse that was really suffering from the heat.
On the right, and still very small because I sowed it myself, is a Phoona Kheera. It's an Indian variety and it's an early bearer that grows cucumbers with a sweet, edible, brown skin. I can't wait to try them.
Click to enlarge
I don't have pictures of the other two, since I only picked them up earlier today.
One is Luffa (or Loofah). Young fruits can be eaten, older fruits are used to make scrubbing sponges. I've been using a loofah scrubbing sponge in the kitchen for a while, and I got really curious about the plant. Let's wait and see how it turns out.
My last experiment is the maroon cucumber (or West Indian Gherkin). I don't know a whole lot about it yet - I only saw the pant being sold in the eco-farm I usually go to get my plants and decided to pick it up. It is supposed to grow small fruits (about 5cm x 4cm) that are delicious to pick right off the plant. I do love cucumbers, so I can't wait to try these beautiful babies.


Sweet Potatoes
I love sweet potatoes. They are delicious, and the plants look beautiful. I had 3 different varieties, but unfortunately the greenhouse is full. There is simply no space left to plant the 3rd one. I'm still thinking about planting one of them outside, though. I really need to figure out if they would thrive outside.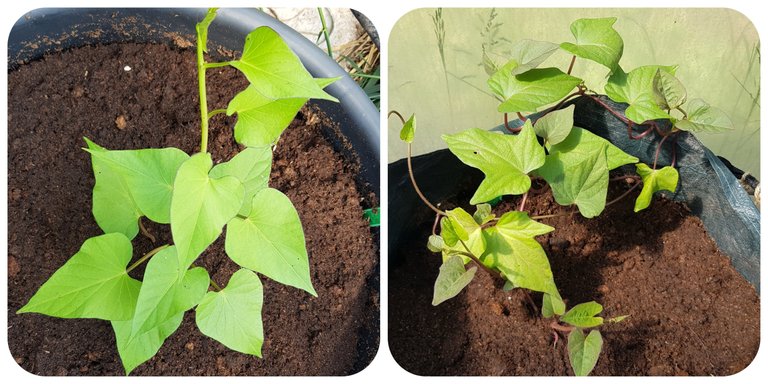 Click to enlarge


So... what else is in the greenhouse...
Yacon And (Yard) Long Beans
I love yacon. I first planted a yacon (or Peruvian Ground Apple) as one of my experiments three years ago. It has been by far the most successful experiment up until now. The edible tubers are one of the most delicious things that are growing in my garden. They are so juicy and taste like apple. It's a shame I have to wait until fall before I can harvest them. (On the bright side: you can store the tubers for months. We've only just finished last year's harvest.)
And Yacon tubers are not only delicious. They're also pretty healthy.
The tubers contain fructooligosaccharide, an indigestible polysaccharide made up of fructose. Fructooligosaccharides taste sweet, but pass through the human digestive tract unmetabolised, hence have very little caloric value. Moreover, fructooligosaccharides have a prebiotic effect, meaning they are used by beneficial bacteria that enhance colon health and aid digestion.
Source
I picked up a second plant to grow outside, just like last year. One can never have enough Yacon tubers. 😉
On the right, a couple of (Yard) Long Beans (or Asparagus Bean). These climbing vines grow beans that can become up to 75 centimetres (2.46 ft) long.
I grew some successfully two years ago, but failed last year. I now have a couple of plants in the greenhouse, and a couple outside to see what works best.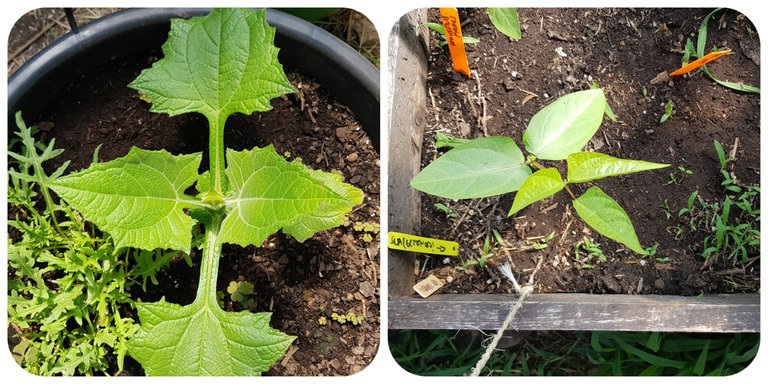 Click to enlarge
The Mistake
Before winter, we added a layer of compost from our own compost pile to the beds in the greenhouse. Early in spring, a small squash plant started growing. By the time I had the beds outside ready, it had grown too big to replant it without damaging the roots. So I decided to leave it where it was (together with 2 huge sunflowers).
June has only just started, and it's clear already that was a big mistake. The plant is HUGE! It's size is really going to cause trouble, but I don't have the heart to remove it yet. I just hope it can grow one or two fruits before it gets too big and I have no other choice than to remove it.
I already cut off some of the leaves to make sure the melons that are on the right, and the Long beans (and further down the Roma tomato plant) get enough light to grow. But it's going to be a problem for sure.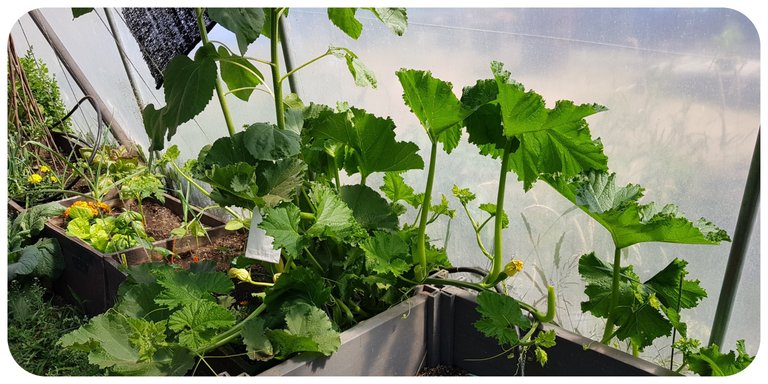 Click to enlarge
Last But Not Least
A couple of years ago, I fell in love with Lemon verbena. The lemony flavor is a lot stronger than that of lemon balm, so I prefer to use the Lemon Verbena instead. It's delicious in teas, in salads, and to infuse vodka with. 😉
I have 1 plant in the greenhouse, and 3 or 4 outside. I won't be short this summer, lol. I did forget to take a picture, though.
Last year, I came across Mint Verbena, and I just had to try it. I'm not as fond of it as I am of Lemon Verbena, but it does taste great in a cocktail on a hot summer day. On top of that, the plant looks really beautiful.
On the right, a young tobacco plant. Tobacco was a newcomer in my garden last year. It turned out to be an amazing trap plant for all kind of bugs, so I decided to grow it again. I have 2 more plants, and like a million seeds to grow more.. if only I can find room to put the plants.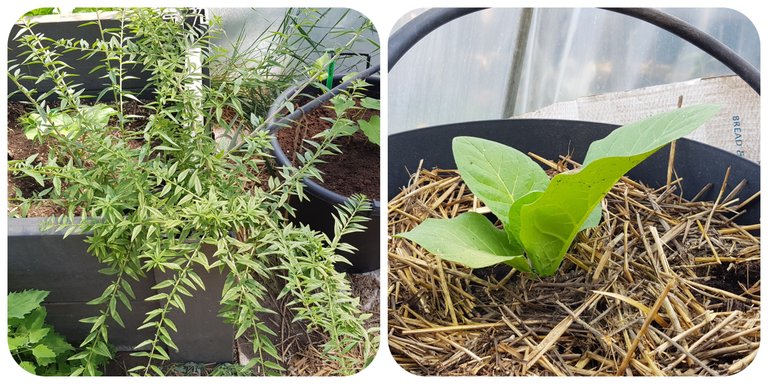 Click to enlarge
To be Continued...
That was the greenhouse tour... There's plenty more going on outside, but I'll keep that for another post.
Stay tuned!!!

Read More Here


Graphic created with The Logo Creator Software


All pictures are my own.
Source of divider images

Join The Best Natural Health Community on Hive