Has the World Flipped Upside-down?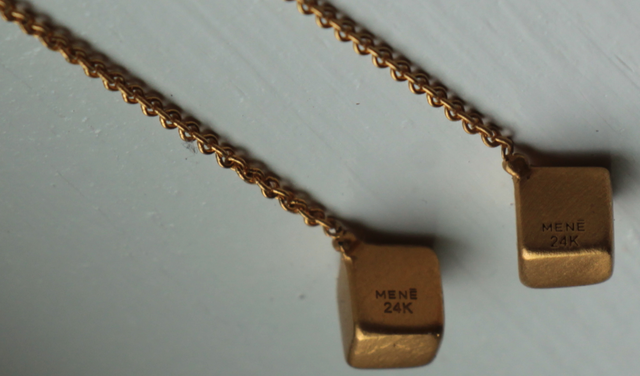 Not really, I filmed these 24K MENE earrings with MENE24K upside-down, so I reversed the photo!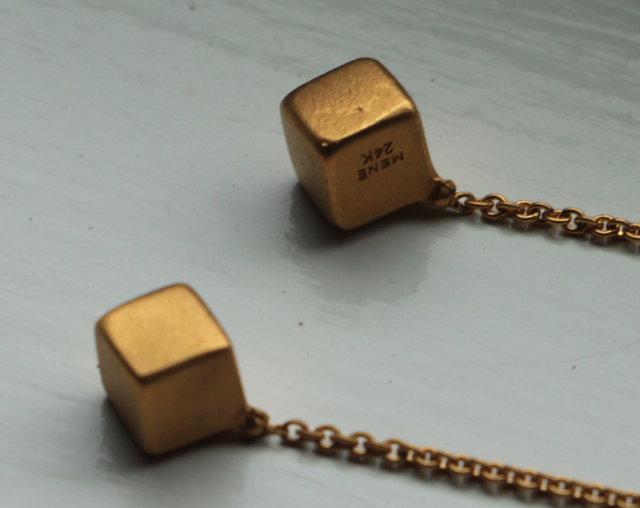 One of my favorite features of 24K gold is how sharp edges eventually wear down, even after very little use. You can see the edges of the cube have become soft - this is how you know that it's 24K.
The Secret Attribute of Gold You May Not Know About
Gold is a fluid.
We all know that gold is a metal, it's silly to say it's a fluid. But in reality, it's an extremely high-viscosity metal fluid. It's funny to think of gold as a fluid, but it is - just imagine what happens when gold is heated up to 1000 degrees F. It'll melt into a puddle. Eventually, even in normal temperature ranges, given enough time gold will "melt" too, but as in multitudes and multitudes of years. Naturally found nuggets are often flat, not because they're squished, but because they have "melted" into puddles over time.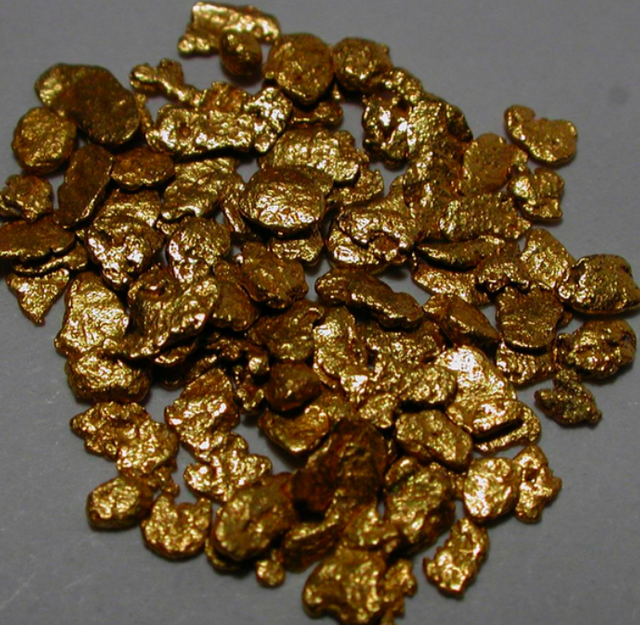 Image Source
Gold nuggets discovered in Alaska are thicker and less flat because colder temperatures increases the viscosity and they stay in chunks.
What Properties of Gold are Like a Liquid?
Just like a liquid, gold can be "cold pressed" to join together as a single substance. This is similar to combining two liquids together. Given the extreme viscosity of gold, the two "liquids" won't fully mingle and mix, but they become one substance if pressed together with enough force.
Gold is so soft, it could be compared to chewing gum. If one speck of gold comes in contact with another speck of gold, under the right conditions they can collect together making a larger speck of gold! Similar how one drop of water will combine with another drop of water. Whereas water is low-viscosity, just touching will combine them, gold is extremely high-viscosity requiring pressure for the two pieces to meld into one.
Gold Can be "Dissolved" in Water
Not really dissolved, but atomized to create a colloidal solution. Gold can be separated into such small pieces that it can be suspended in water. What's amazing is how the colloidal gold solution is red/purple - the true color of gold at an atomic level. An entire gallon of colloidal gold, if left to evaporate, would leave a blackish film on the bottom of the container. Yup, that stain is the entirety of gold suspended in the liquid. It would be difficult to combine back into gold metal, but if you had enough of it you could. Gold cannot be destroyed.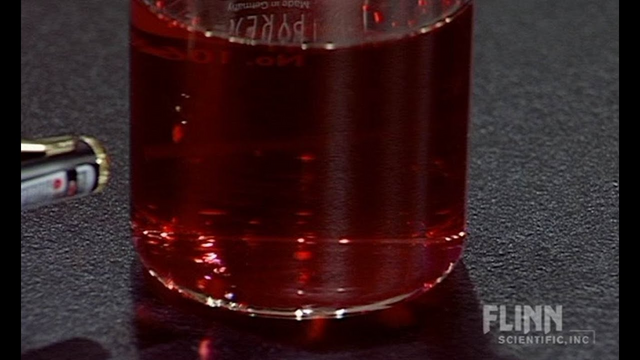 Image Source
Conclusion
I hope you have found this #menemonday interesting. Don't let that gold slip through your fingers! Pick up some MENE and grow your investment today.
http://www.geologyin.com/2015/09/how-do-gold-nugget-form.html
https://en.wikipedia.org/wiki/Gold_nugget
https://www.bullionvault.com/gold-guide/gold-properties
---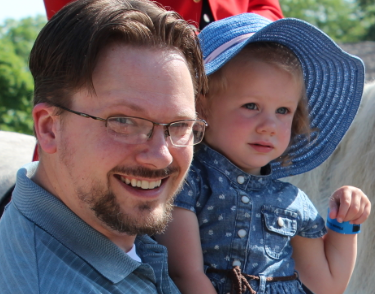 Benjamin Turner: God fearer. Rooted in Messiah. Husband of @lturner. Father of four wonderful children. The guy behind the camera. Steemit enthusiast.
Bless the Most High!

Teach Your Children Liberty from Sin
We encourage parents to teach their children principles of Godliness, beginning with the Word and an understanding who God is and what His Son has done to form a relationship with us.
No one can lay a foundation other than the one already laid, which is Jesus Christ. If anyone builds on this foundation using gold, silver, precious stones, wood, hay, or straw, his workmanship will be evident, because the Day will bring it to light. It will be revealed with fire, and the fire will prove the quality of each man's work. 1 Corinthians 3:11-13
Teach Your children Liberty from Tyranny
Second to this is the principle of self-determination and freedom, lest we loose the ability to teach our children the first principle in future generations. Our children read the Tuttle Twin books, specifically to learn libertarian principles, which most people learn later in life. These books are useful for our family, and yours, to teach children concepts that seem complicated, but are made simple in these books.