My Wartime Diary. Then and now.

Milestone of 100 days passed. It's Sunday, day 102. This morning, Russia fired 5 missiles at Kyiv, 4 of which fell in the north of the city. I don't want to make you worry, just let you know I am okay.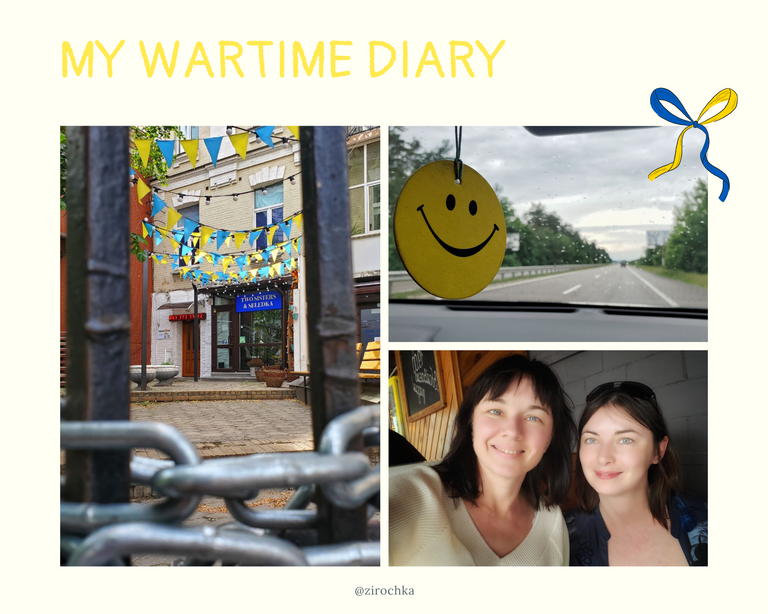 Saturday
Farmers market.
Since there are weekly farmers' markets in Kyiv, I spend more and more money every week on about the same set of products.
In the market, the seller invites: "Please buy mushrooms, cucumbers, potatoes." An elderly woman answers: "Before the war the elevator in our house broke down, now we have to climb the stairs on foot. But we are not grumbling, at least the windows in our flat building remained intact."
9 am, the sun is already hot. But in the park nearby, there are cool shade of trees, lush, green and tall grass. It's time to mow. A janitor and two other old women are resting on a bench. I go past them with a backpack and two bags and hear a snippet of their conversation. "It's bad, because Germany doesn't give us weapons. Although it is the fault of Switzerland."
Rocket fragments fell into the area many times. There are still barricades and trenches in every quarter, even in courtyards. Nobody touches them, because the danger has not passed. But I think every day about how lucky we are. And thank you to our Armed Forces. Because in those cities that were occupied, or where fighting is now going on, there is almost nothing for living, like food, electricity, water.
I'm recalling the first week of the war. My acquaintances shared the predictions of numerologists and psychics. Very soon something very bad will happen, the situation will get worse, and then everything will be fine. Somewhere in mid-March. I so wanted to believe in it.😏😕 Then we waited for May.😒 The war must end by May. Not because we realized Putler's intentions, whether we understood the situation on the front, but simply because this madness simply CANNOT last that long!!! 😲
March, April and May have passed. Along the roads are still billboards with posters of concerts and performances that never took place. And in the soul, along with pain and fear, it is still February, and coldness. Although it's June outside and +25. I still sleep under a warm blanket in pajamas. Sometimes I cover myself with a blanket because I'm cold.😨 I want to stroke the grass with my palms, take off my shoes and walk barefoot on the grass or on the warm sand, do something to believe that summer has come. Season of Mojito and Aperol Spritz, time for vacations, beaches, hiking, traveling to other countries. And yes, the war is continuing, and there will be no vacation. Even our children understand this.
Anyway, my consciousness is constantly confused. How is this possible - summertime, beautiful sunset, flowers - and WAR?? Gloomy gray skies, snow and freezing winds are more like war. In recent weeks, we have rarely had air alarms here, and they are short-lived. Russia has run out of cruise missiles that they can launch from the ground. They are now launching missiles from ships in the Black and Caspian Seas and from planes that take to the air over Russia and Belarus. At the same time, many politicians around the world believe that Ukraine cannot launch missiles at Russian bases even in response. I am terribly outraged by calls for Ukraine to end the war immediately. This is unthinkable. We are raped, starved and simply killed, destroyed, our parents and children. And we just have to let them and surrender. Are you serious, guys?? This is what you'd advice to your best friend, or brother or sister?
---
Yesterday I for the first time went to the supermarket, where I spent so much time in the first weeks of the war. I could barely hold back my tears. I became a crybaby, and the trigger is not terrible news, but unexpected little things. No empty shelves, no worried faces and no people with weapons.
Memories again ... The scariest part then was to see empty shelves. War and famine are almost synonymous. There was one old lady. She came every day and asked, "When will the sausage be? Why did you stop making sausage?" "Because it's a war," Luda replied her. "Tomorrow she will come again. She comes every day." The city is almost empty, everything is closed, the shelves of supermarkets are empty, and the old lady is holding on to the sausage as the last thread that connects her to the peaceful past.
Luda works in the supermarket in the kitchen (they have cooking) and has not been able to get home for several days. She lives in Kyiv, but she is not allowed to enter the district at checkpoints. They say it is dangerous, but they do not say what the specific reason is. It's good that her shift ended in the morning, and she was able to reach her friend before curfew. Public transport does not go, and those who do not have a car must go by foot. Her district is close to my house, I should probably be scared, but not now.
In their kitchen, I cooked dried fruit compote in large 25-liter pots. Their supervisor allowed us to use their utensil, electric stove and washbasin. For one pot of compote 3 kg of sugar and a little cinnamon, which the staff lent us. Yummy... Sometimes we heated stew for fighters in that big pots. At night we were allowed to sleep in the trading area on the floor, on our mats and sleeping bags. I slept here only 3 times, once near chips, the second near shampoos, and then by deodorants. It could not be called a dream, but it was quiet and not cold.
They baked fresh bread every morning. What a scent it has! A smell of peaceful life. Here we could buy fresh ground coffee. But during the day I did not have a single free minute, only at night, when everything was already closed. I bought here only once. An acquaintance from the next house asked to buy her some cheese and some vegetables. She was really afraid to her flat at all. I bought everything for her and fresh bread for myself. When I brought her food, I don't know why I asked if she has any bread. She had no bread, so I gave away mine. I never tasted it. However, in those days I still had no appetite.
---
I met with a friend in the afternoon of the same day. We weren't close friends before, but now I appreciate the people who stayed. I took a camera with me. I thought that I could take some photos. Since the beginning of the war, I have never took photos on camera. Just can't, the inspirations is gone. No, I never took the camera out of my bag, only on the phone.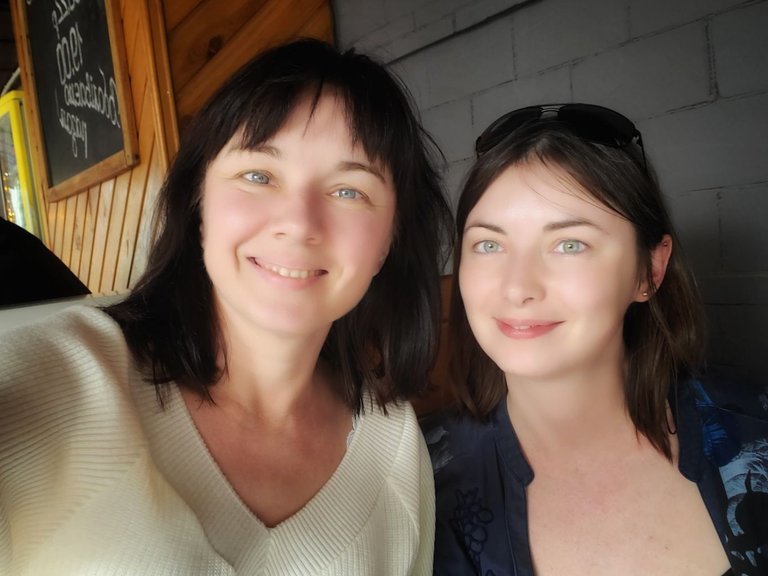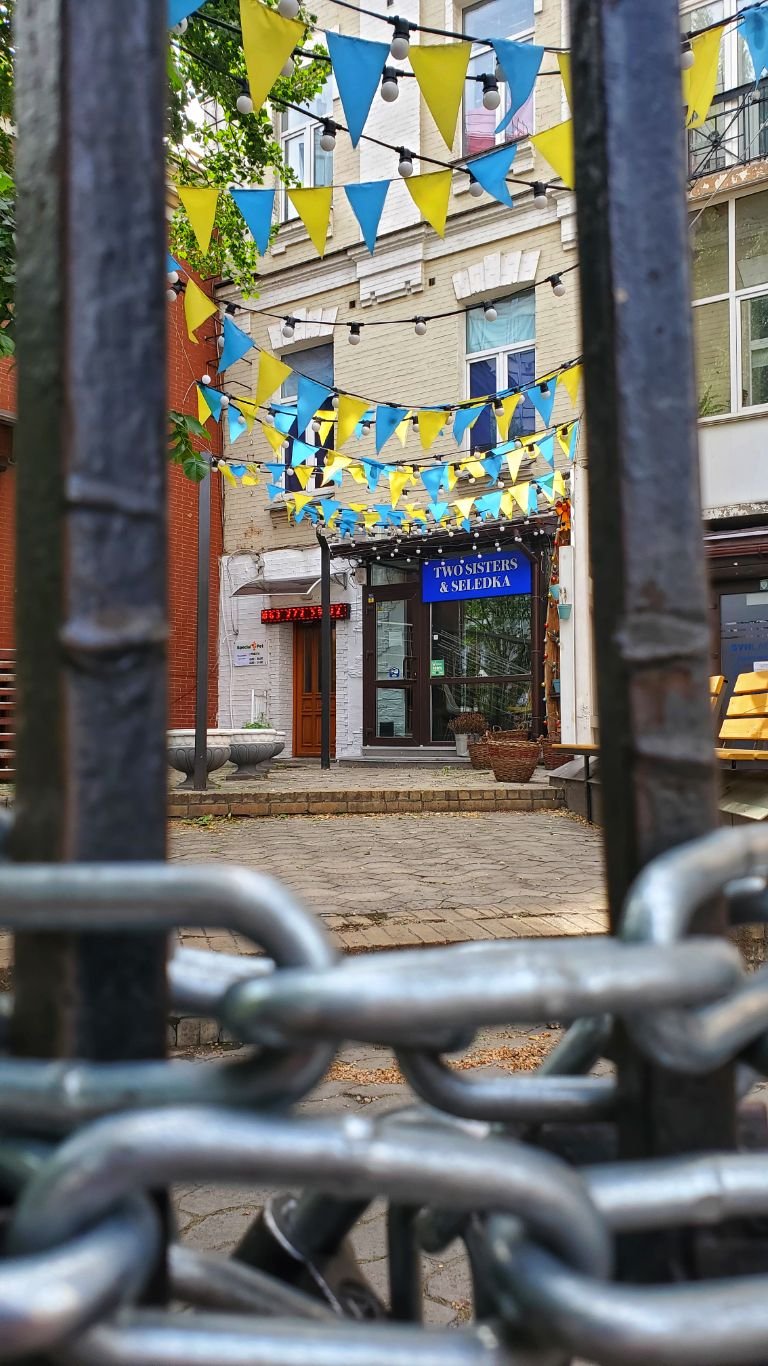 Sunday
Today we got up early. First thing that I do for more than 3 months now is checking my phone. And today there were new messages at 7 am already. Shelling again.😠😠😠 The civilian airfield in Kharkiv was bombed as well, and more, and more.
Tomorrow Nick is leaving to the East for a few days. We went to visit his mother, who lives 45 km from Kyiv. We have never traveled so far from home since the beginning of the war. Just imagine - for me, a person who loves to drive and travel, 45 km is far. My last far trip was to Mesopotamia. Remember my stories? Now it seems to me that it was a very, very long time ago, but in fact 9 months have passed.
Today it was an interesting trip. From the car window you can see what you will not see when walking or taking the subway. There are really very few cars in the city. Many checkpoints have been temporarily removed, but the remaining ones look very serious. On the way back we waited in line for about an hour while passing the checkpoint. There were queues at several gas stations, but gasoline runs out very quickly.
Nick's mother lives on the edge of the city (this is not Kyiv). When there were active shelling and bombing, she moved to her elder son's family in the downtown. She returned home less than a week ago. We haven't seen each other in a long time. Our meeting reminded me of the difficult 90's. We brought her sunflower oil and break that I baked myself, and she shared with us groats, which she had a lot of.
There is a spring in the neighboring village, and we always collect water there when we visit these places. Today we took with us all the empty water tanks. In Ukraine, tap water is unfit for drinking, so we buy bottled water. But it is not as tasty as this spring water. In the first weeks of the war, I brought in my car to the volunteer center as much drinking water as could be loaded into the trunk and saloon and somehow close the doors. Today, for the first time, I brought water for myself.😏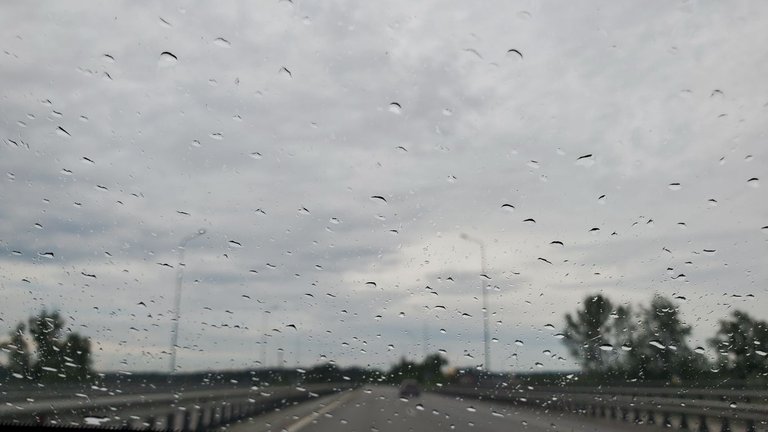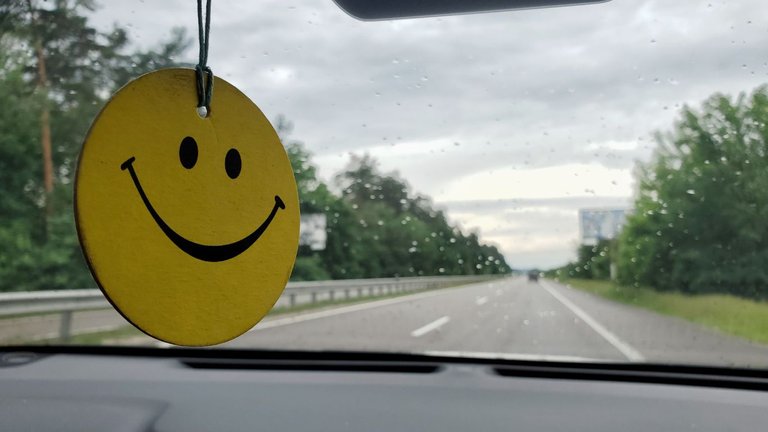 Our Minister of Defense said today that according to the optimistic forecast, the war could end this year. And I'm sure that almost the participants in the war (except for some idiots) really want to end the war as soon as possible. But the end may be different. I do not want the end of the war at the cost of destroying my culture and my nation. Otherwise, all this death and suffering, as well as the centuries of struggle of my people for independence, were in vain.
---
---