I've had a crappy and stressful couple of weeks.
I found myself in a horrible situation with one of my disabled clients where their mother (self-appointed nominee) was bullying, intimidating, and abusing staff. For months I'd held my ground and remained in order to protect this client and help empower them to stand up for themselves. This client did not agree with the decisions their mum was making, and was asking the staff for help to find an independent advocate, and to run their own life.
After four months however, I'd had enough of the abuse and resigned — with a very thorough and frank assessment of the situation sent to all relevant parties. It was not received well.
The week following was blissful. You don't realise how stressful a situation can be until you are totally removed from it. But the wound hadn't been totally cauterised, and there are still loose ends that need tying up.
Abuse and bullying are really shit situations to deal with, especially in work contexts — and even more-so when the work also involves caring for disadvantaged people and the emotional component that it entails. To face such behaviour constantly for an extended period of time took a toll on my nervous system.
I needed to unwind; so we took a day trip out to the country.
It was a typical Victorian spring day: moments of sunshine and rain interspersed, with chilly cold winds blowing about. A perfect day to go traipsing through forests and gardens. My partner and I headed up towards the Mineral Springs country northwest of Melbourne. While my intention was simply to enjoy being in nature, she was hoping to forage for wild-growing herbs.
The stillness of nature was so incredibly healing; hearing the birdsong of the bush. We were greeted on the beginning of our bushwalk by a Kookaburra, sitting in a low branch at the start of our path, like a sentinel watching us. It was as if he was welcoming us into his land.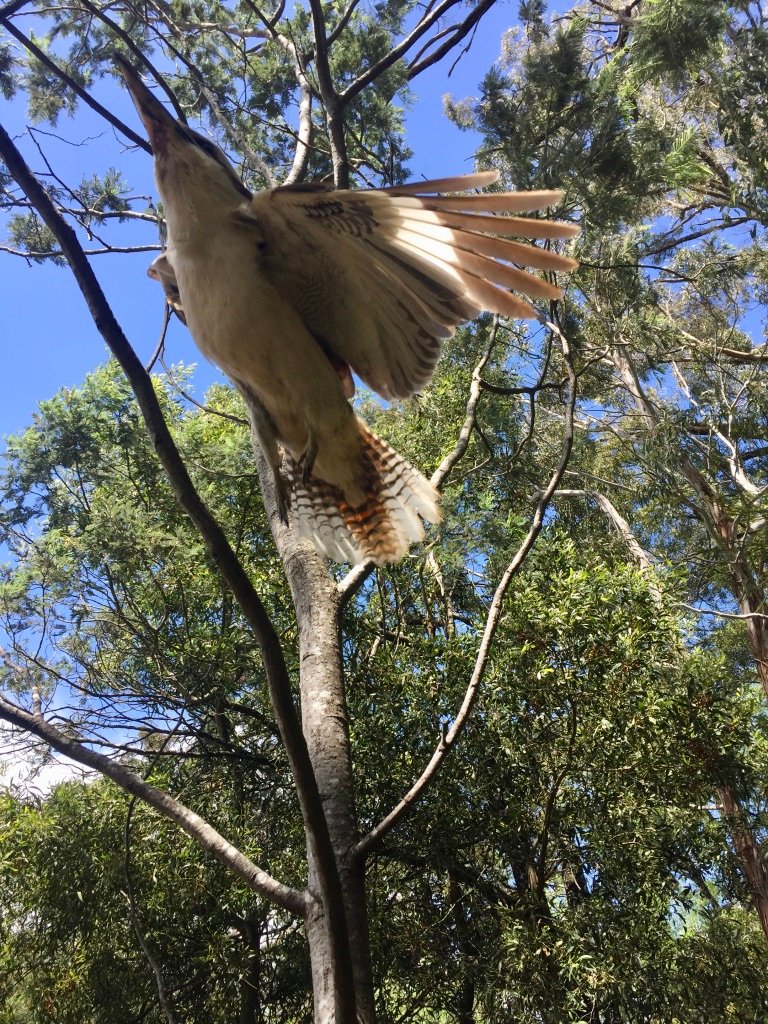 Kookaburra Dreaming (original image)
As we continued along, a willy-wagtail chaperoned us, flitting from tree to tree ahead of us. I suggested we follow him, instead of presuming to create our own path. I figured that the spirit of the land was guiding us towards where we needed to be.
Gathering wild medicines is very different to simply ordering them online, or buying them from a shop. Firstly, you're gathering a living plant, so there is a 'freshness' to what the medicine will bring. You're also gathering from an ecological space, so it is going to be growing within a habitat surrounded my many other plants (and animals). This requires being sensitive to the surroundings: being careful where one treads, but also being mindful to not simply 'mine' the place, taking only what one needs, nothing more, nothing less.
The wren led us to a magnificent hawthorn tree growing along a small waterway. It was full of small, white blooms. This was what we had come to find.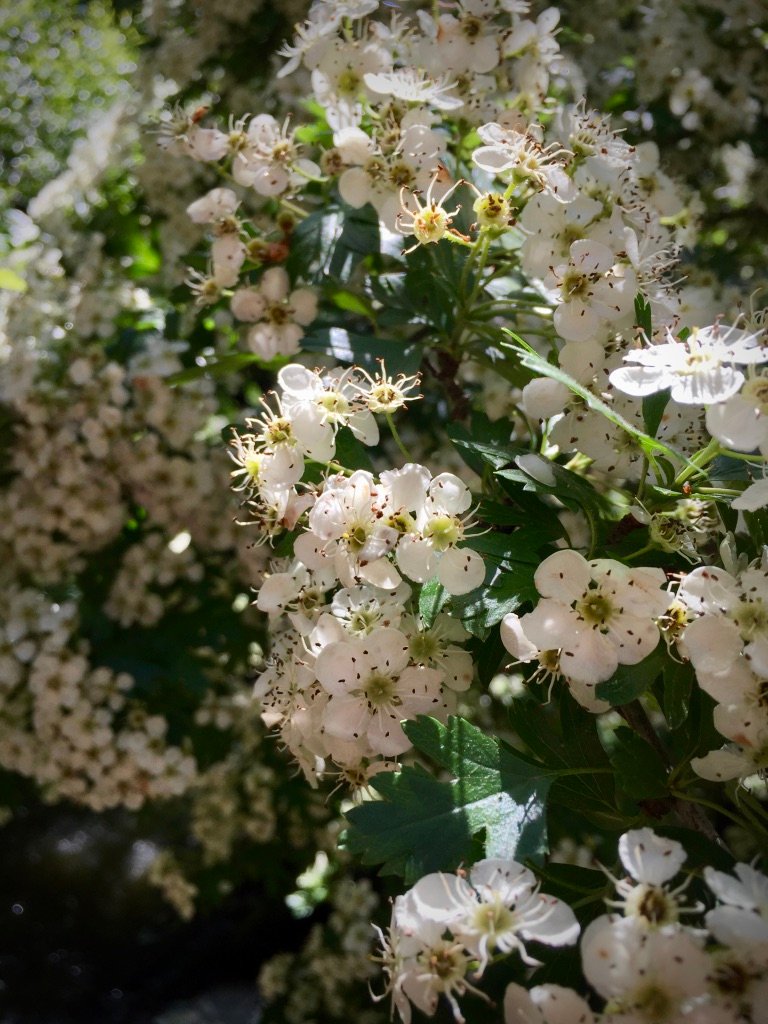 Hawthorn flowers (Crataegus monogyna) (original image)
My partner continued on along the way, while I stood with this tree, listening to the sounds of the water as it flowed past. As I reached out to the flowers, my hand brushed lightly against the thorns growing on the branches. It was as if the tree was reminding me about my manners.
It was setting a boundary; something I had not done very well for the last few months. In supporting this young disabled person, I had opened my heart to care for them; and it was this way that their mother had taken advantage of me, my skills and expertise, and my kindness. What had made me an excellent carer, had also made me vulnerable to being manipulated and abused.
The flowers I was looking at reminded me that keeping my heart open is important, while the spiky thorns on the branches reminded me that I also needed to protect my open heart from predators and those who wanted only to take, take, take.
I pulled my hand back from the branch, and thanked the tree for the gift of its healing.
I didn't need to pick any of its flowers; I had the medicine I needed.