Smart contracts on the blockchain allow anyone to create tokens and make those tokens valuable. However, to make tokens requires special skills. Therefore, Student Coin, a future project becomes a platform that provides opportunities for individuals, students, educational institutions, start-ups or other organizations to make tokens. The Student Coin launchpad allows a start-up to raise funds and sell tokens created on the internal exchange.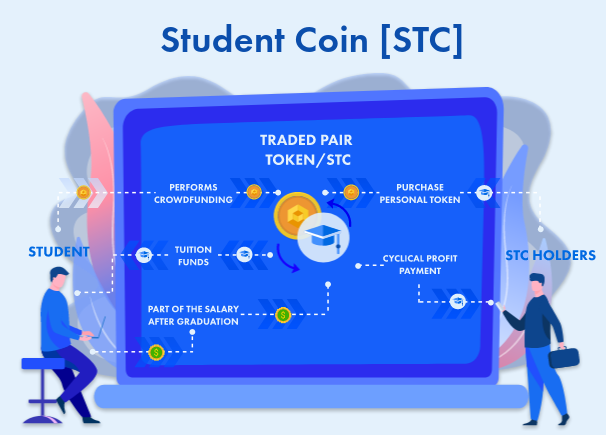 Student Coin launches an STC token based on the ethereum network. STC token is a utility token that is used to create token drops on the platform. To create a token, one must use the STC token as the cost of creation. After a person creates a token, he or she can immediately offer it on the Student Coin Exchange platform. The token that was created cannot be withdrawn. Withdrawals can be made in the form of STC tokens or ETH.
With the STC ecosystem everyone will be able to easily create any kind of token and develop it in the long run. Student Coin will allow for tokenizing people, firms and organizations, as well as, manage token utilities, perform crowdfunding and easily list new projects.
https://www.studentcoin.org/whitepaper
Ecosystem in STC Token
STC Terminal
It is the software for firms, organizations and individuals to create and easily manage their own STC-based tokens.

STC Exchange
It is the publicly available exchange with all the tokens traded only to STC. A
place for the startup crowdfunding and STC-based DeFi tokens issuance.

STC App
It is the mobile and desktop application to store, swap, and easily use the utility
of the DeFi and personal tokens created in the STC Terminal.
STC Token Listing
This time STC token is listed in Uniswap , cointiger, wavesdex, and Kanga exchange.
The price of STC token is about $0.011 USD.
How To Invest
To invest in STC token you can go to the the STC token launchpad and deposit directly with your metamask wallet. You can also buy with your coinbase wallet with non eth coins. You can visit the launchpad! .
Future Of STC Token
Student Coin is a long term project. This platform provides an opportunity for everyone to make a feature token worth like a public figure who wants to make a fan token. By not needing to know coding, a start-up can raise funds with platforms in the Student Coin ecosystem. Besides that, STC token holders can stake the STC token to earn dividends from token creation, exchange fees, and raising fund commission.
To know more about Student Coin you can visit the official website Student Coin.
Official Website : studentcoin.org
Launchpad : Studentcoin.app
PoA : https://bitcointalk.org/index.php?topic=5313192.msg56400585#msg56400585