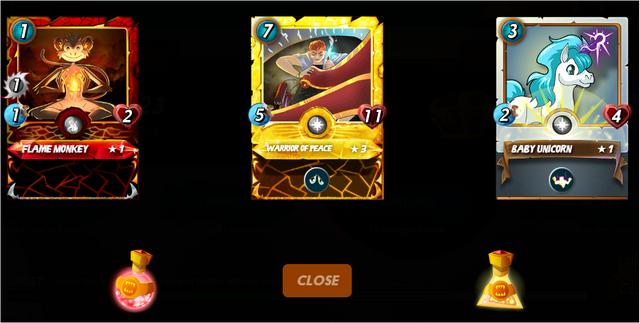 It was quite a great card battle as it was not an easy quest accomplishment as there are many competitive card gamers and I encounter several of them that do have better-leveled cards than I have. Currently, I don't have any leveled card which is quite awful whenever I do have a match with a leveled up cards. But those will not be a hindrance for me not to play and continue my quest instead I deal with it as a challenge and a learning curve for me. Getting some ideas from them and strategy would be a good addition to my SteemMonsters learning experience.
I get three cards when I accomplished my quest. I got Flame Monkey, a Gold Warriors Peace and a Baby Unicorn. These cards are still nice to have and I am now looking forward to when I can start upgrading my cards where I will be stacking more of them for the meantime.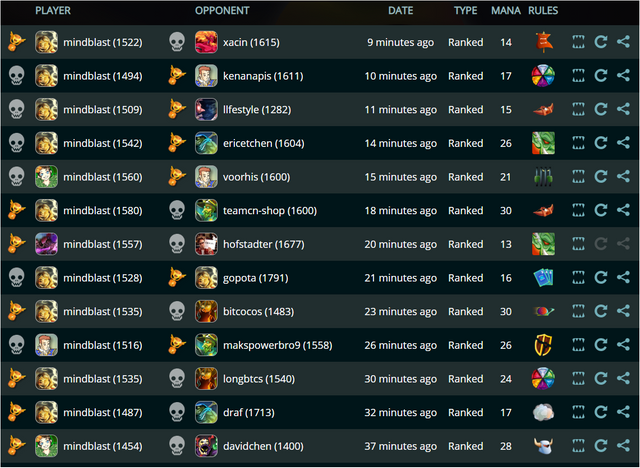 I got a list of long battle records here and I got 4 streak losses before I got my quest completed. My Capture rate is drained down to 73% wherein I need to do more recharging and wait for the right moment to play again and do the routine quest that should not be missed at all.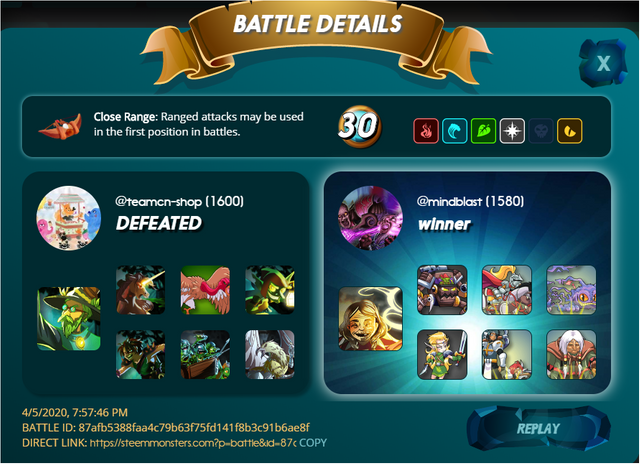 My tough battle for today is with @teamcn-shop and still manage to win. With the battle modifier, Close Range may be used as in the first position, I am about to think to put a range type but since the mana limit is 30, I decided to put Goblin Mech which effectively holds a good stand but of course, with the help of Divine Healer keeping it healed always while it attacks is being boosted by SilverShield Knight.
I was thinking that I was about to lose the battle as Unicorn Mustang has quite a good life bar, attack, and speed where my frontline Goblin Mech almost died first. Elven Cutthroat is surely a good sneaking for those who have a lower life bar, especially when played at the back position. What I am afraid of is Goblin Thief where it slowly giving me a headache during the battle. The battle ended in Round 4 which heavy casualty can be observed. You can see the battle record here: https://steemmonsters.com/?p=battle&id=87afb5388faa4c79b63f75fd141f8b3c91b6ae8f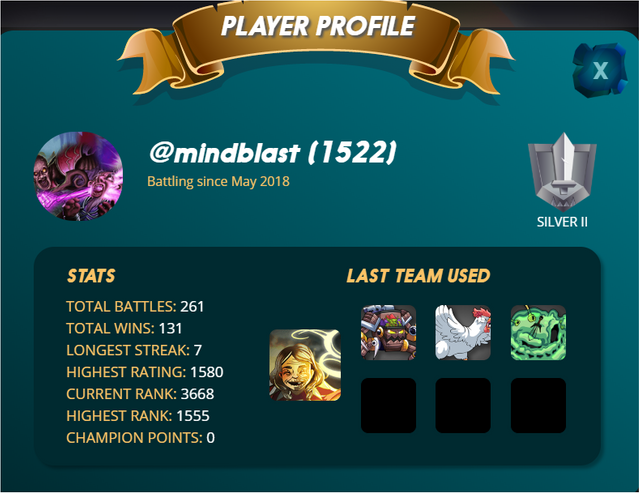 Based on my current Player Profile I have a total of 131 wins out of 261 which is ideally a 50% winning rate. And what's great for today, I made a good highest rank of 1580 which almost got a Silver III ranking. Anyway, let's just see the progress for tomorrow if I can make it to Silver III or will take another day or week to be able to do so.