Hello My Beloved Steemians,
One of favorite writer Named "Shib Khera" Said that "THE WINNER NEVER DO DIFFERENT THING, THEY DO ONE THING IN DIFFERENCE WAY". Steemit Blockchain Technology is Such kind of platform where i found the reality of this Great Message of Shib Kherea and This Message are really proved by steemians and various Communities. After adding various kind of Token on steemit, this platform become more interesting. Just looking like "More Engagement More Rewards".
After seeing the very exiting Post by @zaku 10K NEOXAG Power (Silver Power) Delegation for Communities link, I just feel very exited to writing about my communities because i strongly believe that our communities really deserve this Delegation for their greatest work on steemit platform.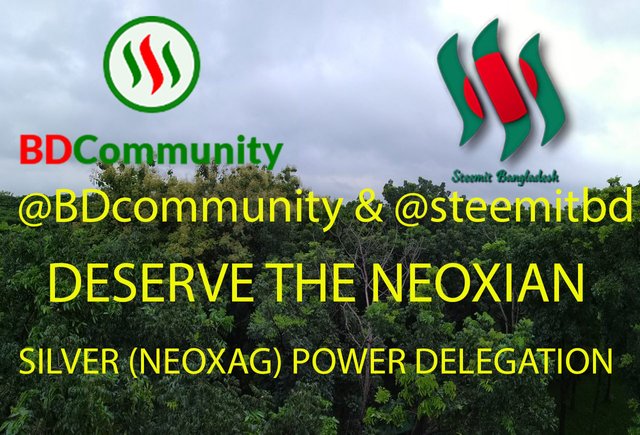 BDcommunity is one of the most raising communities on Steemit platform. This community is just not only for the native (Bangladeshi) Steemians but is also for the every steemians on steemit platform. I have never seen this kind of supporting communities on Steemit platform. The members of this community are getting huge support from they join. Being a member of this community i noticed a very impressive thing, this community always try to motivate their members working on steemit in very different way. They try to met every update of steemit platform. They always to inspired their members working with every update, working with every Token that release on Steemit Blockchain.
I noticed one thing very positively the members of this community working with their best efforts with those update. On steemit platform every community has great mentality to support their members as much as they can. But bdcommunity is stand for only supporting it's looking like a great family on steemit platform, there have another community @steemitbd have the same attributes. Every Friday steemitbd arrange curation show and hangout for communities members.
After releasing NEOXAG Tokens by neoxian.city Every member of this community working with their best effort for this platform, Hope in future they will do the same. To continue this kind of engagement this is very important getting support from their community, as well as for supporting their community people Community needs delegation.
So i Refer @bdcommunity and @steemitbd as a very best candidate of getting NEOXIAN SILVER (NEOXAG) POWER Delegation.
If you want to join BDcommunity Visit this Discord link