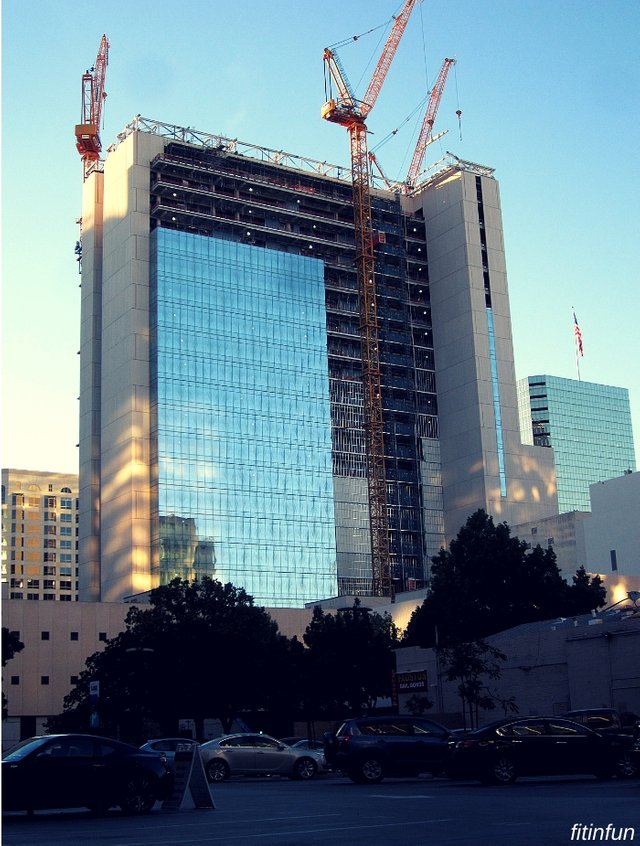 I passed this construction site in downtown San Diego California right as the sun was going down in February 2016. You can see the sun is low enough that the ground is already in the dark. I was intrigued by the light and reflections and stopped to take some shots.
I wondered about the glass wall and thought it was unique and lovely. The people in the offices would have floor to ceiling windows, and who does not want that?
Fast forward to January 2019 and I found this building again. It is the new San Diego Superior Court building featured as the Eyesore of the Month on the website of Jim Kunstler. He features bad design in modern architecture here and most of the time I agree with him. I still think this building is pretty in the finished state as seen at his site.
But I am in the minority. Most of the commenters hate it too. I guess this is the case of beauty lying in the eye of the beholder, and in this case most of us do not see it.
I'm entering @socalsteemit's Show Us Your California Contest with this pretty ugly building. Show us your California, and you can enter too.
I used a Canon ELPH160 point and shoot camera for this photo.
What I do on STEEM
freewrite daily with @mariannewest
Minnow Tips
Photography
Travel
Food and ccc contest posts
Tasteem restaurant reviews
@pifc contest entries
dApp, tokens/tribes and gaming review posts
dpoll- STEEM and lifestyle questions
BitcoinMalaysia playing card posts; coming soon!
My most recent summary of Minnow Tips is here:
These tips will help you if you are new and struggling on STEEM. Tag me in any comment, and I will help you if you ask me to.
Find me on Discord:
fitinfun#2249
Email me:
sjfrenchtosd at yahoo.com <<< NOT my paypal address


I am a proud member of @socalsteemit. We bring Southern California to you on the STEEM blockchain. If you have a connection to this area, please join us. We would love to have you!