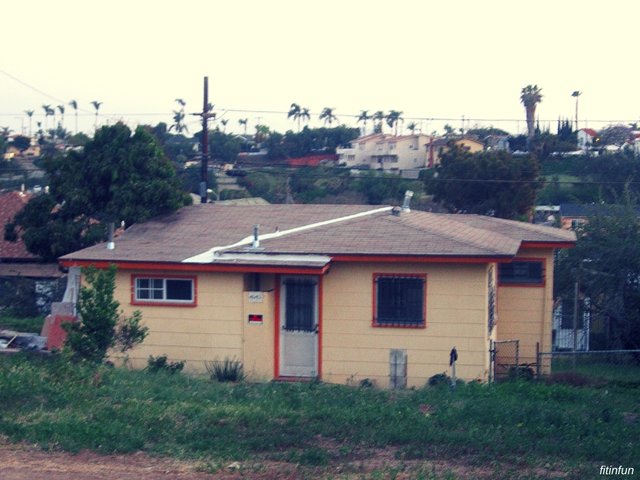 I was always trying to get shots of the far away palm tree line on the horizon as I walked in Shelltown San Diego. They are up on the other side of a canyon from where I was living and about a half a mile away. A trick of perspective showed them clearly to my eyes, but I was never able to translate them into a good photo. This might be one of the best, and I have many fails.
The house in this photo is quite typical of what you see in this neighborhood. The place has not changed too much since it was built out in the 1950's and 1960's. It started as a working class area and then people fled to the suburbs later. It then become mostly Hispanic and got a bad reputation for crime.
And now it is slowly becoming gentrified. Houses like this one on big lots are sold for cheap. Then they get torn down and a new big house or fourplex gets built instead. Shelltown is right south of downtown San Diego, and location is everything. I think in the next decade it will be a place where the rich people live.
I'm glad I got to live here while it was a time capsule. I enjoyed my time in Shelltown and always felt safe. I ate a lot of good cheap food and was close to good transportation. I found the reality much better than I was lead to believe.
I used a Canon ELPH160 point and shoot camera for this photo.
I'm entering @socalsteemit's Show Us Your California Contest with this memory of good times. Show us your California and you can enter too.
What I do on STEEM
freewrite daily with @mariannewest
Minnow Tips
Photography
Travel
Food and ccc contest posts
Tasteem restaurant reviews
@pifc contest entries
dApp, tokens/tribes and gaming review posts
dpoll- STEEM and lifestyle questions
BitcoinMalaysia playing card posts; coming soon!
My most recent summary of Minnow Tips is here:
These tips will help you if you are new and struggling on STEEM. Tag me in any comment, and I will help you if you ask me to.
Find me on Discord:
fitinfun#2249
Email me:
sjfrenchtosd at yahoo.com <<< NOT my paypal address


I am a proud member of @socalsteemit. We bring Southern California to you on the STEEM blockchain. If you have a connection to this area, please join us. We would love to have you!