Internal Ghosts


Hi, how are you?!!!
Hmmmm, the truth will be a different publication, I started this drawing last night and finished it this morning, maybe I did it because I wanted to express a little what was happening to me, I have a little depression. I felt very bad in the last few days and I was holding it until I couldn't take it anymore and the bomb exploded, as far as art is concerned and I think that all the effort is for nothing, I felt tired, maybe annoying. Life puts me so many tests at every moment and I think it is a bit unfair [not to say enough], for so many things that happen around me, my tears did not hesitate to fall for a long time and while I was doing it more I thought about everything that .
But after a talk with who I consider is like a guardian angel, of those who advise you that things happen but you have to overcome them. If you think life is unfair, no, don't think about it! Just focus on improving what you do. I think I should fill myself with positive energy, surround myself more with the people who add and not those who take away, free my mind.
The example of that, is my first exhibition that I did in my city, the truth is that it has been one of those days where you forget everything bad and where you are filled with those desire to continue. To be honest, nobody knows me, nor do my neighbors know that I draw. What I have done only Steemit users and some of the closest relatives have seen, was very very hidden. Yesterday I was in an incredible exhibition yesterday I had the pleasure of meeting incredible artists from my city and today they inaugurated my exhibition and what they saw seemed good to those artists who have many more years of experience. I'm not full of ego or anything like that [I don't think I'm the last lemonade of the same either] but I think I feel good knowing that what I did liked those who were present.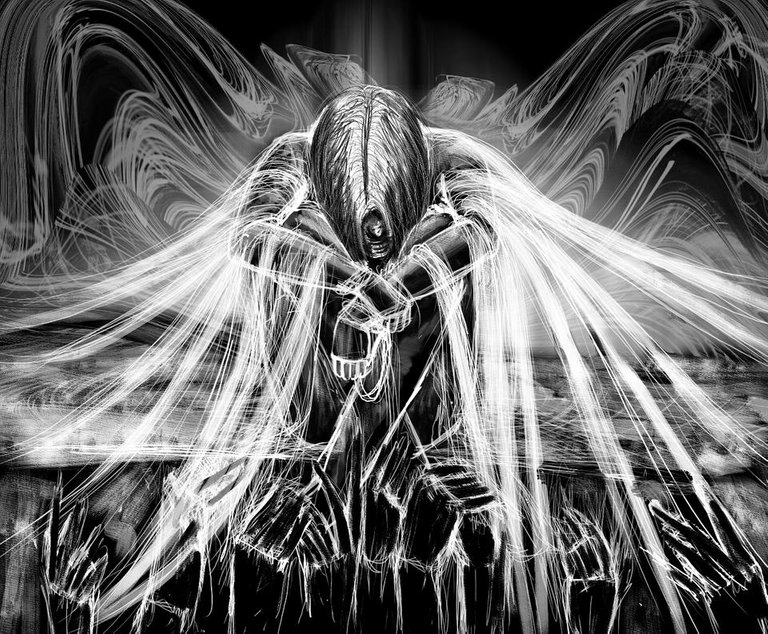 Maybe for all that this image in the morning which made me cry enough to make river lol, in the afternoon it doesn't have the same weight, that things happen and that my mind should be healthier .. I don't know if the People read this and the truth is that my blog is about art, not writing, but I just wanted to let off steam.
---
---
MATERIALS USED:
Laptop
Photoshop
Bamboo Tablet
---
---
See you soon dear community. 😜
Copyright @yanes94 - All rights reserved.
---
---