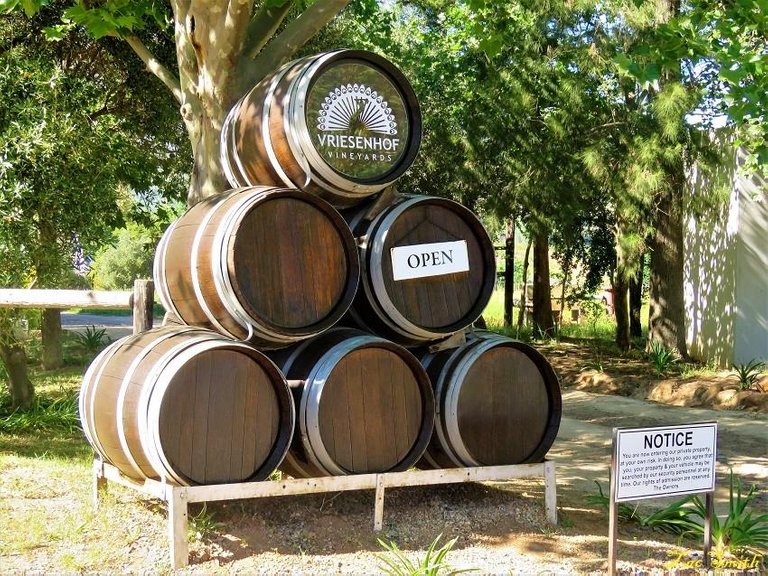 A stack of wine vats near the entrance to another farm. We visited the one next door.
Due to "Loadshedding", this simply means electrical power cuts leaving us all in blackness, I have had to slap this post together as quickly as possible and pray that we will not be cut off while uploading the pictures.
Join us on a quick walk.
A Papillon (butterfly) on a lilac flower!
Some old historical barn doors!
Table at the entrance of an old farmhouse!
Old store shed! Check out those doors!
Beautiful nature surrounds the place! And there you can see the original house and the store!
Early morning dew on a Protea flower!
Fish in the dams!
Buffalo sculptures at the drinking hole!
Our future picnic place!
Scarlet dropwing Dragonfly!
Golden dropwing Dragonfly!
Finally, to greet you with this beautiful poem:
"There is a goddess of Memory
Mnemosyne
but none of Forgetting
Yet there should be
as they are twin sisters
twin powers.
And walk on either side of us
disputing for sovereignty over us
and who we are, all the way
until death".
(Richard Holmes)
I found this poem in a bush on an engraved plate, and it is so true as Memory and Forgetting are indeed related and continue to plague us; whenever decision time arrives.
The visit here brought about a great peace to our souls, and we enjoyed the fresh mountain air, water and bird song...paradise!
Trust that you have enjoyed the photos.
Thank you for visiting a post by @papilloncharity