A few months ago I wrote about the first stage of installation of my HomeBioGas system, which converts all my kitchen waste (including meat, bones and oils) to cooking gas and liquid fertiliser.
I've now had the system working for a few months now and can report its operation.
Biogas System Activation
In order to activate the HomeBioGas system you need to initially feed it 100 litres of animal manure. This gives it the bacteria and feedstock in needs to get started.
As I live in the center of Tel Aviv surrounded by office towers rather than herbivores, I was a bit worried about how I was going to get this manure.
But it turned out that there is an Equestrian Center only 15 minutes drive away. I contacted them and, after a few strange reactions, they agreed to give me as much manure as I wanted.
So I purchased five 20 litre buckets (with lids), hired a Car2Go car and went to collect the manure.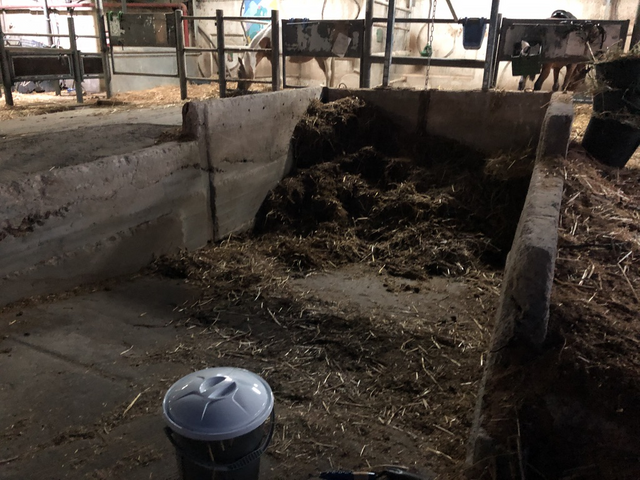 The manure has to have most of the straw removed and be mixed with water to create a slurry to feed into the HomeBioGas System.
Its a bit messy but not difficult.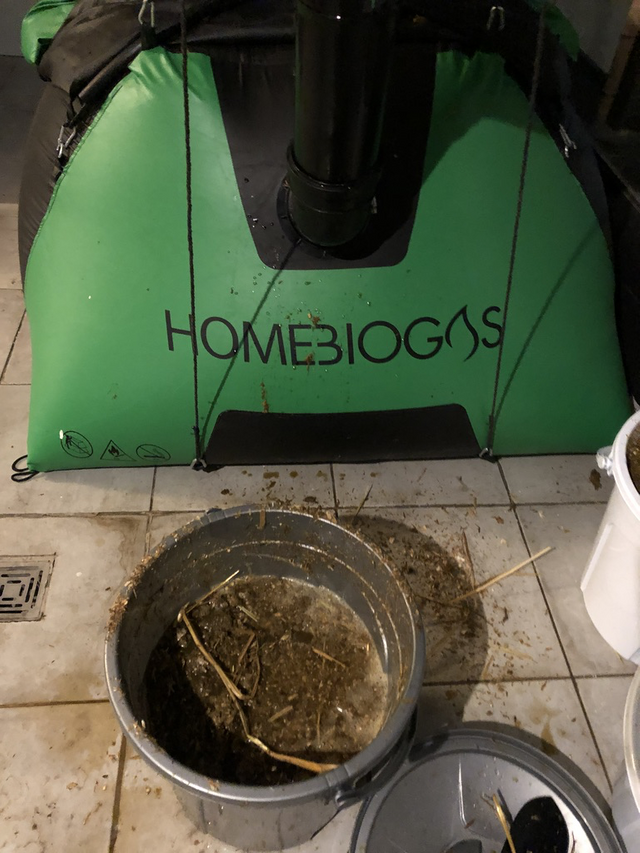 Then I had to wait 3 weeks ....
Biogas Production
After 3 weeks the gas bladder was only partly full, and I was a bit worried.
But after a further 2 weeks it really started to fill up. I think the manure wasn't as fresh as it was supposed to be.
I connected the supplied stand-alone single burner biogas stove to the gas bladder, turned it on and swoosh, it lit up with an excellent flame first time.
As you can see, the gas bladder on top is now full of cooking gas.
It is making more gas than we can use at the moment.

The biogas burner produces an excellent strong flame and cooks well, even in the somewhat breezy conditions outside. I've cooked many things on it and use it regularly for pasta, which doesn't require much attention and needs a lot of heat.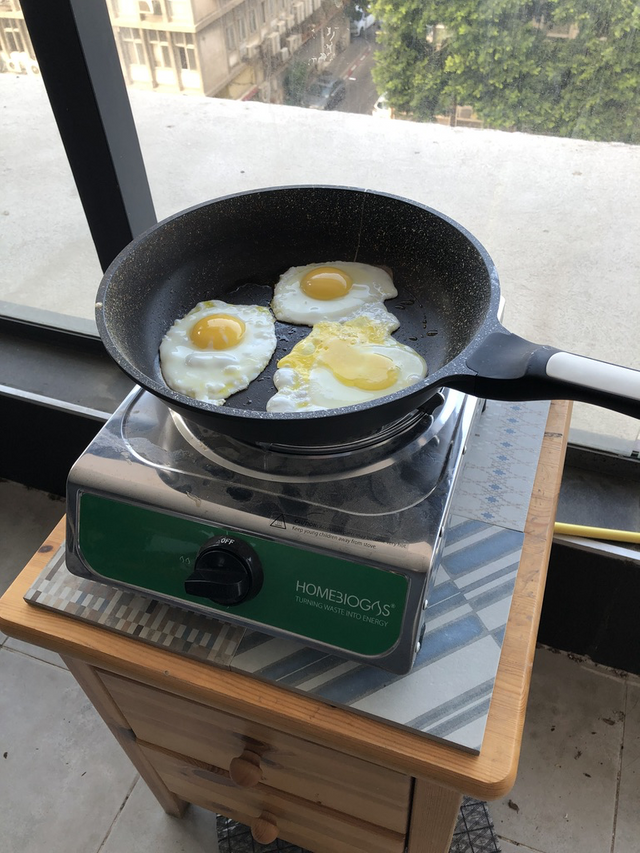 I'm now considering converting the main gas burner in our kitchen to Biogas use to make things more convenient for cooking using the biogas.
Liquid Fertiliser Production
The HomeBioGas system produces a liquid fertiliser that contains many macro and micronutrients in solute form that is easily absorbed by plants.
It is much easier to use than compost - just add it 1:5 to the plant's water and apply to the roots. I'm currently using a watering can but plan on upgrading my drip irrigation system with a direct feed of the liquid fertiliser.
The liquid fertiliser even makes a nice gift to friends in recycled wine bottles.
A bottle of liquid fertiliser costs around 100 NIS ($28 or 170 Steem) at the garden shop across the road, so it is actually much more valuable than wine!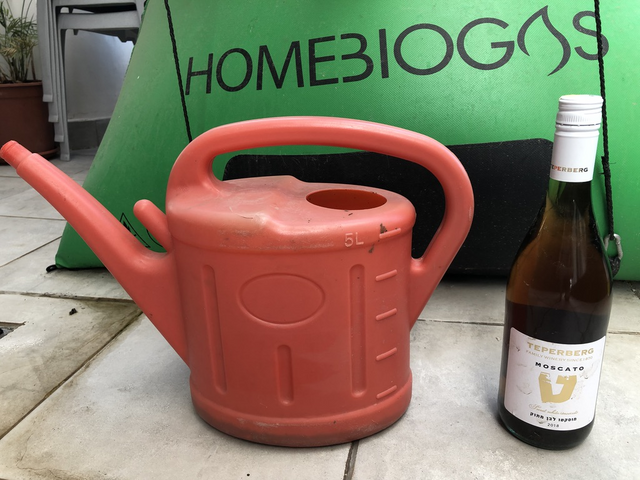 My plants seem to love it and my terrace garden is doing really well only 6 months after planting.