Reddit is a very popular community platform that gains a lot of exposure but also a lot of support in terms of tipping.
It seems however TipJar was just not working out anymore and has shut down.
This now opens a void and one I think BAT could easily take over.
At the moment BAT currently supports tipping on verified websites, Youtube, Twitch, Twitter, Vimeo, Reddit and GitHub.
Reddit being one of the new ones.
With a little push and effort BAT could easily become the tipping system on Reddit and with more and more people downloading and using BAT it is clear growth and demand are there.
I guess my next question to BAT would be when will Mixer be supported lol
As of writing this BAT is currently just shy of $0.21 each. With an all time high price point of about $0.80 when the system was not even live yet! The current usage and trend of BAT is up in a major way and you can see this in the coinmarketcap graph below.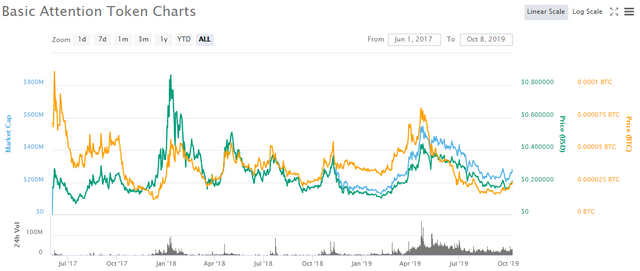 If you are not yet using brave browser yet What The Heck are you waiting for! Download it by clicking here