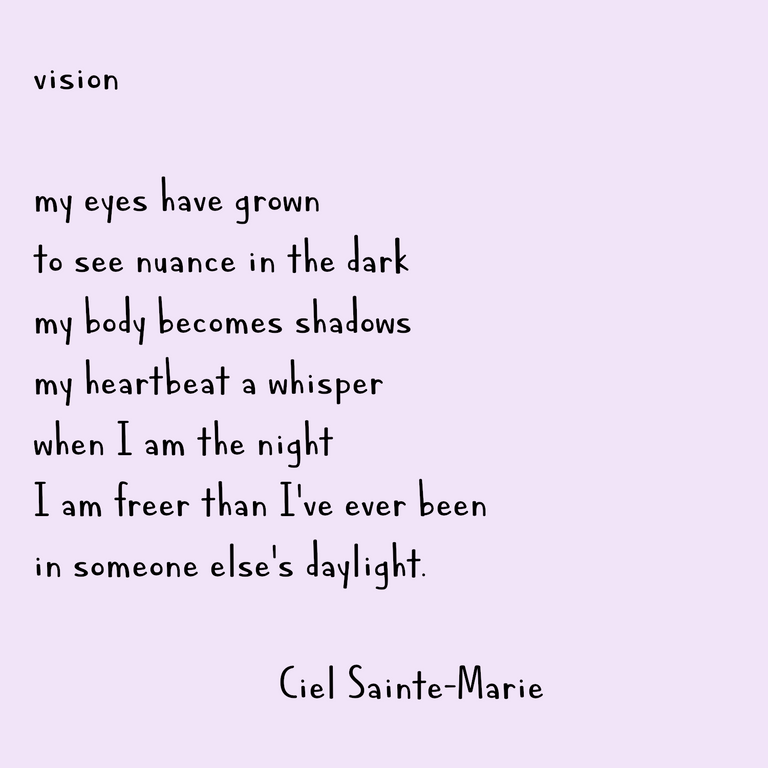 my eyes have grown
to see nuance in the dark
my body becomes shadows
my heartbeat a whisper
when I am the night
I am freer than I've ever been
in someone else's daylight.
-*-
Good morning folks!
Today is a bit of a slow day for me. I'm going to be cleaning up an old laptop and maybe doing some grocery shopping. I have some short stories to work on, but truthfully Friday is a day where I often let myself relax on work! It's good to have a day off!
This poem was written in ...2017 I believe. It's a simple piece, about the need to find your own space. I think this resonates with me even more now than it did then.
I have often made the mistake of trying too hard to help other people in their visions. I'm not sure if it's my personality or a part of the brain injury or what but as I've been healing, I really see how important it is to tend to your own house first. If my own house isn't stable with a good foundation, I don't have anything at all. It is a powerless feeling.
I am enjoying the feeling of being much more powerful now. To try to contribute to others, but also to work on my own things first. I think I am more generous in the end that way, because I come from a more solid place.
I'm going to go enjoy my Friday. Have a good day folks!
xo
Ciel