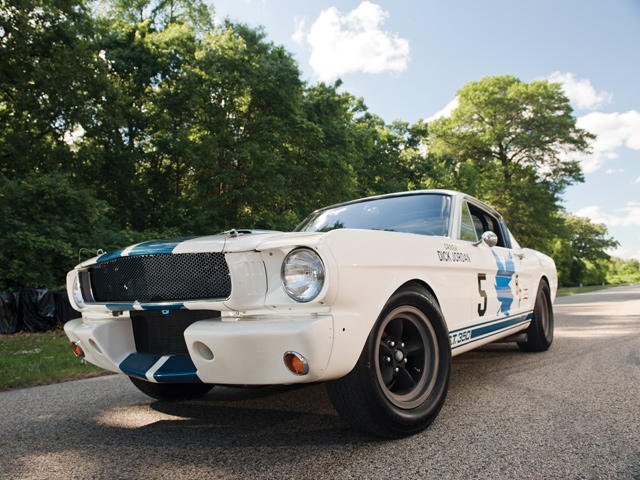 source
In 2012 this was one of only 34 cars known to exist that were built in 1965. These cars fetch in excess of $1 Million today.
I was watching a documentary on Caroll Shelby and had no idea what an interesting character he was. We all know the Shelby name as it is the most sought after Mustang ever made. This was never part of his plan originally and was forced into building cars.
Shelby was someone who would try his hand at anything and race cars as a hobby. From owning gravel trucks to eventually owning a chicken farm he would always race cars at the weekend. Only when he went bankrupt due to a disease killing more than 20 000 chickens in two days did he turn to racing full time. In those days there was very little money in racing and had to win to make a name for himself.
He drove Aston Martins, Maserati's and the dominant Ferrari brand winning the majority of races he entered. In those days racing was very dangerous and it was common to have multiple deaths in the endurance races like the Daytona which is a 12 hour race and the Le Mans 24 hour race.
Shelby's racing highlight came in 1959 when he won the Le Mans 24 hour race in an Aston Martin. What delighted him even more was beating the Ferrari's who had been winning everything up until now. Enzo Ferrari had turned him down for a driving position and he saw it as sweet justice. The race was bitter sweet though as he had a heart condition that would often double him over in pain which he controlled with Nitro Glycerin tablets popping them under his tongue. Medically unfit to race he had to find a new career path and quickly.
America didn't have a successful sports car at the time and the only local car was a Corvette which was dominated in the local by the Ferrari's. Shelby looked at all sorts of businesses including being a Ferrari dealer which was not a priority of Enzo Ferrari. Shelby had managed to get his hands on 5 chassis from AC Cobra which were very lightweight for that time period. After visiting Ford he promised to make this car along with the Ford engine the most dominant car on the track.
He built one Shelby Cobra in a hot rod shop in Los Angeles and every time he had the press review it they painted it a different color looking like they had loads of cars. He had very little money but had a gift for talking people into things and his business started to grow.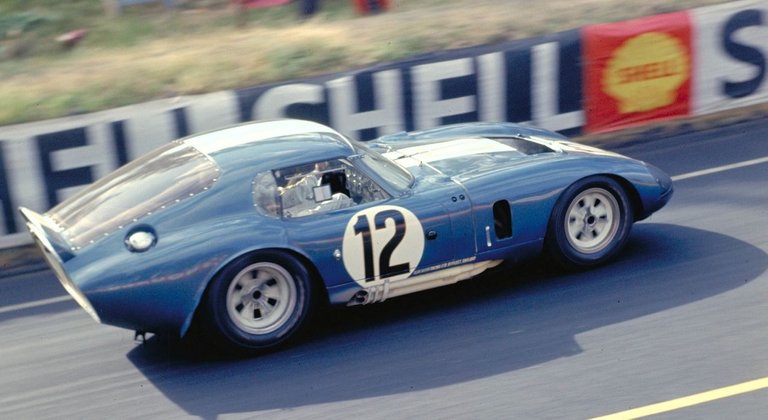 source
Corvette had introduced the Stingray which had become dominant in the US and Ford wanted Shelby to change that. Luckily Shelby had an experienced team around him when he bought in Peter Brock to build a new car. Brock had seen an idea thought up in the 1930's by BMW that had a tear drop looking car except they had cut it off at the back. BMW lost it's plans during a bombing raid in the Second World War . Peter Brock found the design in a library that had copies of the aerodynamics along with the proven theory and test results. The thinking behind it was you trick the air and reduce the resistance. Everyone was against this except Shelby and Brock, Ford didn't care what it looked like as long as it won.
In 1063 Shelby gave Brock and his team 90 days from final drawings to the finished product. That is crazy as they only had the chassis and an engine from Ford that needed to be worked on. Once the others saw what they were doing they all finally chipped in to help as the design was that way out for it's time. He had given Brock 90 days because the Daytona race was coming up and he had entered there new car already.
This race was to be a life changing event for Shelby and his staff as after 110 laps they were 10 minutes ahead of the nearest Ferrari. The fuel consumption had been reduced by 25 % because of the design and they could race an extra 3 laps over all the other cars before refueling. In an endurance race that gives you a massive advantage as you aren't stopping as often as the other cars. At one of their pit stops the car caught fire whilst refueling and even though the crew put out the fire the wiring had been damaged. His crew were adamant they could replace the wiring and still win the race, Shelby pulled the car as he had seen enough.
The Cobra Daytona as this model was called went on to win the drivers constructors title and the drivers championship that year. Shelby entered his Daytona model in the Le Mans 24 hour race in 1964 along with Ford who had developed the GT40. The Daytona won it's class beating Ferrari whereas Ford failed to finish the race. Racing was a must for car manufacturers back then especially in endurance races as the saying was "you win on Sunday, you sell on Monday."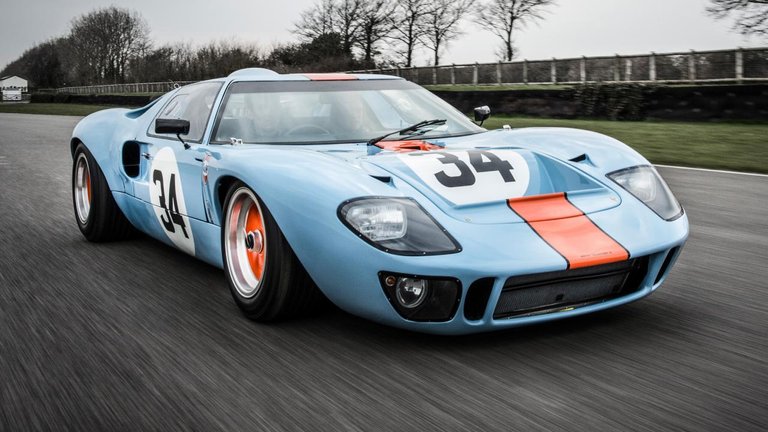 source
Ford soon realised they needed help and handed over the GT40 project to Shelby and his small company. In 1965 he was handed another project by Ford and that was to turn the secretary's car which we know as the Mustang into a sporty high performance vehicle. He developed the GT 350 in 1965 and 66 before a new model the GT 500 was introduced in 67 and 68 before it was bought back in house when Shelby sold his company to Ford. The 1965 and 66 Shelby Mustangs are collectors pieces today and fetch top dollar as they are very rare.
In 1966 with a new transmission and sporty shocks along with a host of changes Ford won Le Mans in a 1-2 and 3 finish sweeping the Ferrari's of the podium. Shelby was remembered before the race saying "Ferrari's ass is mine" and he clearly handed it to them. The GT 40 won again in 1967 before rule changes to the engines stopped Ford competing again at the Le Mans race.



source
Modern version of the 350.
After he sold out to Ford in 1968 Shelby continued with his Cobras until the FIA stated that a manufacturer had to build over 100 cars in order to be race complaint. What he did was order less than the 100 chassis's and missed out large chunks of identification numbers giving the illusion they were producing 1000's of cars. He also went on to do custom work and design for Dodge and Oldsmobile.
Shelby had a colorful career and life and at one point had been given 5 years to live (1964) due to his heart condition and outlived his doctors forecast by 43 years dying at the age of 89.