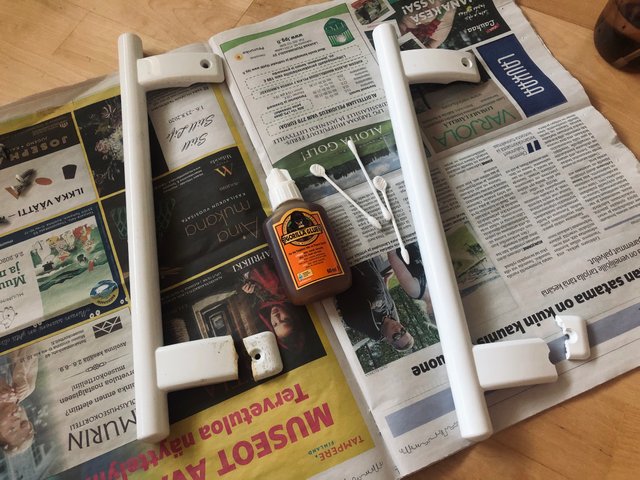 < rant >
Here is a little brain teaser:
If a fridge costs 250€, and a spare door handle (that broke from normal use) for it costs 67€, how important is the handle?
.
.
.
Scroll for right answer.
.
.
.
Not at all important. Can live without it. Useless piece of plastic.
---
Stuff like this pisses me the right off! With electronics these days, from computers to phones and household items, it's like the lightbulb conspiracy all over again. First of all they are not build to last, second, even the most simple spare part costs an absurd amount compared to the price of the whole item, and third, if you are not handy, paying someone to repair stuff costs even more.
What ever you want to buy these days, there are a million brands and varieties of said item, and of course their parts are not interchangable so you absolutely have to buy that 67€ part. A simple plastic item, northing special, but since it's designed to fit that exact fridge, you can't buy one that is 16€ because that one fits only for some other brands doors, and only certain models at that. I'm 99% sure that manufacturing said item costs no more than 2€. Fucking ridiculous.
Oh and of course if you happen to find a suitable spare part from some random Chinese retailer on Ebay, your warranty will be lost because you can only use the original brands parts and their authorised repair shops. Which will cost you an arm and a leg. Most of us can't afford that reasonably, no matter how environmentally concious one might be and believed in repairing items rather than buying new immediately.
This leads us to evaluate that it's more reasonable to upgrade the whole thing, rather than have the old one repaired. The old item ends up shipped to a landfill in India where little kids disassamble electronics and sort out the different components in hazardous environment to be sold for pennies. Most of the plastic components end up polluting the planet more and have no further use, while new ones are sold every day.
The system is broken.
What I think everyone can and should do is do the proper research and have the knowledge about materials and the possible life expectancy of said item before making a decision to buy it. Repairing shoes, clothing, electronics and furniture, or donating to someone that will actually have use for your old item, should be done when ever possible. If you use a bit of google and ask around from friends and family, you can breath new life to things you thought needed to be trashed. MacGyver that shit and make it work.
</ rant >
Anyways, Gorilla Glue, my ride or die, the real OG, to the rescue. I don't care how ugly it looks, I'm not gonna feed the monster that sells simple parts for an insane amount of money.