Stew. A pretty simple recipe, right? Chuck a bunch of stuff into a pot for a few hours and eat later. You'd think so, but lately I've been absolutely horrified by the amount of people who apparently thicken their stew using flour or cornflour. Really? Even BBC Food advocates it.
No.
Just... no.
Allow me to show you a better way.
And hey, if you're gluten intolerant this works for you too!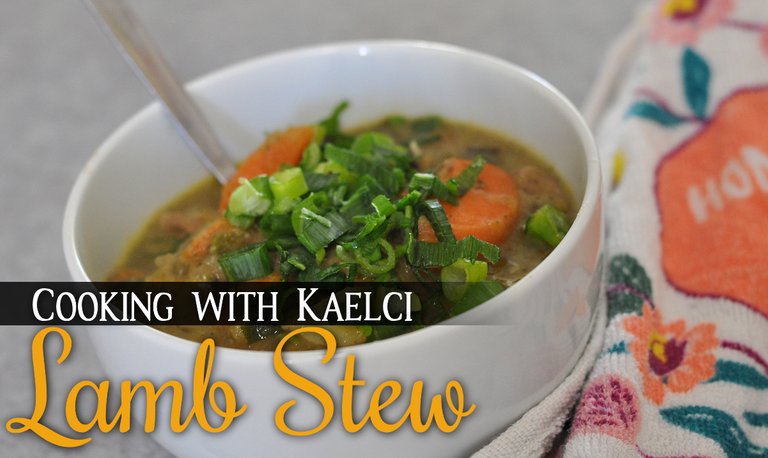 Lamb Stew!
Let's begin with this MASSIVE LIST OF INGREDIENTS.
A chunk of butter.
Lamb chops, or lamb anything really. Chops are cheaper.
2 ginormous carrots.
1 giant, or 2 average red potatoes.
1 giant, or 2 average white potatoes.
2 celery sticks.
A turnip.
A parsnip.
A handful of brocolli.
A handful of cauliflower.
2 onions.
A whollleeeee lotta spring onion.
A shitload of mushrooms, white or portabello.
Water.
Salt n Pepper, and CHICKEN SALT!
 
First we turn the stove on, chuck the pot onto the hotplate, and throw the butter into it until it's melted.
While the butter is melting, cover that delicious, delicious lamb in salt and pepper. COVER IT! Then chuck it into the burbling butter and brown it on both sides.

Once it's browned on both sides, fill 'er up with water. I mean, you COULD use chicken, vegetable, or beef stock, but it's really not necessary. Water is fine. Water is your friend. So is butter for that matter. Don't be afraid to use some damned butter.
Also, as you can see I've left the fat on. A teensy bit of animal fat never hurt anyone. You will eat it and you will like it.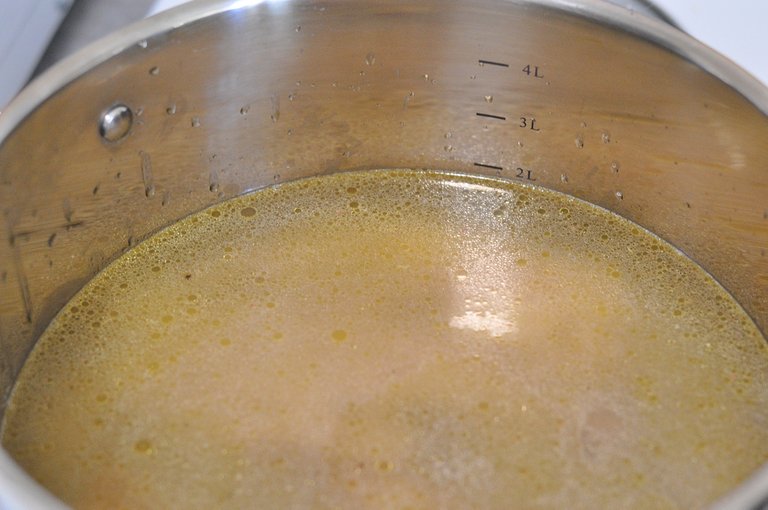 Mmmm, appetising. Haha. Okay, I know. Not really. Not yet anyway. While the lamb water is gaining heat, chop up the following items:
White potato, ONE carrot, turnip, parsnip, ONE onion, ONE celery stick, some spring onion, a few mushrooms, brocolli and cauliflower.

This here, is going to thicken your stew. You don't need flour. You don't need cornflour. You don't need a thickening agent. All you need is some vegetables. If by some highly improbable chance at the end of all this your stew is not thick enough -- ADD A POTATO! -- and use less water next time. 😉
It doesn't matter how roughly or perfectly you decide to chop this lot up. Pretty much the entirety of this is going to dissolve in the pot and make nutritious deliciousness.
Chuck it all in, all of it. All the stuff you just chopped that is. Everything else will come later!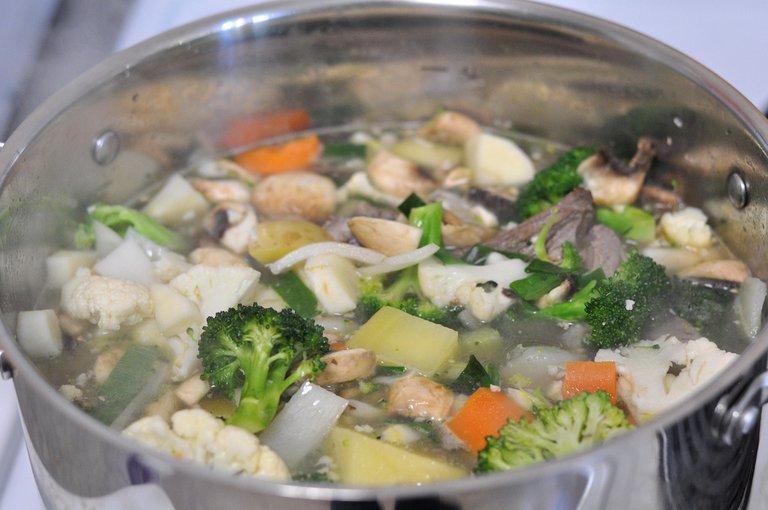 This is where I chuck in a decent amount of chicken salt. You won't need any more flavour added, or salt and pepper. ALTHOUGH if you like, you can also add some garlic and a smattering of italian herbs. Italian herbs add a really nice hint to this. If you're going to add these things, do it now!
Anddddd, now you're going to want to boil all of this for about 20-25mins.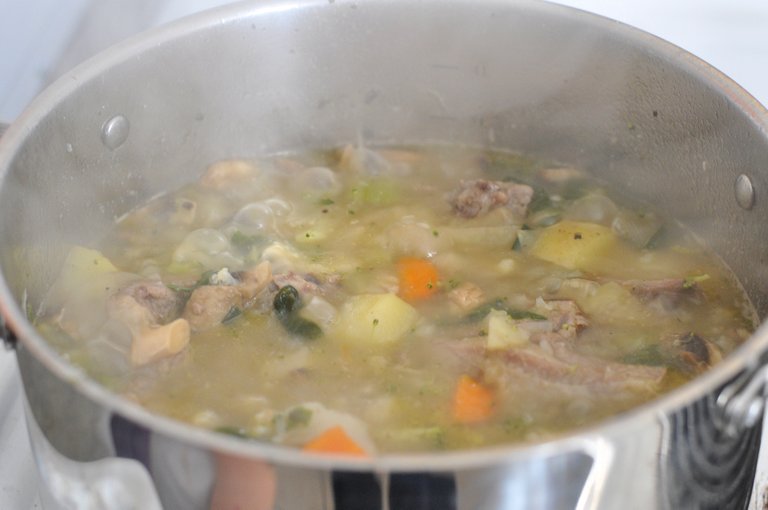 After the 25mins or so has passed, turn the pot down to a simmer, chuck a lid on top, and let it do its thing for an hour.
Drink some wine and read some Hive posts while you wait. 😉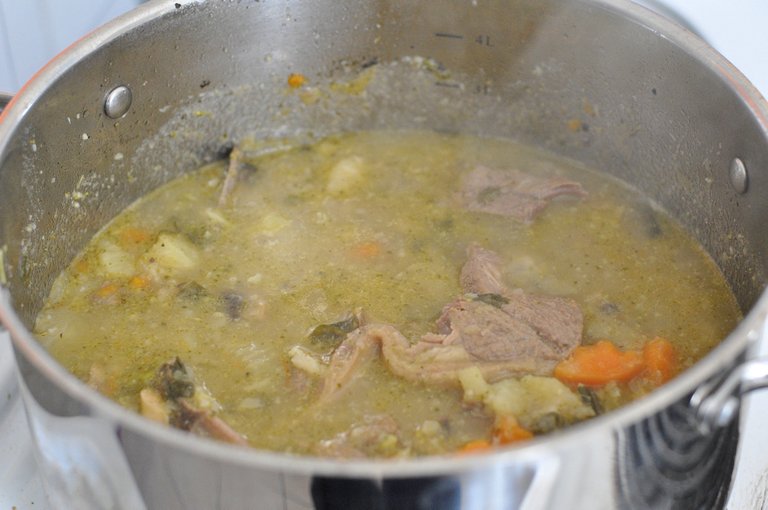 One. Hour. Later.
It's been an hour! So we return to the Glorious Kitchen and check on our simmering stew. As we can see, things are becoming nice and mushy. Perfect.
Bring it back to the boil, then turn it off. Keep the lid on.
We're just going to let it sit there now, for the rest of the day. Doing nothing. Adding nothing. Just letting it do its own thing and gather thickness and flavour. All by itself. Besides, food that sits for a bit is always tastier!
Come back to it about an hour before you actually want to eat.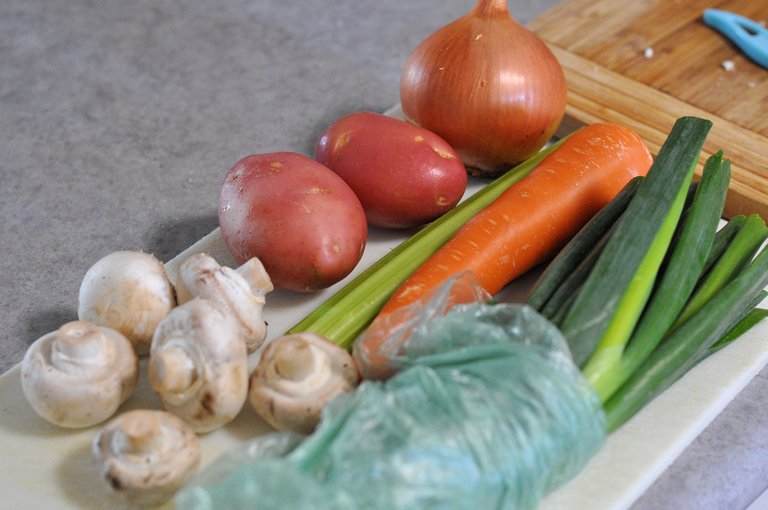 Okay, we're back in the kitchen! Whip the lid off the pot and mash it all up with a random utensil. The lamb should be falling off the bone by now, so separate it and chuck the bones away. Put the meat back in the pot, and turn it back on til it boils, then put it on medium.
Now we chop all the vegetables we neglected to chop earlier. You'll want these ones to be pretty if you care about such things. If you don't, just chop them however, I'm not a Masterchef judge.
So that's the rest of the mushrooms, the last onion, last carrot, the red potatoes (they hold up better than white), the other celery stick, and a bunch of spring onion.
Throw everything in, except the spring onion. That's our tasty, oniony garnish!
Let that simmer until your newly added vegies are perfect.
Chuck in the spring onion and swirl it all around for a few minutes.
Then. At last. Serve. Add more spring onion if you wish to be all fancy and decorative. I love the stuff so I add heaps.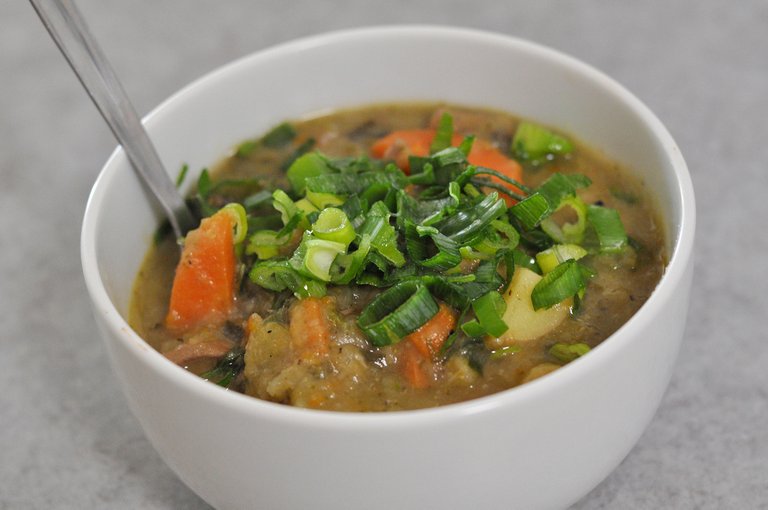 🥳 THICK AND NO FLOUR IN SIGHT! 🎉✨
Nutrients galore, no weird flour aftertaste, and unless you have a gigantic family to feed this should last a few days for breakfast, lunch, and dinner. 😉
Bon apetit.
---
All photos in this post courtesy of me, @kaelci.